BOOK:
 Tears of a Warrior
"A Family's Story of Combat and Living with PTSD"
We are a Service-Connected Disabled Veteran business.
Registered with Duns & Bradstreet via DUNS # 829458210
Listed in SAM DBA  ANTHONY SEAHORN / TEAM PURSUITS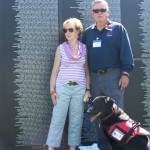 The Wounds of War: 
Healing Mind, Body & Spirit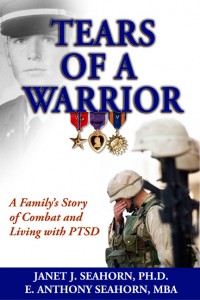 This has been our life's journey for the past thirty-some years. We began writing our story several years back simply as a legacy for our two sons. But, with the war in Iraq & Afghanistan and soldiers returning from combat, we realized that there are many others who are living our experience as well. Some certainly have an even more traumatic story than ours. We are sharing our story for the sole purpose of giving back and hopefully making a difference for others.
Combat Post-Traumatic Stress Disorder (PTSD) is the silent bullet you never hear.
PTSD disrupts the lives of combat veterans who have served their country, along with the lives of family and friends. It does not distinguish between race, age or gender and often goes undiagnosed. Even with proper diagnosis, many individuals do not know where to turn to get help. Society needs to understand the aftermath of combat and how to prepare for warriors when they return home. Readers will better comprehend the trauma of battle, both physical and emotional.
PTSD affects everyone, not just the combat veteran!
Tony Seahorn writes from his experience as a young army officer in Vietnam who served with the Dauntless Black Lions of the 1st Infantry Division. He was wounded twice in combat.
Janet Seahorn writes from the perspective of a wife and mother who has lived the past thirty years with a veteran who suffers from the physical and more specifically, the mental scars of combat.
After reading Tears of a Warrior, you will understand:
the experience of combat
how PTSD affects the veteran
how PTSD affects the family
strategies for living with PTSD
how to restore hope for today and the future
This is a patriotic book written about soldiers who go into battle – called to duty – serving their country. Theirs is a story of heroism, untold valor and ultimate sacrifice.
Tony's Story
"I served in the US Army in Vietnam with the Dauntless Black Lions of the 1st Infantry Division from early 1968 until December of that year when I was wounded in combat.
"Together with my wife Janet, we co-authored this book about those who serve their country and pay a high price for freedom. Our story is focused on the scars of battle, with special emphasis on living with Post-Traumatic Stress Disorder (PTSD.)
"Today, I am actively enrolled in a treatment program with the Veterans Administration to better manage the scars of combat, both physically and emotionally. I also volunteer as a mentor for veterans who have traveled a road not dissimilar to mine."
Janet's Story
"As the wife of a combat vet, life has at times been pretty challenging. For most of our marriage, we did not talk about Vietnam or my husband's experiences. I had no clue how many medals he had received until several years ago when I was doing some packing to move into a different home. It was at that time that I discovered he had been awarded numerous medals for valor, including two Bronze Stars, two Purple Hearts, an Air Medal for Valor in flight, the Vietnamese Gallantry Cross, and a Presidential Unit Citation. To preserve these for our sons, I had them put in a shadow box. Even then, Tony insisted we display only a few of his most honored medals instead of the full array."
Tears of a Warrior is written so that all veterans from all wars, regardless of service branch, will benefit by the message. Families and society in general will better understand the horrors of combat.
Realizing the trauma of war, we seek to share our experience and provide a message of hope.
This story is written to make a difference.
"If we send them, then we must mend them."
SILENT SCREAM
You cannot see a Silent Scream
When looking from outside.
But you might find a glimpse of it
While peering deep in someone's eyes.
You will not hear a Silent Scream
In noisy, crowded rooms.
But if you sat down face to face
Your heart may sense its painful tune.
You shall not feel a Silent Scream
Amidst our fast-paced world.
But if you wandered near to it
Its anxious spirit might unfurl.
We walk right past a suffering soul
And often turn away.
Not strong enough to face the grief
This world has made him pay.
For Silent Screams are not unique
To those who fight and die.
The living warrior hell survived
Is left to hold his tears inside.
–Janet J. Seahorn, Ph.D.