Nov
23
by Janet J. Seahorn, Ph.D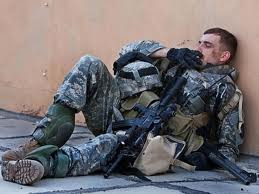 The day was wet and overcast.
Upon arriving at the VA Hospital in Denver, we noticed how many patients seemed to be waiting for a bus or a taxi. Tony didn't appear overly eager to walk into the building. Just looking at the entrance from the outside made him nervous. Walking inside was even worse. Almost forty years ago, this was the place he went to get help for the nightmares and panic attacks he was experiencing after returning from Vietnam. A young therapist at the time, untrained and unskilled in working with military personnel thoughtlessly told him to be grateful he made it home, and get on with his life. For thirty years, Tony never went back there… or anywhere else for assistance.
            Thank goodness we now have a verifiable diagnosis of these frightening memories; it is PTSD, and veteran centers across America are far more proficient in caring and supporting our wounded troops. Nevertheless, Tony had not been back to the Denver VA Hospital until Monday. We were going to talk with troops in the PTSD Unit of the hospital. This is a seven week program where vets get intensive counseling and treatment for their combat traumas. Today there are nineteen men attending the afternoon discussion. Humility can't quite describe what we feel when we do such meetings.
          The majority of the vets were from the Vietnam era with the remaining members from Iraq and Afghanistan. I am pretty sure most people have little understanding of how much suffering each patient has survived; years of torment and silent screams. Each face revealed a unique map of torment. It appeared that every wrinkle held its own story, its own remembrance.  Yet, it was the younger warriors who made the most emotional impact. Perhaps this was because they reminded us of our sons. Or perhaps, we were too familiar with the pain they were experiencing and the long journey still ahead. Youthful faces were not yet lined with creases, though their eyes held an even deeper look of anguish. Yesterday's combat field was not that far from today's reality. Time had not yet put any distance from the rawness of war. Where several Vietnam vets were willing to talk, the young fighters stayed silent.
            At the end of the afternoon, one young marine told me how difficult it was for his mother to understand what was happening to him. He talked about how she just kept saying, "Why don't you just get better? Why aren't you back to your old self? You weren't wounded, what is the matter with you?" and then he said sadly, "she told me, why can't you just take a pill and be OK?" Then he quietly stated, "I'm trying' I'm really trying, but I just can't seem to forget, no matter how hard I try."
            It was heartbreaking to watch him describe his situation. First he endured the many horrors of combat. When he came home, he had to endure the unawareness of the "ordinary" people.
            Next, there was the tall, thin youth who sat shifting in his chair seeking a more comfortable position. His back pain was obvious, especially when he cautiously walked bracing his weight with his cane. The sweetest, shyest smile spread over his face as he approached. What he requested was an extra copy of our book, Tears of a Warrior. He wanted to send it to his wife, hoping she might read it before he returned home from the hospital. Perhaps she would gain a better understanding of his condition. Perhaps, by understanding, she would be able to bear the years ahead. Perhaps together they might make it though the dark times still to be faced.
            More than ever, I am touched by the courage the young and the old veterans demonstrate.  A valor that leads them forwarded searching for a small bit of peace. By making that huge leap of faith to enter this seven week program, they lay bare their demons, hoping by exposure to the light these may leave, or at least become less frightening. For most, I believe this will be true.
            Like in combat, sometimes to survive, one must rush towards the enemy fighting with every ounce of power he/she possesses.  Healing requires that same force of power – rushing towards the demons, lets them know you no longer will run from them. When the hiding ends the healing begins.
Have a healthy and Happy Thanksgiving.
Jul
5
 by Janet J. Seahorn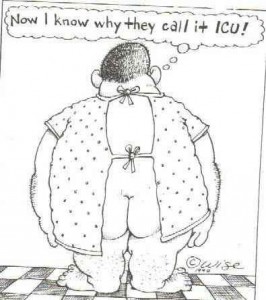 It is Monday morning, and I am sitting in the area's Veteran's Hospital waiting for Tony to finish with his medical procedure. The waiting room is small, really drab, and not a very cheery atmosphere. A Starbuck's latte would help, but I couldn't find the cafeteria and there was no such place as a gift shop to occupy my time.
 Truthfully, I was afraid to leave the area as the facility was a maze of unconnected corridors. It reminded me a bit like Hansel and Gretel trying to negotiate their way through the dark woods, only I had no bread pieces to throw on the floors, which I am pretty certain would raise the wrath of the nurses. To make it even more challenging, there were signs up everywhere, "Don't Walk Through the Wards".  So getting from point B to point A was a real puzzle.  It would be easier to find the witch's cottage than the hospital's cafeteria.
Unlike other more modern facilities, many VA Hospitals mirror the cost of having served in the military. Some areas that work with vets are located in dark basements of old buildings. Really uncharming surroundings that may make one question if healing is available within their spaces.
Yet, the volunteers and staff are truly committed to making a difference to every person who enters the hospital. A lovely man, a helper vet, wheeled his cart of donated magazines, books, and other goodies into the tiny space. His genuine mission to please brought a ray of sunshine to this otherwise dull surrounding. He cheerily informed me that I could take any magazine or book that I wanted, as they were all donated by the generous people of the area.
Since I have more than enough reading material, I declined but noticed some red, white, and blue balls wrapped neatly in plastic. Now these I could use.
Like my Labrador, Bailey, I am into play things. The smiling volunteer explained these were stress balls and I would need at least two… one for each hand. I was to squeeze them ten times in the morning when I awoke, and ten times in the evening before bed. Golly, as long as Bailey wasn't around, I could perform such an exercise.
Feeling a bit less depressed by the drabness of the waiting room, I now had something to de-stress myself. Since I had been reading an article on depression in one of my neuroscience magazines, I was ready to do something more energizing.  Crush balls! I now had something interesting to take from the uncheery waiting room.
As for redecorating Vet Hospitals and serving facilities, I have a few simple suggestions.  Never put the client or his/her family in small surroundings.  This increases paranoia in some and anxiety in others. A new coat of fresh paint, preferable using more energizing or calming colors such as blue, green, or yellow would make an immense difference.
Make sure the room has good sunlight. Sunshine, even on our darkest days, seems to inspire a sense of Hope. A big T.V. would could offer some distraction, as well as access to a few computers to check messages or simple surf the internet.
Providing water or coffee would be great. Last, keep the cheery volunteer. He (she) offers a human contact if the family member is sitting alone, contemplating the "what ifs".  He makes a positive difference. 
One last note, if you are wondering where the funds may come from for these suggestions, knowing the government may not be the provider, how about making this a community project. It would mean more to everyone if everyone made the contribution. 
Oh, and give out Stress Balls. Even your adoring pets love these baubles.
Mar
2
by Janet Seahorn
At first it appeared to be an ordinary Thursday evening in mid-February.  The soldiers of battles-past gathered at the new Fort Collins Vet Center for their weekly group meeting with the professional VA Staff.
They draw together to heal wounds that occurred long ago in a land far from home.  Wounds acquired from serving in Vietnam – a war where few were honored for their personal sacrifice for their country.  The veterans meet to try and understand why their scars linger and are still so painful after so many years.  And they meet to try and find a sense of recognition of what each has experienced in life – both past and present.
It was on this night that several Fort Collins community members presented a "Quilt of Valor" to those warriors who gave much and were given little in return. Through their generous donations, the community was able to acquire a special hand-made quilt for the presentation.
The quilt was one small way of saying "Thank you for your service and sacrifice".  And, maybe, the quilt would become a symbol of comfort, hope, and honor.  This particular comforter was carefully crafted by Donna Roche and the Quilters of Rogers, Arkansas.  Her group has assembled and mailed over 700 similar quilts to wounded warriors in hospitals in Iraq, Afghanistan, Germany and the United States.  Ms. Roche and her group explain the Quilt of Valor in this manner:
"The Quilt of Valor is our wounded warrior award for service, sacrifice and valor in the line of duty. It is our way of saying "Thank you for your service – you have not been forgotten." Many caring souls are involved in making the quilts; from contributing quilt blocks, finishing the tops, and integrating each section into the final product. Each special quilt receives a "Quilt of Valor" label thanking the injured warrior for his/her dedication and sacrifice. The label contains the name of those involved in the making of each caring blanket."
The Quilt of Valor is in fact a symbol of renewal.  It transforms the hands of war's destruction through the caring quilter's fingers of each blanket's construction.  It shifts the heart from the darkness of combat to the light of a kinder future.  And, hopefully it moves the experiences of combat trauma to a quieter sense of peace.
On this Thursday evening, warriors who were never honored finally have their Quilt of Valor.  The gratitude in their teary eyes, said it all.  Perhaps, after all these years, others do care.  Perhaps, there is now a sense of acknowledgement of what these warriors gave without hesitation.  You see, it is never too late to say thank you, and the heart is never too old to feel the warmth of such a genuine gesture.
Nov
6
by Janet J. Seahorn
War is hell, and there is no polite way to put it. 
But when modern war is fought by women as well as men, it can take an even more challenging toil on a family and community. 
As Americans, we are quickly learning that our country and its military facilities are struggling to provide appropriate treatment for its female troops.  There are many services for men; yet, we are not prepared to offer some of the same options for women.
This week I had two events occur from two different parts of the country.  The first was a disturbing phone call from a friend, who has several family members serving in the military.  All have fought in Iraq. Her son has been to both Iraq and Afghanistan on numerous tours of duty.
Her concern, however, was for her female family member.  After serving in Iraq the military woman has been home for almost three years, taking care of two small children while working full time in a demanding job.  The young mother had been exposed to a great deal while deployed, and has done her best to return to normal life stateside.
 Most of the time things are fine, but a few weeks ago, the memories, anxieties, and panic attacks returned with a vengeance.  As we have discussed numerous times in our blogs, the ghosts of combat often come back to take up residence in the homes of the military personnel. 
Without hesitation, this bright lady and her family sought help through the VA.  She has wisely enrolled in our local VA Clinic upon return from combat.  This time, however, she would need more intense treatment. 
Not a problem, except, that the only facility that could accommodate women only is in another state, making the decision to leave her family and work a great deal more difficult.
The second incident came via an article in the New York Times which was sent to me exactly two days after the first event.  Reading over the article's information was all too familiar.  I had heard it just two days before.  The article by Damien Cave stated, "Never before has this country seen so many women paralyzed by the psychological scars of combat. 
As of June 2008, 19,084 female veterans of Iraq or Afghanistan had received diagnoses of mental disorders from the Department of Veteran Affairs, including 8,454 women with a diagnosis of post-traumatic stress — and this number does not include troops still active, or those who have never used the V.A. system" (Internet, Nov. 1, 2009).
The article continued to comment on what we have heard from many female vets, that because they are women, "people underestimate what these women have been through" (Resick, Internet, Nov. 1, 2009). 
Since war has been traditionally fought by men, we have seen the Humpty-Dumpty effect. But what happens when Humpty is Mom?  What happens when Mom is the wounded warrior? What happens to the children?  What happens to the organizational system of the home: the washing, cooking, cleaning, and daily tasks? 
Who steps up to help nurture the nurturer when she needs comfort, care, and support?  These are vital questions that need to be explored and addressed.
When Humpty-Dumpty is Mom, she can be put back together; however, the tools and glue may be pink instead of blue.
Mar
10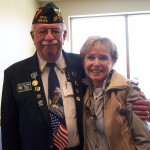 Celebration: New Veteran's Center
With today's economic and world issues, it sometimes appears there is little to celebrate.  Last Friday morning was an exception. It was the opening of the new VA Clinic in Fort Collins, CO. The Center is a place where our wounded warriors can go to heal, to obtain support for both emotional and physical problems, and a place to get information. Dozens of VA dignitaries, community members, veterans and their families, as well as delegates representing Mark Udall, Michael Bennett, and Betsy Markey attended the special ribbon-cutting celebration. Unquestionably what made the celebration special were the people; people who have given so much in service of our country. And people who are giving so much to heal them: doctors, nurses, therapists, office workers, and the list grows. There were a few individuals I spoke with who moved my heart. The first was Dan Griffin. I didn't focus on his rank or even the conflict in which he served. These details just didn't seem all that essential to me at the time. What drew me to Dan Griffin was his solitary stance of dignity. He wore a uniform and hat filled with medals and ribbons. He didn't mingle much, just stood in a back corner of the room watching, listening. I walked over to him, drawn by his silence and stature. It was obvious he was a shy person – even told me this himself. I asked a few questions of him and he responded to with a minimum of words. Proudly he mentioned to me that next year he will be the Commander of Post 10 of the VFWs – the largest VFW post in the state of Colorado. Then he went on to talk about last summer's group reunion in Gunnison. He described how much he liked to fish, especially the lakes with the "Big Ones"! Upon leaving, I gave him a hug. What I really wanted to say to Dan Griffin, but the words were caught in my throat, was how much I honored and appreciated his service, his life, his courage.
Then there was Meg Corwin whose quiet sacrifice few people will ever have to endure.  She had been a military person for over twenty years, recently retired and now serving on Senator Michael Bennet's staff. Her husband was shot and killed by a sniper two years ago during his second tour of duty in Iraq. Saying "Thank You" for your service and your husband's sacrifice just seemed a bit passé. How can one truly thank a person who has given so much? I couldn't. Ms. Corwin showed such strength and dignity during her speech to the group. I questioned if I could be so brave in similar circumstances – whether I could talk about my loss with such control? Truly, I don't know the answers. What I do know is this; many families have made similar sacrifices. Many families, mothers, fathers, sisters, brothers, spouses, children, friends mourn their loss silently with wounded hearts and spirits.
The new Veteran's Center is a place of hope and healing for each of these exceptional individuals. If you know of a veteran or his/her family member, please be thoughtful enough to press their hands and say, "You are special to me. I will try not to forget what you have gone through; what you have given so that America can enjoy her freedom. Thank you." Keep them in your thoughts and prayers. Do everything you can to live this motto:                       
If we send them, then we must mend them.