Dec
12
by guest writer, Terry Creekmore
A Poem about Cleatus Lebow,  a World War II survivor of the U.S.S Indianapolis.
Written by Terry Creekmore, Tsgt (E-6)  Wyoming Air National Guard.
The old man shuffled through a gas station in the flat north Texas land.
Unremarkable except for the hat he wore as I paused and shook his hand.
USS Indianapolis the hat said on its brim.
I'd read the books and heard the tales as I stared in awe at him.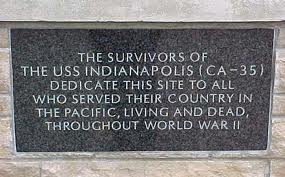 Cleatus Lebow was 87 years old when I shook his hand that day
But his life was defined by a mere four days and the memories were there to stay
Four days that few remember
Four days he could not forget
Four days that haunt the nightly dreams of those survivors who live with regret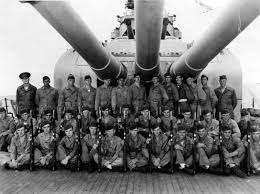 ~ Heroes walk among us still today and their stories need to be told ~
Normandy, Bastone, the Canal and Iwo will make your blood run cold
Few remember and fewer still care about those events so long ago
But few have endured the terror and pain of the hero Cleatus Lebow
The Indy was a proud ship that now only sails in lore
She delivered the bomb to Tinian and helped end the greatest war
It only took twelve minutes for her to sink beneath the waves
Nine hundred men in the water but only 300 would be saved
The heat the cold the thirst the sharks all took a terrible toll
The men who survived would forever be seared to the marrow of their soul
~ Heroes walk among us still today and their stories need to be told ~
Pusan, Inchon and the Chosen Few
Battling in that terrible cold
So many heroes of that forgotten war are quietly growing old
Yet their sacrifice and bravery have never been extolled
Few remember and fewer still care about those events so long ago
But few have endured the terror and pain of the hero Cleatus Lebow
The navy needed a scapegoat so they court-martialed Captain McVay
The justness of the verdict is still argued to this day
The letters and the guilt and the ridicule made the holidays particularly strained
So in the fall of 1968 he put a bullet through his brain
Another victim of those terrible days
When the sea and the sharks made a living hell and sanity lost its way
~ Heroes walk among us still today and their stories need to be told ~
Route Pack six, Ia Drang and Khe Sanh but the nation was so cold
There are just some things you can't apologize for and this is certainly one
The spitting the jeers the taunting the tears they just can't be undone
Now they are old. Most of them gone. Only thirty-six survive
Those four days are history now and only our memories keep them alive
We can never repay the debt we owe as that generation fades away
All we can do is to keep the faith and from that we will never stray
~ Heroes walk among us still today and their stories need to be told ~
Firefighters, Fallujah and Seal Team Six
the bravery never gets old
The torch has been passed and now this generation is writing its own history
Honor and tradition can still to be found in the deserts and the mountains and the sea
But they have big shoes to fill because the Indy is forever on patrol
Crewed by the souls of 900 sailors on a mission beyond their control
Few remember and fewer still care about those events so long ago
But all of us owe our freedom to heroes like Cleatus Lebow