Mar
23
Filed Under Brain Injury, Dogs, Post-Traumatic Stress "Injury", PTSD, PTSD treatment, Service Dogs, TBI & PTSD, Tears of a Warrior, TED Talk, Vietnam Today, Wounded Warriors | Comments Off on TED TALKS AND PTSD
By Janet J. Seahorn, Ph.D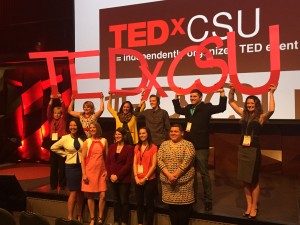 TED (Technology, Entertainment, Design) is a global set of conferences run by the private non-profit Sapling Foundation, under the slogan "Ideas Worth Spreading".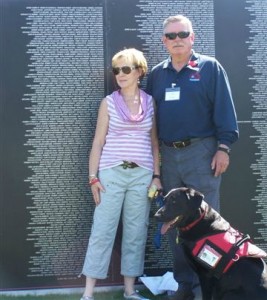 It continues to be an overly busy few months.  We are waiting for things to slow down a bit, yet, as soon as we are done with one "To Do List" another pops up with an even bigger task sheet.  It begs the question as to whether we are really that harried, or if we are more easily exhausted because we aren't all that youthful any more.  OK, don't go to that disheartening place.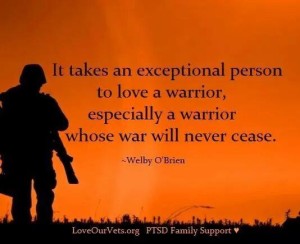 A few weeks ago, I had the opportunity to do a TED Talk at Colorado State University where I'm a professor in the Education College. Of course my topic was Post Traumatic Stress. After months of putting together the talk and multiple practice sessions, the day finally arrived. Truthfully, when I was first accepted as a speaker I was quite excited. As the day for the TED event grew closer I became more anxious.  It wasn't the fear of talking in front of large groups of people – we do that often.  It was trying to fit twenty years of research and essential information into a fifteen minute timeframe that drove me to panic. This was more like the old television show, Name That Tune, in which the contestant was given only the first three or four notes of a song and expected to know its name; a seemingly impossible task for discussing Post Traumatic Stress and its effects on the brain, body, and spirit.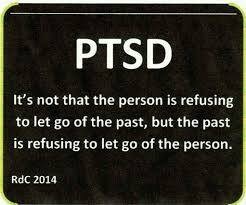 As I entered the stage area I felt like Katniss from the Hunger Games, going into a life and death battle without the proper equipment. You will have to listen to the talk (the information is in this blog), to see the results.  Be sure to go to watch the very end for a surprise appearance of our service dog, Bailey.  Tony, unbeknownst to me, brought him to the event and sent him up on stage at the very end of my talk.  OMG!!!!
Ted Talk: 15 minutes worth hearing!
Understanding PTSD's Effects on Brain, Body, and Emotions | Janet Seahorn | TEDxCSU – YouTube
https://m.youtube.com/watch?v=BEHDQeIRTgs