Jan
13
by Janet J. Seahorn, Ph.D
          It has been a very difficult past few months for many individuals and communities inAmerica. Between Hurricane Sandy destroying property and lives in the northeastern part of our country, to the incomprehensible tragedy in Connecticut. Too often we try to put words to these events, hoping to impart some small bit of insight, but they seem too shallow and futile.
At times, when the heart has felt so much suffering and inhumanity, the soul becomes a vacuum of despair. The challenge remains one of deep spiritual courage. The courage to believe in goodness instead of evil. The courage to awake each morning and keep going, knowing the struggle ahead still exits.  And the courage to forgive, to hope, and to still love. Sometimes the best way to convey these staggering emotions is through music. For this reason I thought a song by the young singer, Jackie Evancho, may convey a message of hope for a New Year – far better than simply words.
In my imagination I see a right world
where everybody lives in peace and honesty
I dream of souls always free
like clouds which fly
full of humanity deep inside
In my imagination I see a clear world
the night is less dark over there
I dream of souls always free
like clouds which fly full of humanity
In the imagination there is a hot wind
which blows on cities, as a friend
I dream of souls always free
like clouds which fly
full of humanity deep inside
www.youtube.com/watch?v=HQF-l9NBtX8
In this coming New Year, may the words from Nella Fantasia come true.
So, Dream With Me.
Jan
5
 -by Tony & Janet Seahorn
Black Forest Chase:    April 23, 1999 – January 4, 2013
Dear Readers, today is an incredible hard day for us. It is a day of celebration, gratitude, patience, letting go, and joy. Today our black lab Chase made his final retrieve. We will miss him dearly. He was our special Wonder Dog and his spirit will remain with us. He loved to fish and bird hunt and guide the raft on its journey downstream. His companionship and love was unconditional and he will never be forgotten. Chase has been our guardian angel calming Tony as he battled with the demons of PTSD. We'll miss his wonderful presence as we explore new waters and return to familiar haunts. Chase, we know you'll be happy flushing birds & brookies in the great beyond.
Peace old buddy.
           Many will walk in and out of your life, but only a true friend will leave paw prints on your heart.   ~Anonymous
My brother, John, sent us this poem earlier this week.  I know it will offer us comfort, but for now we must travel the Road of Tears.
In Memory Of A Beloved Friend
Skidboot:
Born in 1992 and passed on in 2007
Touch me with your voice as a puppy young and new,
And let me know my presence is what is pleasing you.
Touch me with your Spirit, for God sent me here to you,
To teach you of that precious bond known only by the choicest few.
Touch me with your hands as I grow tall and strong,
I need you as my mentor throughout my whole life long.
Touch me with your lips, and brush them softly on my brow,
Please kiss away the fears that I am feeling now.
Touch me with your eyes as I become full grown,
To validate unspoken love that we have always known.
Touch me with your heart as our bond keeps growing stronger,
And words need not be used in our language any longer.
Touch me with your breath, so soft and warm upon my face,
As I try to bring you comfort in life's never ending race.
Touch me with your love when my muzzle turns gray,
I live my life to please you, each and every single day.
Touch me with your scent when age has dimmed my sight,
To reassure me always that you will be my light.
Touch me with your face when your tears are meant for me.
So I may bear your pain and let your heart be free.
Touch me with remembrance when I have traveled on,
And, I will hold your heart in mine forever when I'm gone. 
-Credit  Skidboot-
Dec
12
By Janet J. Seahorn, Ph.D
Dang!
There it is again, that massive lump in my throat – the one that makes it hard to swallow. It came during my morning meditation. I had just changed out the music on my CD player (yep, I said CD player not IPod or I-Pad), to my favorite Christmas venue.
Every day I include a special prayer for our military and their families, past and current, and this is when the song began, just as I was beginning that part of my meditation… the song, "Somewhere Over the Rainbow". It was the awareness of the words that made me ponder how many of our men and women have served our blessed country and wished each day that they could escape their current reality and go somewhere else.  And these words then produced that enormous throat bump:
                                                Somewhere over the rainbow
                                                Way up high.
                                                There's a land that I heard of
                                                Once in a lullaby.
            A land where the song sings on, Skies are blue, and the dreams that you dare to dream really do come true.  Then I envisioned what those dreams might be, dreams that are ever so humble, ordinary and serene — a land somewhere in the world and even in our beloved country where peace and goodwill abide; where dreams are not filled with violence and awfulness but acceptance and camaraderie; where possibilities and hope still exist.
            Then came the verse that caused the throat bump to grow like the naughty, green-eyed Grinch.
                                                Someday I'll wish upon a star
                                                And wake up where the clouds are far behind me.
                                                Where troubles melt like lemon drops…
            So what troubles, dear readers, would you like to melt like lemon drops? Which clouds need to vanish to allow brighter days shine forth? My guess is that there may be more than a few troubles, but the wish may simply be for a kinder, gentler future. Therefore, has always been my wish for each of you guardians of freedom— days of joy, hope, and love. Since there is no such thing as a charmed life, perhaps all that I can truly wish is what Sarah Ban Breathnach mentioned in Simple Abundance, a holiday special package, the Strength-Wisdom-Grace package. Strength to meet your challenges, Wisdom to embrace real life, and the Grace to be grateful not only for what you have, but what you've escaped".
            Perhaps you may never be able to fly beyond the clouds or over the rainbow. Perhaps just being able to view the rainbow in all its glorious hues, makes the clouds a bit lighter. And perhaps, if you can't fly over that rainbow, perhaps, just perhaps, you can still, like the bluebird, the small sparrow, or the great eagle, simply fly…
Nov
14
by Janet J. Seahorn, Ph.D
            Why is it so dang tough for some of us to make peace with ourselves. It can be over the simplest of actions, such as burning dinner, forgetting to do something, saying words that you immediately wish you could retract. This is a test I often seem to fail. There are those individuals who never seem to take responsibility for their deeds. It is always someone else's fault. There is little to no personal accountability.  They seem to sleep better at night than I do. For me, I usually bring out the emotional "whip" and thrash myself while banging my head against a brick wall. These behaviors don't achieve much except a sore body and a terrific headache.
            This thought keeps playing over and over in my mind like a messed up CD stuck on the same sound or word. How can we get rid ourselves off the destructive self-talk when it is not productive? What can we do to silence the negative voices that seem to thrive within us whenever we are not perfect? And where in the heck did we ever get the notion that we had to be perfect in the first place?
            Today, I was having one of those times when I, no matter how hard I tried, could not fully expel the wicked witch of annoying edicts. So I did the things that normally comfort me… I took my crazy lab, Bailey on a long walk.
 Then, returning home, I pulled out my various, positive self-help books and began reading a few excerpts.  It never seems to amaze me that random pages open to read are exactly what I need at that moment. In the book, Simple Abundance, by Sarah Ban Breathnach there were these words:
"I'm not suggesting that we suppress our negative feelings. But the petty stuff we're often foaming at the mouth about isn't worth the breath it steals. Our words are powerful, so powerful that they can change our reality — the quality of our days and nights."
But my all-time favorite adage that most often makes a difference for the day is:
This too shall pass.
And — it generally does… pass.
Nov
8
Remembering our heroes on Veterans Day – 2012
CLICK ON EACH VIDEO TO PLAY:
1) Here's To Our Heroes:
http://www.youtube.com/watch?v=LL-0mdEg0U4
2) Tribute To Vietnam Veterans:
May
10
Filed Under Tears | Comments Off
by Janet J. Seahorn, Ph.D
Once again spring has arrived after many months of Mother Nature hibernating in her winter form. Winter in its symbolic character is a time where living plants and many animals decide to go into a quiet, simple mode. Trees and plants lose their foliage, bears snuggle into their caves to rest and sleep, and the rest of us tend to sit, eat, and gain a few more pounds than we want to paste onto our lethargic bodies.
            Now it can be time for a new beginning.  One that can offer us fresh hope for the coming days ahead. One that brings new opportunities if we are brave enough to journey into the unknown and try something different. And one, if we are willing, encourages us to rid ourselves of old habits, ideas, and behaviors that may not be serving us well. Yep, spring is a glorious time for nature, yet for many of us the analogy and reality of cleaning house can be both tiring and not that enjoyable. Procrastination's lure is a powerful obstacle.
            For days I have contemplated what things I would keep and what things I might get rid of as I go forward. No, I'm not talking about cleaning out my overstocked closets, cupboards, and drawers, although this might be a good beginning. If only "cleaning" my brain would be so easy. I'm thinking about those beliefs, behaviors, and attitudes that aren't serving me all that well. You know what I mean, the ones that can make you overly anxious, angry, judgmental, and, really, not the type of person you want to be.
            I could list several pages of what makes me feel like a cleaning is needed. Beginning with the government, politics, apathetic people, wars, PTSD, health care… and items for which I have little or no control. Something like the song, "Let There Be Peace on Earth and Let It Begin with Me" comes to mind. Seems like many times I am criticizing the person with opposite viewpoints, rather than trying to understand his/her position. Next would come, let the past be the past. I can't change it so why do I keep chewing on it like a pit bull with an old bone? Because I tend to have an anal retentive personality and my over active memory systems feel compelled in having me examine too many angles from a prior experience. Unfortunately, memories may not always be that accurate and replaying them over and over only adjusts the volume instead of focusing the real picture.
            Perhaps all of this "inner" housecleaning comes down to one simple act, forgiveness. Such a modest concept, yet so bloody difficult to achieve. And here come the clincher for all of this – a quote that appeared in an Oprah magazine way back in 2000,
"You become what you believe – not what you wish or want but what you truly believe. Whatever you are in life, look at your beliefs. They put you there."
Dang, Spring House Cleaning just got a whole lot harder. I wonder if I can get by with merely repainting the walls.
May
7
by Tony & Janet Seahorn
            Wow, double Wow, and Wow again! Finally a more accurate term for Post-Traumatic Stress which leaves off the BIG "D". 
             It has been a long time coming and we certainly hope that those in charge of giving terms to the various wounds of war will carefully consider renaming PTSD to PTSI– Post-Traumatic Stress Injury. We have constantly said that Post-Traumatic Stress refers to a reordering of the brain neuro networks. But calling it an injury versus a disorder is a huge step in the right direction.
            Think about it, we don't refer to cancer as a disorder, or a broken bone as a disorder. Trauma caused by outside forces essentially is an injury, however, the injury goes far beyond the mere physical damage of an organism; these wounds also impact the soul, spirit, and emotional stability of the individual and are far more challenging to heal.
             For the longest time in the early 19th and 20th centuries, cancer was not openly discussed and considered by some as an illness brought on by an impoverished life style both of the mind and body. Afflicted folks often felt responsible for their illness and were shunned by some in their communities. By gaining a more accurate understanding of any problem we are able to provide better treatment and services for both healing and coping.
            And so it may be tentatively happening for those struggling with post-traumatic stress. We have heard from several readers about this change of wording. For those who have not yet read about the change in terminology, we are including this short clip from Sunday, May 6th Denver Post:
PTSD MAY GET NAME CHANGE TO HELP VETERANS
            It has been called shell shock, battle fatigue, soldier's heart, and, most recently, post-traumatic stress disorder, or PTSD.
            Now, military officers and psychiatrist are embroiled in a debate over whether to change the name of a condition as old as combat. The potential new moniker, post-traumatic stress injury.
            Military officers and some psychiatrists say dropping the word "disorder" in favor of "injury" will reduce the stigma that stops troops from seeking treatment.
            Let's hope those with the power to make such a change will give the new term their best consideration. Word/terms do make a profound difference between how we view and treat those who have given so much to our country – along with other sufferers. Calling combat trauma an injury is far more correct than calling it a disorder.
            With any luck we can get it right this time.
Feb
10
by Janet J. Seahorn, Ph.D
 
It is interesting how many people still have not heard of Post Traumatic Stress. It's as if they have been living under that rock in the Geico commercial. Maybe part of this circumstance is due to the fact that less than 1% of Americans are currently serving in the military. During WWII one could walk down most streets throughout the U.S. and count at least five houses that had a star in the window.
 
            Today, as in the Vietnam War, we no longer have signs that signify to others that a family member is serving overseas. Little is shown to symbolize the sacrifice of the few. Somewhere a child is missing his father or mother each night before she goes to bed. Somebody's mother may be crying herself to sleep again, worried sick about the safety of her child. A spouse is having to carry on every detail of daily chores by herself/himself and doing it each day with a loneliness that shatters the heart.
            Many ask us what it is like living with PTSD.  For me, I think the best description is the trauma of combat leaves many vets with a Holocaust of the Spirit. Webster's Dictionary defines holocaust as a "vast or total destruction, usually by fire; great loss of life or property; a sacrificial offering consumed by fire". Such a description is pretty accurate when you think about it. During battle, not only is there physical fire, there is the mental and emotional fire — a fire in the heart, brain, and soul. Then there is that word "sacrifice". Sacrifice is always the consequence of any combat experience: sacrifice for one's country, sacrifice for unknown people in unknown areas of the world, sacrifice for one's fellow troops, and sacrifice of families left behind to wait and pray for their loved one's return.
 
            As with every Holocaust, loss of life is ever present. And that life, if one survives, will never be the same. The fire of battle has consumed what a person was before the experience, and left him with scars that tend to break and reopen with the living of each new day. It is a never ending journey towards healing. Some days are better than others, but not one day is ever the old picture of "normal".
            Yet, here is the important part of any Holocaust to remember … It can be survived! Like the mythical bird, the Phoenix, who was burned beyond all recognition and rose from its ashes to become an immortal body and spirit, many of our PTSD burdened veterans achieve a similar destiny. Both are warriors of distinction and beauty. Both died in their own painful fire, and both became molded into something purer in spirit and stronger in mind and body.
            It is easier to endure the fire if you can hold onto something precious to the heart and spirit. Therefore, I included the following old Pueblo Indian Blessing that my brother recently shared with me (

365 Days of Walking the Red Road)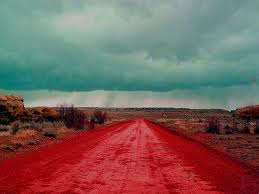 Hold on to what is good, even if it is a handful of dirt.
Hold on to what you believe, even if it is a tree that stands by itself.
Hold on to what you must do, even if it is a long way from here.
Hold on to life, even if it is easier to let go.
Hold on to my hand, even if I have gone away from you.

Feb
2
by Janet J. Seahorn, Ph.D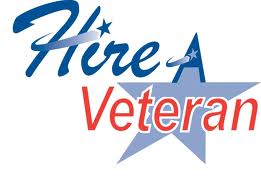 Recently, Tony and I visited with a group of veterans from the Military Order of  Purple Heart. Attending were vets from WWII, Korea, Vietnam and the current conflicts. While discussing our book, Tears of a Warrior and the issues of PTSD, we got on the topic of how challenging it is for veterans returning from war to find a job. Only in recent times has the issue of work for veterans become clearer.
            Many of us thought veterans who came home from serving in WWII were greeted with big parades and wonderful new career opportunities. For years I was under such an assumption. Then I talked with several WWII veterans and what they described was something much simpler. For most, once they returned home they did what historically other veterans had done before them… they went home, tried to find a suitable job and raise a family. Little was written or said about the struggle in finding employment or integrating back into civilian life. For many, there were no parades, no bands welcoming them home, only the test of getting on with life.
 
            Eric Jensen explains in his book about his father, Forever and a Day: The World War II Odyssey of an American Family, how hard it was to find work after the war. As he wrote, many of the jobs were already filled by civilians who had those positions during the war. When the veterans returned there were not as many opportunities for employment as we first believed. Jensen wrote how frustrating it was for his father to have spent so many years away from his family only to return to another struggle – finding a job that would pay enough to support his young family.
            Today, too many employers believe erroneously that vets returning from Iraq and Afghanistan may be suffering from PTSD or TBI and are reluctant to hire someone who may be emotionally compromised. We have written on several occasions how this is simply not the case for the majority of combat personnel. Military personnel have proven over and over again that they are bright, committed and competent employees. Given a task, they will make sure it gets completed in a satisfactory manner. They will show up daily, even when they are tired or under the weather. Veterans are some of the most proficient and capable members of an organization.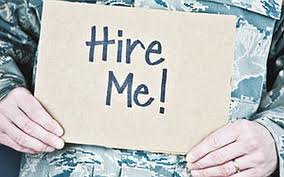 Part of the healing process of our soldiers, both young and old is to value their sacrifice for our country by honoring them with suitable jobs. One struggle we can help them avoid is a struggle to find work. As a country and as a community perhaps offering employment can be a step of vast significance.
            In addition to mending them, "If we send them, let's then employ them" when they return.
 
Jan
17
by Janet J. Seahorn, Ph.D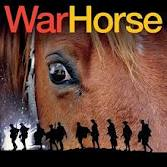 Amazing story!
This was sent to us recently from one of our readers, Larry Mathena. We had just seen Steven Spielberg's movie, War Horse, which chronicled (even fictionally), the high cost of war on horses during WWI.
Like people, our four-legged comrades share similar emotions of friendship, love, pain, and grief.
Reckless, however is a true story of a courageous animal that fought in the Korean War.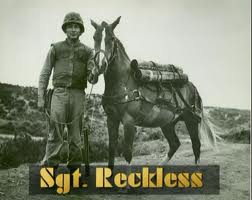 Read on and view the video. I am sure it will touch many of your hearts like it did ours.
A special thanks to Larry for sharing this heroic story.
Reckless was a pack horse during the Korean war, and she carried recoilless rifles, ammunition and supplies to Marines. Nothing too unusual about that, lots of animals got pressed into doing pack chores in many wars. But this horse did something more. During the battle for a location called Outpost Vegas, this mare made 51 trips up and down the hill, on the way up she carried ammunition, and on the way down she carried wounded soldiers.What was so amazing? Well, she made every one of those trips without anyone leading her. One can imagine a horse carrying a wounded soldier, being smacked on the rump at the top of the hill, and heading back to the "safety" of the rear. But to imagine the same horse, loaded with ammunition, and trudging back to the battle where artillery is going off, without anyone leading her, is unbelievable. To know that she would make 50 of those trips is unheard of. How many horses would even make it back to the barn once, let alone return to the soldiers in the field even a single time?

Here is a clip of her story and photos to prove where she was and what she did.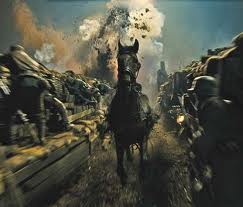 http://www.youtube.com/watch?v=YIo3ZfA9da0 
Reckless was retired at the Marine Corps Base in Camp Pendleton where a General issued the following order: "She was never to carry any more weight on her back except her own blankets." She died in 1968 at the age of 20. 
P.S. How bad was the battle for Outpost Vegas? Artillery rounds fell at the rate of 500 per hour, and only two men made it out alive without wounds. Just two. And also a horse and she was wounded twice.