Aug
12
"Mom Told Me You Are a Hero"
    -Constance Gibbons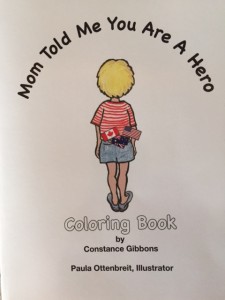 Who didn't like to use crayons and a coloring book as a child?  I remember spending hours trying to use my box of many colored crayons to make the pages of my special book alive with various shades of whatever I thought the picture called for at the time. It never seemed to matter what the theme of the coloring book was about. The important thing was the simple act of making something of my own creation entertaining and exciting. When I was sad it took my mind off my childhood troubles… which sometimes were pretty significant for a young mind to understand. When I was tired, it gave me a way to stay occupied and calm.

It has been a long time since I've thought about the benefits of my early years of coloring. Then a friend told me about a children's book she was writing to help young individuals process the reality of a parent serving in the military. What made this particular project so interesting was that it included a coloring book with crayons that went along with the original book.  Gosh, I only wish I had thought of such a brilliant way to reach young minds dealing with the unique situation of having their moms or dads away for long periods of time and sometimes on numerous deployments.
The title of the book is Mom Told Me You Are a Hero by author, Constance Gibbons. There is a hard copy edition along with a coloring book with the same text. In my work, constantly studying brain development and the importance of early literacy, having both options is brilliant.  The child can have the hard copy read to him/her, and then have the opportunity to color the pictures exactly as he/she desires. By doing the coloring, the child will be looking at some of the words in the text. The words explain the complex topic of war, yet, not in a scary manner. It describes how veterans come in all ages, sizes, shapes, colors, and genders. There are even examples of injuries a veteran may endure.  It is very well written at an appropriate developmental level for children two years and above.
If you would like more information about these delightful and helpful books you may contact the author at cogconnexion@gmail.com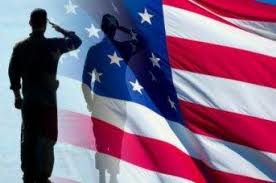 Jul
23
by Janet J. Seahorn, Ph.D
I saw God today. He appeared in many forms and shapes. Some were tall with crippled arms and legs. Some were young with broken hearts and tangled minds. One was weathered with a long, white-bearded, grizzly face. Amazing how God changes and morphs into such diverse appearances. Yet, each face had eyes that seemed to explain wisdom, pain, and hope.
As with such celestial beings, God tends to surround himself with legions of angels. They support, guide, and maintain an environment of light and joy. You see, God cannot do all the tasks he has to accomplish without some assistance.
Such was my experience with the second annual Wounded Warrior Event held in Saratoga,Wyoming. The faces of God traveled in metal chariots through high mountain ranges and wide fields of swaying hay. When the convoy arrived at their destination they were welcomed by the hosts of the Saratoga Resort. Once settled in rooms filled with cowboy furnishings, God was taken to the beautiful Upper Cedar Creek Ranch owned by Tom and Dixie Arthur. Horses and a special mule named Henry awaited His arrival ready to gently carry God to a pristine mountain lake where he could rest, fish, and replenish his mind, heart, and spirit. Angels continually encircled him, focused on quietly serving and ensuring His few hours on the mountain were peaceful and revitalizing.
The following morning God had one more opportunity to experience the splendor of hisWyoming landscape where He engaged in amazing fishing at Big Creek Ranch. New adventures lead by Mark Dunning facilitated hours of fun and entertainment. The day culminated in an evening barbecue with appreciative community members and the staff of the Saratoga Resort led by general manager, Susan Wallace. Each simply sought one last chance to say thank you. Thank you for your service. Thank you for your sacrifice. Thank you for your courage.
Finally, God was sent on His way with a goodbye breakfast provided by the town's American Legion Post.
Yes, I saw God today and I was blessed, both by his presence and his multitude of angels who continue to give so much to keep us safe and free. And once again I realized how even God within every individual needs time to rest, to replenish, to experience peace in order to persevere with the journey ahead. As you go through your hectic days, take time to see God in those who pass your way and be grateful for the divine in each being's special presence.
Nov
7
This is a guest post submitted by Ben Heath:
"The following is a general description of most soldiers I knew."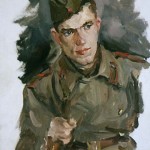 It no longer fazes him to have a grisly old sergeant screaming in his ear, but his palms get sweaty and he can't say a word when a pretty girl smiles at him.
  Is he a man or a boy?
He will eat cold grub covered in dirt and sand and think nothing of it. Bring him a burger with onions he didn't order, and he'll pitch a fit.
  Is he a man or a boy?
He will run in the rain and push his body until total collapse to carry his load, but if mom asks him take out the trash, he will roll his eyes like a complete brat.
  Is he a man or a boy?
He will dive from a plane at eight hundred feet moving three hundred mile an hour without pause, but the site of a needle makes him go weak in the knees.
  Is he a man or a boy?
He will attack and kill the enemy with a ferociousness his own mother wouldn't recognize, yet the site of a suffering child will bring him to tears.
  Is he a man or a boy?
He can wade through mangled bodies and untold carnage, but he can't legally drink a beer to unwind.
  Is he a man or a boy?
He's seen more evil and suffering in a year than most will see in a lifetime, and his favorite reading material is still a comic book.
  Is he a man or a boy?
He is selfish, sarcastic, and sometimes down right mean with his buddies, but he will give his life for them as a matter of pure reaction with no thought given.
  Is he a man or a boy?
I THINK HE'S A SOLDIER.