Nov
7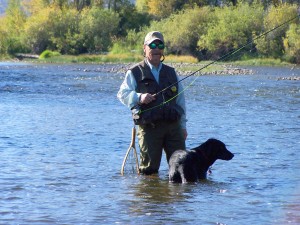 Guest Blog by Jon Sutton, Content Manager for Outdoor Empire
Author: Travis Pike, Outdoor Empire
Veterans are a unique group of people who face a variety of unique challenges in their lives. As unique as veterans maybe they do share the ability to benefit from an activity as old as civilization. We call it fishing. Here are 5 reasons why Veterans need to get out there and fish more.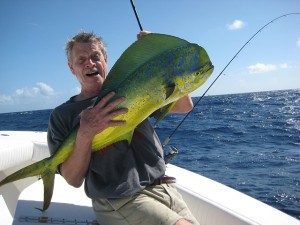 Getting Outside
Something as simple as getting outside and in nature can be a major benefit to your psyche and even your body. Getting outside doesn't just mean walking out of your home, it means actually getting out in nature.
First, you get better air in the countryside than the city. There is no smoke, smog, or ground level ozone to worry about. As a veteran, you may have been exposed to harsh chemicals, and of course burn pits. Fresh air can help reduce the symptoms of most chronic respiratory illnesses.
You'll also get a healthy dose of sunshine. Sunshine provides you with a blast of vitamin D, a vitamin associated with bone health. The average adult is likely vitamin D deficient, something I learned from my VA Doctor. A little sunshine can go a long way to long lasting health. That being said, don't forget the sunscreen, you know what they say about too much of a good thing.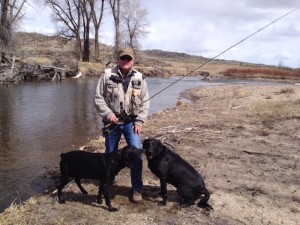 Getting Physical
PT it's good for you and good for me. With almost 80% of the veteran population being obese a little PT can likely go a long way. Most people may think of fishing as sitting in a chair and drinking a beer, but they'd be wrong. There is a big difference in fishing and getting buzzed in a boat.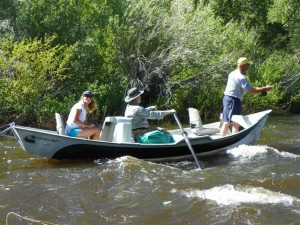 When you're fishing you can be involved in any number of strenuous activities, including wading through water, paddling a kayak, and or hiking to a premier fishing location. That's just to get to you to where you start fishing, from there you start working the shoulder and arms by casting over and over.
Plus, once you get a fish the cardiovascular activity starts as you fight that big boy to the boat or the shore. Watch any fishermen catch a keeper, and look how he sweats and struggles. It may not be as bad a Platoon Sergeant Death Run at 5 a.m. but it'll get you huffing and puffing.
Relax a Little
Ah, greeting the great outdoors with a fishing pole in one hand a tackle box in the other is an amazing way to relax. Veterans on average face the stress of everyday life, and with a high percentage of veterans facing stress, depression, and anxiety the ability to relax is sacred. Heck, just talking on the phone with the VA is enough to drive you mad.
Fishing has shown to reduce cortisol, a hormone associated with stress by over 30% for up to a month. A study by the University of Maine showed fishing reduced anxiety, stress, fear, and guilt by a substantial amount for up to 3 weeks in combat veterans.
On top of everything fishing reduces, time in the sunshine has proven to release a chemical known as serotonin. The theory is that serotonin improves moods and triggers happy thoughts.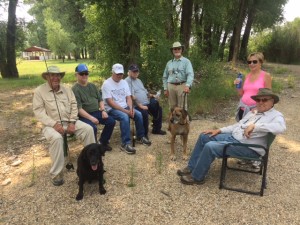 Keeps You Sharp
Young veterans face higher rates of TBI than the average population, which can result in reduced levels of cognitive ability. Let's not forget that the Vietnam generation has reached an advanced age and with age often comes reduced cognitive function.
Fishing provides stimulation to the brain that engages a wide variety of different senses and forces fishers to use reasoning, and make logical assumptions. Fishing also boosts self-esteem and confidence.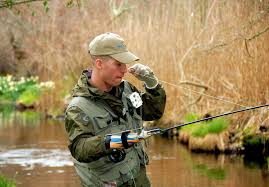 Cause Fish are Delicious
Everyone loves good food, that's true. This may not be specific to veterans because fish is delicious. Fish is also packed with protein and is low in calories and cholesterol. It's also full of healthy fats, like Omega 3 acids that help with joint health. Any infantry veteran will tell you their joints suck, so they need all the help they can get.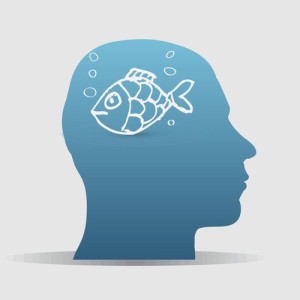 See the Outdoor Empire original article for all the 11 health benefits of fishing.
Apr
29
Filed Under American Patriotism, Bless Our Troops, Combat PTSD, Courage, Dogs, Military, Post-Traumatic Stress "Injury", PTSD, Service Dogs, Tears of a Warrior, Trauma, Veterans, War Dogs, Wounded Warriors | Comments Off on Courage Revealed
by Janet J. Seahorn, Ph.D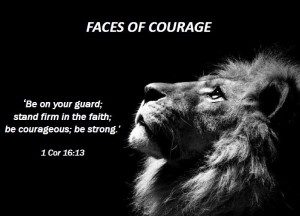 It is easy to see what courage looks like.  We observe it in the acts of those who, in spite of intense danger or inconceivable suffering, or endless determination, an individual continues to live on. To move forward.  We see it in the movies where it makes us feel safe and in control in events we know we may never survive.
But what does courage sound like? Does it reveal itself in words, in songs, in other types of media?  Perhaps real courage sounds like Silence.  The silence of grief that cannot be expressed in words.  The silence of a heart being shattered.  The silence of hidden tears and silent screams.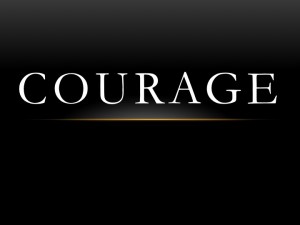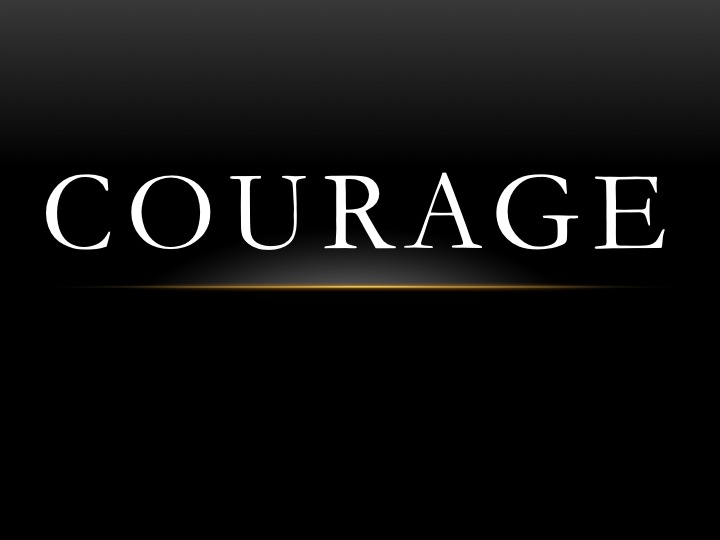 And what does courage feel like?  It may be different for every person, yet, individually it contains some singular similarities. Our feelings, much like hearing, is silent beyond ourselves.  Emotions, an element of feelings, come at anytime, day or night.  It cannot be quantified, perhaps because we may not be able to find a beginning or end in its infinitesimal existence.  You see, feelings go beyond emotions. They are deeper, often jumbled together with anger, love, gratitude and sadness.  We feel what we feel.  Attempting to put feelings into words can be exhausting, exasperating, and mostly ineffective.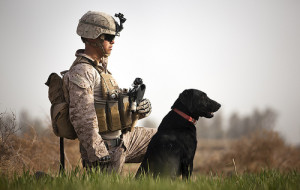 Courage, like feelings and hearing is also Silent. It is very much present. There is both a sweetness and bitterness in courage. The sweetness of living through a reality that many may never experience.  The bitterness resulting from that very same experience.  It is not about the "why me", "how come", or "what ifs" of suffering. Simply having the courage to accept the experience for what it is— an experience that changes a person from the before to the now – and beyond.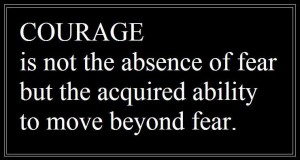 We spend too much time trying to define/identify courage. Most results are superficial at best.  For if, as I believe, courage is found only in the Silence… the empty spaces between the noise and what is seen, heard, and felt.  We often miss or mistakenly identify courage.  Its potential seed lives in most of us, yet, it can only be germinated when or if the time presents itself.  For some of you reading this piece may think, "What the heck is she rambling about?"  For others, those who have lived the courage, you may only nod your head and silently say "true".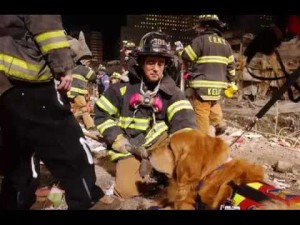 Mar
23
Filed Under Brain Injury, Dogs, Post-Traumatic Stress "Injury", PTSD, PTSD treatment, Service Dogs, TBI & PTSD, Tears of a Warrior, TED Talk, Vietnam Today, Wounded Warriors | Comments Off on TED TALKS AND PTSD
By Janet J. Seahorn, Ph.D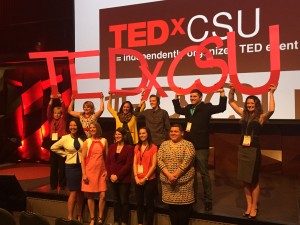 TED (Technology, Entertainment, Design) is a global set of conferences run by the private non-profit Sapling Foundation, under the slogan "Ideas Worth Spreading".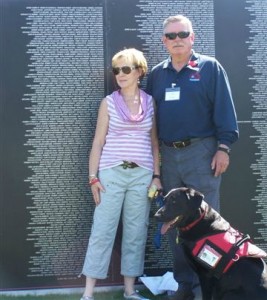 It continues to be an overly busy few months.  We are waiting for things to slow down a bit, yet, as soon as we are done with one "To Do List" another pops up with an even bigger task sheet.  It begs the question as to whether we are really that harried, or if we are more easily exhausted because we aren't all that youthful any more.  OK, don't go to that disheartening place.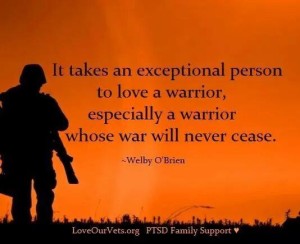 A few weeks ago, I had the opportunity to do a TED Talk at Colorado State University where I'm a professor in the Education College. Of course my topic was Post Traumatic Stress. After months of putting together the talk and multiple practice sessions, the day finally arrived. Truthfully, when I was first accepted as a speaker I was quite excited. As the day for the TED event grew closer I became more anxious.  It wasn't the fear of talking in front of large groups of people – we do that often.  It was trying to fit twenty years of research and essential information into a fifteen minute timeframe that drove me to panic. This was more like the old television show, Name That Tune, in which the contestant was given only the first three or four notes of a song and expected to know its name; a seemingly impossible task for discussing Post Traumatic Stress and its effects on the brain, body, and spirit.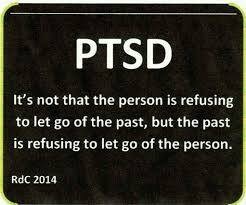 As I entered the stage area I felt like Katniss from the Hunger Games, going into a life and death battle without the proper equipment. You will have to listen to the talk (the information is in this blog), to see the results.  Be sure to go to watch the very end for a surprise appearance of our service dog, Bailey.  Tony, unbeknownst to me, brought him to the event and sent him up on stage at the very end of my talk.  OMG!!!!
Ted Talk: 15 minutes worth hearing!
Understanding PTSD's Effects on Brain, Body, and Emotions | Janet Seahorn | TEDxCSU – YouTube
https://m.youtube.com/watch?v=BEHDQeIRTgs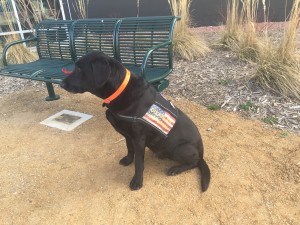 Jan
22
by Janet J. Seahorn, Ph.D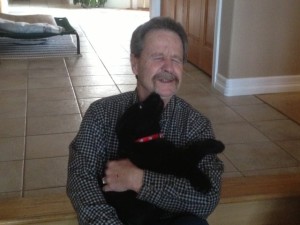 So you think you want to bring home a new puppy. You know, one of those wiggly, darling, sweet looking bundles of joy. They appear amazing innocent in the entire plethora of internet pictures, advertisements, and billboards. Yep, you definitely believe one of these adorable, four-legged, loveable, furry cherubs known as "man's best friend" will enhance your life and look great on your next Christmas card.  And, you aren't totally oblivious of what it might take to raise one of these creatures.  You've had puppies before, of course. You may have been much younger and more patient at the time. 
You understand that this energetic whippersnapper will take a pretty good amount of time to potty train, learn new commands, and not bolt at the first slight opening of every door in your home. Hiding any and every item that might go into the puppy's mouth including expensive eye glasses could end in an inflated doggy hospital visit – sure to cost you an arm and a leg. This will be essential to your pocket book and your endearing, four-legged child's health. Oh, and did I mention how much puppies love the leather seats of your new truck's interior.
If your adorable, small creature is going to grow into a huge, muscle bound tank, like my brother's black lab, Mato, life becomes even more fun to control. Things like not allowing this boiler of energy to greet others, especially children and the elderly, by approaching them like a freight train and jumping full force onto their chests. This will be crucial to avoid unpleasant verbal encounters or even law suits. Of course that once tiny bundle of fur has no clue that he has grown into a ninety pound bruiser of a beast.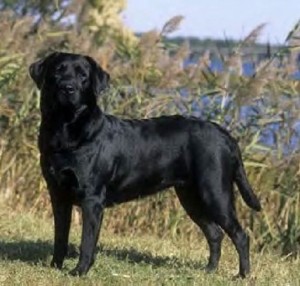 Oh, and don't forget that if you have other household pets, bringing a new four-legged nipper into the pack will require an immense amount of patience, both for you and your other domestic companion. My brother, John, wanted to have another pal for his aging lab, Wyatt. We did something similar with our beloved older lab, Chase, when we brought Hunter Bailey into our abode, and told John, how Bailey helped bring new life back to Chase's daily routines. It actually, we believed, gave Chase a new lease on life and kept him agile and healthy for several more years. To be honest, Chase did not fully support this perspective. Bailey, however, kept Chase's competitive spirit active.  Chase would not allow his new "buddy" to ever get an edge on any ball, bird, or swimming event.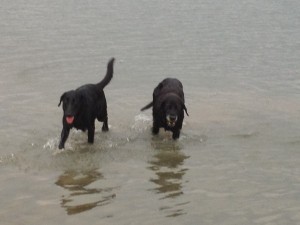 However, in our limited experience we forgot one significant point. Just like kids, all dogs are not alike, and Mato (Lakota for Bear) was absolutely not like Bailey. Bailey, as the younger dog, was quiet, subservient, and a fairly mild lab compared to when we raised Chase.  Chase was more like Mato, impulsive exhaustingly active, and stubborn as hell. My brother's older dog, Wyatt, has always been a gentle people pleaser, more like Bailey. Poor, innocent Wyatt had no clue what a new puppy would bring to his world.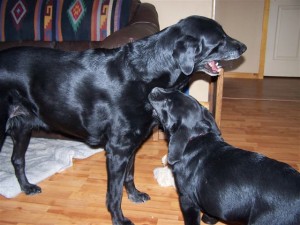 Today, Wyatt has extreme doggie PTSD from his adopted brother, Mato. Having a huge puppy leaping on him throughout the day, pulling on his ears and legs to induce play, or taking more than one dog's share of food would be traumatic for any aging canine.
So, what does this story have to do with Post Traumatic Stress of an aging military veteran, one might ask? Bringing a new puppy into your quiet, tranquil home may generate more stress and anxiety than you ever imagined. Just ask my brother, John. He now refers to his beloved puppy, Mato, as a Weapon of Mass Destruction. Need I say more…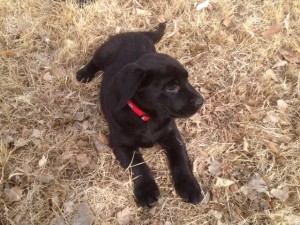 Nov
13
by Janet J. Seahorn, Ph.D
            If you have never been to Lubbock, Texas it is a flat, dry, and very youngAmericanCity. It was founded in 1911 which was a bit surprising considering that today it is home to around 250 thousand people as well as the well-knownTexasTechUniversity. TTU has the largest campus of any university in the United States and an attendance of close to 35,000 students. There are few places one can go where they don't see some logo or item related to the Red Raiders. I must admit I really liked their black, red, and gray colors…. a very classy look for their entire plethora of apparel, knick-knacks, jewelry, poster, etc. Texas Tech is also home to the largest Vietnam archives in the world.  People from anywhere in the world can access their files through internet with little or no cost.
However, here is what impressed us the most about the university and its personnel, it is a very veteran friendly campus and tries to honor its veterans and their families every day. Last week, before Veteran's Day, it hosted a four day event celebrating veterans and families. On Wednesday they oversaw their first Veteran'sSummit. It was a day of learning about the challenges of returning from war and transitioning into a community where less than one percent of the population has been fighting the last ten years in Iraq and Afghanistan.  Various professionals, including Tony and I, spoke of the difficulties of living with Post Traumatic Stress and Traumatic Brain Injuries.  A doctor addressed the complexities of vision problems veterans face. Several veterans, including a panel of four young men who served in Iraq and Afghanistan, shared their experiences in combat and how that impacted their ability to reintegrate back into their families and neighborhoods. Their stories were both heartbreaking and informative. COL David Lewis shared what Lubbock is doing for veterans along with how essential it is for every community to have a Veteran's Court that deals with those who find themselves involved with actions that landed them in jail or mental health facilities.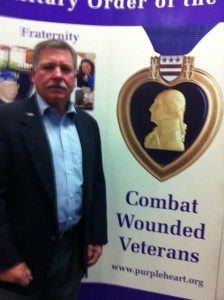 Friday evening, the community and university put on a banquet for Purple Heart Recipients and their families. Several Gold Star families (those who have lost loved ones) were part of the event and Medal of Honor Recipient, Doc Ballard fromKansas City, was the Keynote Speaker.
One of the most remarkable parts of the four day events was when almost 500 Purple Heart Recipients were treated to the Texas Tech football game. Before the game began, paratroopers floated into the stadium with Old Glory flying behind them. One of the jumpers was Dana Bowman, a veteran who had lost both legs in a fatal skydiving demonstration in 2001. His courage is a testament to how incredibly resilient our men and women in military are when they are in combat and even more so when they return. As he stated in his speech, "It is not the disability, it is the ability" that matters.
For most Americans who have never had to fight for our precious Freedom few realize – especially our young population – what it is to live without Freedom. We must all guard against complacency and never take for granted the gift that each American has been given because of the service of our military.  God Bless our armed forces and our many veterans and their families. Freedom is never free.  Let's support and heal all of our veterans every day of every year, not just honor them one day a year. It is the least we can do.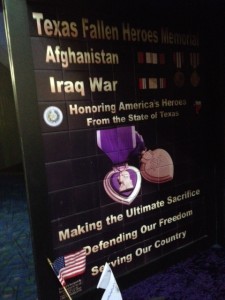 Jul
28
by Janet J. Seahorn, Ph.D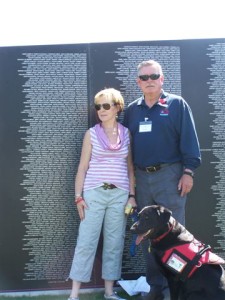 Much of the time we write about the challenges of Post-Traumatic Stress, a silent wound no one can see, yet its effects can consume a person's mind, heart, spirit, and even soul. However, there is a very physical silent wound that many individuals face, especially veterans who have been in combat zones where IEDs, bomb & RPG blasts and other tragic events cause a physical hearing loss.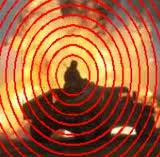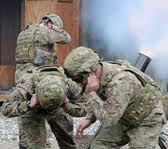 Losing any of our senses makes negotiating the daily routines of life much more difficult. And losing the loss of hearing separates one from the ability to participate in the most common of daily tasks. Simple activities like going to the store and trying to communicate with the checkout person, or straining to understand what your waiter is telling you at a restaurant can be challenging.  Consider, also, what it takes to have a conversation on the phone.  Most of us take these common everyday tasks for granted. Thanks goodness for new technologies like texting.
It was an early Friday morning and I was heading to the airport to catch a flight to Louisville, Kentucky. Tony had accepted an invitation for both of us to speak on several panels regarding hearing loss and combat veterans. In between the acceptance and the trip, he got a special opportunity to spend ten days in Alaska fishing for salmon and halibut. This proved to be an offer he couldn't refuse. So you guessed it, I was doing this one alone, kind of like Tonto without the Lone Ranger.
Once I arrived in Louisville I had the wonderful privilege of spending several days with four wounded veterans and three of their wives. All of the vets had severe hearing loss from an IED explosion or near a suicide bomber, and one who had contacted an unusual illness that caused him to lose his hearing due to the cartilage in his body being eaten away. Three of the four vets also suffered with pretty severe traumatic brain injuries.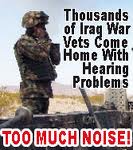 What was quite amazing about this group was not what they had lost, but how far they had come in addressing their condition and moving forward. And to make this situation even more remarkable was that each had a wife who was incredibly supportive and tenacious on making sure that her husband fought for his recovery as she helped fight for appropriate services in the healing journey. One of the wives had a Master's degree in Occupational Therapy while another had a background in working with the deaf and was skilled at sign language and other techniques to use when working with individuals faced with hearing loss.
What was an Aha Moment for me after being around these couples is the fact that there are "tip" sheets to assist with adjustments to hearing loss.
-Tips like stand still and face the individual with whom you are talking.
-Talk clearly.
-Try to keep to the point and don't overuse words.
Darn, these were things Tony and I learned the hard way. I could have benefited knowing these years ago. The list reminded me of training our dogs… you do the same things… when giving directions or a command. Stand still. Use minimal words such as stay, sit, down, eat, kennel, etc…Kind of showed us that training ourselves sometimes is very much like training our animal friends.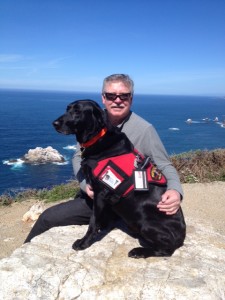 For any person with a hearing loss and especially our returning veterans and families, get informed about all the new technologies and assist devices that can greatly enhance the ability to function. If you are in this category you will have to be your own fervent advocate. If you aren't satisfied with your services, keep pushing for any new ideas or programs that are available. Do your Google searches. The Veteran Centers are pretty overwhelmed with the number of veterans needing services, therefore, you will need to be the bull terrier not willing to give up or give in until you are convinced all that can be done, has been done.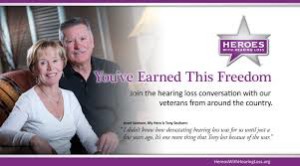 Adapted hearing devices are available through many American companies. One such organization is Hamilton CapTel. It produces a caption phone that has been a Godsend to Tony. Hamilton CapTel has just launched a new program called Heroes with Hearing Loss  www.heroeswithhearingloss.com  The program focuses on education and information for navigating the world of the hard of hearing. Take a look at their video. You may even want to "Like" them on Facebook to get more information.
http://www.multivu.com/mnr/62613-heroes-with-hearing-loss-new-program-debuts-vfw-national-convention
In the end I am reminded of a quote by Joseph Fort Newton.  It clearly captures the essence of so many of our military personnel and their families who continue to wake up every day and courageously move forward toward their personal healing and their mission of making a difference for others.
"We cannot tell what may happen to us in the strange medley of life. But we can decide what happens in us, how we take it, what we do with it —– and that is what really counts in the end."
Jul
12
Filed Under Aging, Dogs, Family, Fishing Therapy, Healing Waters, Journey, Life, Love, Peace, Pets, PTSD, Service Dogs, Tears of a Warrior, Tears of Joy, Veterans | Comments Off on CHASE'S MEADOW
by Tony & Janet Seahorn
            The human heart and mind are amazing in their capacity to experience intense sadness and abundant gratitude at the same time. That lump in the throat is still there as are the tears that cloud my eyes. Yet, the weight of the death of our wonderful Chase seems to be a bit lighter.
            Earlier this week, we visited Chase's most beloved mountain meadow, high on the Snowy Range in southern Wyoming. It is a beautiful, alpine meadow filled with wild flowers and a running brook. This is the place we chose to spread his ashes and place a stone memorial on a wooded ridge overlooking the peaceful valley below. 
            We promised to make this journey after the early summer snow melt and before the wildflowers were in full bloom.
            His very essence now glides in the winds and rolls gently with the flowing water. White and yellow flowers line his final path. He is at peace, as are we. And younger brother Bailey still romps through the brightly colored grasses chasing after his cherished tennis ball – a reminder that joy is always present around and within our souls.
            As we paid our final respects it seemed as if Chase was giving us his final message:
I am now in my meadow; my ashes white as angels' wings float with the Wind and flow through the mountain streams to places I never ran in life. 
Peace and beauty will always surround me with a green and white and purple blanket of sweet columbines.        
This is where I was finally meant to be.
Therefore, honor me not with tears of sadness, but with hearts of joyfulness.
                              Remember me with stories and laughter.                               
And most of all know that as much as you loved me I loved you even more.
Black Forest Chase
April 23, 1999 – January 4, 2013
Jan
5
 -by Tony & Janet Seahorn
Black Forest Chase:    April 23, 1999 – January 4, 2013
Dear Readers, today is an incredible hard day for us. It is a day of celebration, gratitude, patience, letting go, and joy. Today our black lab Chase made his final retrieve. We will miss him dearly. He was our special Wonder Dog and his spirit will remain with us. He loved to fish and bird hunt and guide the raft on its journey downstream. His companionship and love was unconditional and he will never be forgotten. Chase has been our guardian angel calming Tony as he battled with the demons of PTSD. We'll miss his wonderful presence as we explore new waters and return to familiar haunts. Chase, we know you'll be happy flushing birds & brookies in the great beyond.
Peace old buddy.
           Many will walk in and out of your life, but only a true friend will leave paw prints on your heart.   ~Anonymous
My brother, John, sent us this poem earlier this week.  I know it will offer us comfort, but for now we must travel the Road of Tears.
In Memory Of A Beloved Friend
Skidboot:
Born in 1992 and passed on in 2007
Touch me with your voice as a puppy young and new,
And let me know my presence is what is pleasing you.
Touch me with your Spirit, for God sent me here to you,
To teach you of that precious bond known only by the choicest few.
Touch me with your hands as I grow tall and strong,
I need you as my mentor throughout my whole life long.
Touch me with your lips, and brush them softly on my brow,
Please kiss away the fears that I am feeling now.
Touch me with your eyes as I become full grown,
To validate unspoken love that we have always known.
Touch me with your heart as our bond keeps growing stronger,
And words need not be used in our language any longer.
Touch me with your breath, so soft and warm upon my face,
As I try to bring you comfort in life's never ending race.
Touch me with your love when my muzzle turns gray,
I live my life to please you, each and every single day.
Touch me with your scent when age has dimmed my sight,
To reassure me always that you will be my light.
Touch me with your face when your tears are meant for me.
So I may bear your pain and let your heart be free.
Touch me with remembrance when I have traveled on,
And, I will hold your heart in mine forever when I'm gone. 
-Credit  Skidboot-
Aug
2
 by Janet J. Seahorn

       It is such a privilege to write our blogs and then hear back from some of our readers. The blog on "Tears of a Mother" brought many wonderful comments. One such reader sent this message which made me smile. He wrote:
                    
A SHORT STORY. MY WIFE AND I HAVE BEEN MARRIED FOR 40 YEARS. WE ARE HIGH SCHOOL SWEETHEARTS AND WHEN I GOT HOME FROM MY LAST HOSP STAY FOR A PANIC ATTACK, I ASKED HER WHY SHE HAS STAYED WITH ME FOR SO LONG. HER EXACT WORDS WERE. "I KNEW YOU WERE A CHANGED PERSON WHEN YOU GOT HOME. HER FRIENDS AND FAMILY SAID I WAS DAMAGED. SHE TOLD THEM THAT THE MAN IS SCARED OF EVERYTHING AROUND HIM. AND THAT SHE LOVED ME". I DO NOT TRAVEL TOO FAR WITHOUT MY WIFE. I CALL HER MY HANDLER.
            Isn't that just the sweetest compliment he gave his wife, "my handler", which, as you can see, he stated with genuine love and gratitude.  His message reminded me of a very endearing commercial for "shelter" dogs we have here in Colorado. It starts out, "Don't pity a shelter dog — honor him. Shelter dogs aren't broken, they've just experienced a little more of life. In many ancient times they would be considered wise.  They are the ones with tales to tell and stories to write.  They have faced life's challenges with courage and pride, and survived with honor and dignity". 
           Sounds like many of our amazing vets. Just like these shelter dogs who have experienced a bit more than their canine siblings, veterans aren't broken, damaged, or to be pitied. Most have gathered a deeper wisdom regarding life. And, yes, they have tales to tell and stories to write. With courage and pride they continue to live every day of their lives with honor and dignity.  
Shelter dogs and vets. Golly, what a wonderful way to view the  challenges of life…and PTSD.