Aug
25
Filed Under Courage, Faith, Fishing Therapy, Healing, Healing Waters, Journey, Life, Love, Military, Peace, PTSD, Rushing Wind, Tears of a Warrior, Wounded Warriors | Comments Off on VINCE THE PRINCE
By Janet J. Seahorn, Ph.D.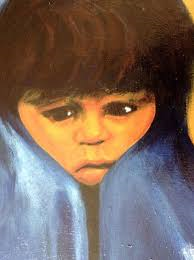 Once upon a time there was a very young boy who lived an incredibly difficult childhood. He was the oldest son of a family of five children – two younger sisters, one brother and a step brother. At eleven years old he became homeless, kicked out of his family by an abusive father. Drinking and beatings by his dad were endured on a regular basis.  For five years he lived on the streets until he was old enough to join the army (1956-1965).  Being of Navaho Indian decent, Vince the Prince was a fledgling warrior, and warriors always fight with perseverance and courage.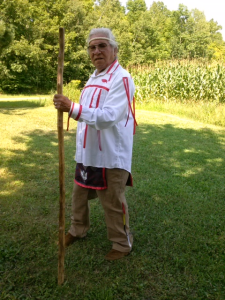 However, the trauma of his early childhood experiences followed him into the military. He was always in trouble, and believed he would get shot, knifed, or killed in prison. Life was pretty hopeless. Anger often consumed him, a normal coping mechanism many children of abuse use to mask their pain and unpredictable daily circumstances. But, Vince the Prince was a survivor, often called a "smart ass". Being tough kept him alive, and being enraged kept him "feeling".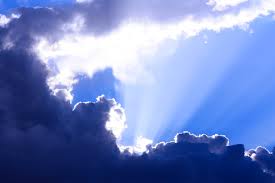 How does a person ever survive such a life? According to Vince the Prince in 1970 he found faith in the spirit of the Lord, and this discovery saved him. Talking with him was pretty amazing as he could quote scriptures from the Bible better than most clergy. His personal commitment to the Lord handed him the hope that he lacked in his younger years and offered him a purpose in how he would live the rest of his life. In 1973 Vince was ordained as a street Evangelist.  His parishioners were those confined to the jails and prisons in Chicago. He worked with the street people offering kindness, optimism, and faith. Having this new mission made him think of others before himself. He was no longer in the survivor mode, but in a vocation of serving those who, like him in his early years, were crushed by life experiences far beyond the control of a young boy. In 1983 he even completed his GED after having only a fifth grade education.  Yep, pretty darn remarkable.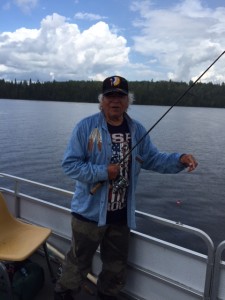 I asked him at the end of one of our conversations "What has been your greatest lesson?"  His response, "No matter who or what you are, in God's eyes you are precious." And, 'When all else fails turn to Jesus."
Vince the Prince continues to work with young teens, many who are homeless like he was in his early years. Who better to understand their struggles, their fears, and their despair? Who better to provide a sense that no matter how dire your circumstances may seem there is always hope and that hope can lead to a miraculous future. Living life with purpose and a wicked sense of humor make Vince the Prince a very special human, indeed.
(I recently spent a week with Vince at a remote fishing camp in Canada called Rushing Wind. Tony and I were invited to work with veterans who have experienced the effects of combat and are finding ways to heal from the wounds of war.)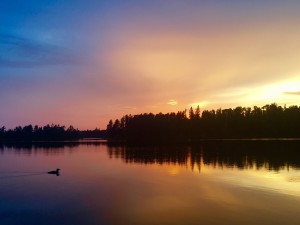 Listen peacefully to the wild call of the Loon.