Mar
26
Filed Under Black Lions, Combat PTSD, Courage, Healing, Military, Pain, Peace, Return To Vietnam, Tears of a Warrior, Trauma, Veterans, Vietnam Today, War | Comments Off on Healing From The Wounds Of War
Two Quotes from Rumi:
(Rumi was a 13th-century poet of immense talent. His work highlights the power of literature in its ability to transcend time, language and geographic locations)
1)  Healing doesn't mean the damage never existed. It means the damage no longer controls our lives.
2) The wound is the place where the light enters you.
Mar
26
Filed Under Black Lions, Combat PTSD, Courage, Events, Faith, Family, Healing, Hope, Journey, Love, Pain, Peace, PTSD, Return To Vietnam, Tears of a Warrior, Veterans, Vietnam Today, War | Comments Off on GETTING UNSTUCK
by Janet J. Seahorn, Ph.D
It isn't easy to move forward in life when you seem trapped by events that happened in the past. Often times the harder you try to get unstuck, the more bound you become to that very past. So how does one resolve such a dilemma? It probably won't be without effort, time, and even some painful moments.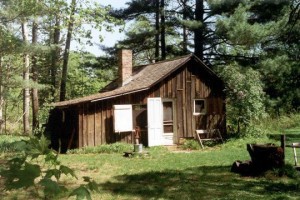 In the book/movie, The Shack, the lead character is tormented by an unimaginable personal tragedy. No matter how hard he tries to move forward beyond his pain and horrendous memories, he can't. Being caught in a terrible incident he is unable to see past his pain to the extent that very little joy or happiness can enter his life. In order to heal he is forced to go back to the place (the shack) where he got stuck; the place where the horror, the anguish, and the future was taken from him.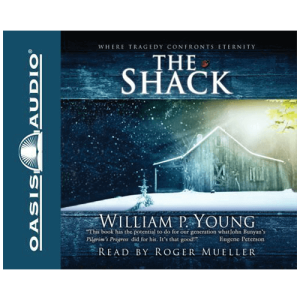 I think this is what Tony was doing when he decided to return to Vietnam.  In order to heal more completely he made a choice to go back to the place where he became stuck, a space that over the last many decades unconsciously became his "shack". Since his military service in Vietnam he has worked incredibly hard to move beyond the memories and the demons, but there were still times when the burden of combat obscured his vision and ability to live fully.  As part of the healing process he had to exhume the old earth in order to plant and allow for new growth to occur. He will be explaining more in his future blogs.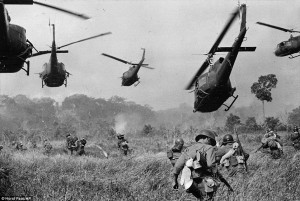 Toward the end of the movie there was a beautiful metaphor about life.  A truism that most of us already know…. life is not neat or precisely organized.  It is messy, bumpy, and often unbalanced. Yet, it is this very assortment of messiness and disorder that make us who we are and who we can become if we are brave enough to return to our "shack"  to become unstuck.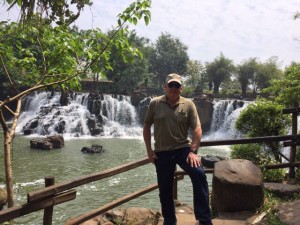 So what is your "shack"? What might you do to become "unstuck: (that doesn't mean you have to physically return to a specific location to heal). Just know that this "becoming unstuck" will most likely not be easy, orderly, or without some deep potholes. It is a journey, like Tony, you may need to take alone. However, the reality is that you will not be totally on your own. Like Tony you will have the thoughts, prayers, and support of family and friends that will accompany you in spirit and hope.
Nov
29
by Lawrence Fuller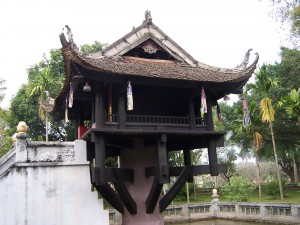 This is a guest post by Larry Fuller who is presently in Vietnam on a road of rediscovery. Larry is a friend of a friend (Charlie Dana). Following is a shortened version of his letter home:
Recent storm knocked out power and computer at my hotel, so I have wandered over here to the post office to see about sending some stuff home. Low and behold…I have found some good computers to use.  I wonder how much it's going to cost?!
 
Since the storm knocked out power, most of us sat in the lobby and talked by candlelight.  After everyone decided to go to bed, I decided to go out in the storm (it was just a little storm).  I wanted to find this Indian restaurant, strangely named "Omar Khyam's Restaurant."  I knew the guy.  He struck me as an excellent businessman and very organized. 
Wearing my Wal-Mart special bright yellow poncho, I wandered the deserted streets and BINGO!  There it was…a beacon of Indian de-light!  He had the generator running always hopeful for another customer…and I was it! 
I pulled off the poncho, hung it on the coat rack in the corner, and found a table facing the street.  Outside, the wind was whipping the branches of the trees and the rain was beating against the windows,  Inside, it was as cozy as could be with gentle classical Spanish guitar music playing over the speakers.  Yes…it was one of THOSE moments! 
I decided to order the Lamb Curry with hot masala tea and relax.  He and I talked.  He was Indian and was one of these guys who just got up from where he was, got out of a bad situation, and had built 8 restaurants throughout Vietnam. 
I took my time and enjoyed the meal.  The storm lashed the streets and his restaurant's background music couldn't have been more appropriate.  I had selected one of the more expensive dishes on the menu.  After all, it was Australian lamb!  I thought, "Dog gone it…I deserve it and am worth every penny."  Filled with the delicious meal, I finally got up, paid the $3.50 bill, donned my trusty poncho and stepped back out into the night.
 
The street was filled with the bustle of motor-bikes, trucks, bicycles, cars, peddle rickshaws, and other indescribable forms of transportation. 
Suddenly, I heard an American voice behind me, "Can you tell me how to get to a park."  I twisted around and noted a gentleman about my age standing there.  His name was Lloyd, and he was 60 years of age.  He wanted a place where he could just sit and think.  He had been an American Army draftee, who had served multiple tours in Vietnam way back when. 
I could sense some sort of identity with him and could see on his face that he had struggled mightily with life.  He was from Indiana.  He needed someone to talk to and I didn't mind.  As a matter of fact I wanted to…talking with someone who cares and could use some help. 
He had struggled with the demons that had crept inside him from that War.  He had lived a life of alcoholism crashing from one disaster to the next.  His latest setback was a home and a bank that had foreclosed on him.  No one had helped him with Post-Traumatic Stress Disorder until just lately. 
He had been angry with the Army and angry with every thing.  He had finally quit drinking 6 years ago and now…every day was a challenge.  He said he had returned to where his Vietnamese Army camp was located and found the Buddhist temple where he once entered with a gun. 
I didn't push for details.  He said he had just broken down in tears when he left the temple and I think this had been a good turning point for him. 
We talked about Heaven and Hell, good and bad, the reason for our existence, and America.  We both knew we had an appointment up the road.  I said, "Let's get up and find that park."  He was going to head for Laos the next day. 
We found the park and he thanked me.  We were both on the road and I am grateful for having met him. 
May God bless him.
Jan
23
Following are some final thoughts on our trip to SE Asia. It has been a privilege to be able to take this journey.  We saw and gained a deeper understanding of how closely, yet varied, different cultures and people are in this world.  The children especially touched our hearts for they were like children everywhere – full of giggles, curiosity, and joyfulness. One obvious difference however is the fact that most American children do not have to beg for money or sell trinkets in the street to survive. Realizing that this behavior is an essential element of their daily survival pulls at your heartstrings. Of those children fortunate enough to attend school, each must have families or a sponsor able to pay for the child's education. English lessons begin in first grade so students are able to converse quite articulately at an early age.  In their young eyes, America and the Western World is the land of opportunity, which is why learning English is so important to them.  It can become their ticket to a better life.
Towards the end of our trip, an excerpt from the Daily Word, which I read each morning, was especially profound as it sums up the essence of our experience. "We unite in expressions of happiness. We exchange the jubilance of the human spirit with abilities to inspire one another, to thrive individually, and to expand joyfully amidst a multitude of life happenings." 
By all accounts, this past three weeks was truly an amazing journey.  Tony did incredibly well on his "Return to Vietnam" and we were enlightened by the people in every place we visited.  In closing, we want to say how much it has meant that so many followed our experience through our website blog. Everyone's support and feedback has been tremendous!
Jan
18
Hurray!  We are now back on American soil, and again, we are reminded of how very much we love this country.  Visiting Vietnam and Cambodia made it clear how very precious freedom is to a country, a people, and to us as individuals.  To all those who have served America or are currently serving our great country abroad, thank you.  While flying from Singapore and changing planes in Tokyo this morning, we came upon several young soldiers returning to the USA on R&R from Iraq.  Tony gave each of them a small card with the words, "Thank You For Serving."  Only wish you could have seen their faces.  Wow. Actually brought tears to our eyes knowing that they will soon have to return to combat in a few short weeks.  At any rate, this was an amazing trip/journey.  Tony did incredibly well and we truly enjoyed the people in every place we visited.  Following almost 3 weeks of non-stop travel, we have been flying two days without much sleep since leaving Singapore, yet, before we go to bed tonight in our warm, cozy home, we want to say how much it has meant that so many of you have kept up with our blog.  We have indeed received much joy and encouragement from your prayers and support.  With gratitude,
Jan and Tony
Jan
18
Singapore is an island micro-state located at the southern tip of the Malay Peninsula. It is one of four remaining true city-states in the world. It is the smallest nation in SE Asia. The small island of Singapore, prior to European settlement, was a Malay fishing village at the mouth of the Singapore river. Much of the culture remains today. Later it became one of the most important trading and military centers in the British Empire. Singapore was occupied by the Japanese during WW II and reverted back to British rule following the war. It became an independent Republic in 1965 and has become one of the world's major economic and tourist centers since that time. Today Singapore is a diverse cultural mixture of many different nations with a predominate Asian influence. It is truly a mixture of old and new customs with the statue of Merlion (mermaid & lion) overlooking the beautiful harbor and safeguarding this intriguing city-state on the southern tip of Malaysia just north of the equator.
Jan
16
We have arrived in Singapore. Talk about a modern city! Everything is new! Building construction along the harbor and waterfront canal has all taken place in the past 40 years! What a contrast with so much of what we have seen elsewhere………………..especially in Vietnam & Cambodia.
Tomorrow we plan to venture outside the city proper and take in the local culture and history of this unique land.
Jan
14
Modern Day Bangkok is quite the contrast from most of what we experienced in Vietnam. Much of the city's business district proper is more like New York City than SE Asia.  We have to remember, while much of SE Asia has been at war most of the past century, Thailand has been at peace.
Very cosmopolitan. Once we ventured into the outskirts, we then experienced the true culture and history of this noted place. Temples everwhere! The Grand Palace, Temple of Dawn, Old Bangkok……all were very impressive and allowed us to truly view some of the greatest monuments the world has ever seen. The river transportation system was facinating and a wonder to experience.   With the majority of the population Budhists, there were monks everywhere.
The Night Walk……………..very interesting indeed!  Two days in Bankok. Wow, what a special place to visit. Now it's time to get some sleep…
Jan
14
It is Wednesday, January 14th and we just arrived in Sihanoukville, Cambodia.  If anyone every forgets to thank the greater universe for his/her daily blessings, take a few hours to visit here.  Cambodia is an entire country experiencing PTSD – severely tortured and traumatized by the incredible treatment of Pol Pot and the Khmer Rouge.  During the "recleansing" of Pol Pot, Phenom Phen, the capital of Cambodia with over one million people, was reduced to a mere 45,000 as the soldier (many of them young boys) murdered the residents or made them flee to the countryside where they ended up starving to death or dying from disease.  Between 1975 and 1979, this small country lost over two million people – one million murdered (some for only wearing eye glasses which symbolized an intellectual) and the second million died of malnutrition and other maladies.  Our thirty-five year old tour guide was only four when the Khmer Rouge began its reign of terror.  His Dad, grandparents, younger sister, and several other relatives died.  He, along with many other small children, was taken from his parents to work in rice fields and fed very little.  After five years, his mother, who survived wherever she was kept, finally found him and one other sister.  Three years ago his mother died from a liver disease brought on by her many years of starvation and  torture. In spite of such loss, many of the people seem to possess an irrepressible joyful spirit even if their eyes tell a tale of pain and suffering.  The older people appear to be truly wasted, eaten up by the poverty of the environment and the memories of the past.  So when you go to sleep tonight say a prayer of infinite gratitude for all that you have, and say another prayer for the many millions of people around the world who have much less.  No matter how challenged some of our days may be or feel, they are nothing in comparison to most of the people here.
P.S.  Forgot to mention there are still many land mines in the area so it is best to stay on well traveled roads and sidewalks.  Yikes!
Jan
10
The drive from Halong Bay inland to Hanoi takes over three hours.  I feel unsettled and somewhat apprehensive about making the trip into the communist capital city of Vietnam. 
Yes, I know the war is over, but that alone doesn't remove the lingering memories of Ho Chi Minh's North Vietnamese Army (NVA) assaulting the South by the thousands. Since the French Army's loss at the battle of Dien Bien Phu, Uncle Ho was determined to overrun South Vietnam and spread communism throughout the entire country.  Saigon was the ultimate target, but thousands of battles would occur before that objective was met.
We have named that difficult and tragic time in American history the Vietnam War.  The Vietnamese call it the American War – which allows them to distinguish that ten-year period from all the other wars – the war against the Chinese, the French, Japan during WWII, and then again the French, and finally against America.  JFK had asked a nation "Ask not what your country can do for you, but what you can do for your country."
 In 1968, I found myself, along with thousands of other American youth answering that calling – we were patriotic – proud to serve our country.  I was a young army officer at 21, older than most. How soon we would all age beyond our years.
Somehow, driving into Hanoi all these years later seemed unpatriotic.  The country has been opened to tourism, albeit with a multitude of restrictions associated with communist rule. We visited Ho Chi Minh's Mausoleum where his body has been immortalized for all to see since his death in 1969. Next we visited the Hoa Lo prison, "Hanoi Hilton", where several hundred American pilots were tortured and held captive, including John McCain.
The photos in the Hanoi Hilton showed prisoners in various scenes "enjoying" their captivity. The propaganda was obvious to those of us who understood the realism of war, but to some of the more gullible individuals, the "upscale" conditions of the prison were impressive.
I was relieved and glad to leave the suffocating environment of Hanoi. 
Later in the week, we moved southward into Danang and Hue, that portion of Vietnam below the DMZ more familiar to Americans – especially for those who served during the war. The battles of Khe Sanh, the Rockpile, Hue, and Operation Rolling Thunder are all too familiar. Although I was stationed further southwest along the South Vietnam / Cambodia Border, I had flown into the airfield at Danang. The sea of military vehicles and personnel are long gone, but the area looked much the same as I remembered it. Considerable development has occurred south of Danang and adjacent to China Beach, but much of the city appeared relatively unchanged from decades prior. The ridge line to the west of Danang, toward Dai La Pass, still was draped in clouds and looked as ominous as ever. And yes, the Viet Cong where still there, only today everyone is under communist rule so we no longer have to anguish over the dilemma of friend or foe.
 Two days later, we arrived in Saigon (Ho Chi Minh City) although most of us still call it Saigon as do the residents of Vietnam. We drove past the Tan Son Nhut airport and moved into the city proper. Following a tour of Saigon and visiting the war museum, which featured a U.S. Army Uh-1 helicopter, an F-5 Air force fighter, a Sky hawk, and an army tank – all displaying a large emblem of the communist red star painted over the U.S. insignia.
That was enough tourist attraction for me…
Jan and I walked past the noted Continental Hotel and stopped at the Rex for an afternoon break.
The rooftop view from the outdoor lounge of the Rex Hotel allowed a panoramic glimpse of the city. We ordered a Saigon Sling and a Manhattan which somehow seemed appropriate. As I mellow-out and reflect on the war, I couldn't help but remember all who had made the supreme sacrifice and had not returned home. As if it was yesterday, I remember my friend Bill McAtee from Hanna. We had been in contact and planned to meet in Lai Khe, my division base camp, in early December. The reunion never happened. Within three days of our meeting, I was wounded in action and Bill was killed. And of course there were many others. I also reflect on my high school and college classmates whose lives would forever be changed by the war. There was George Patton, Bill Blom, Dick Butler, Bill Bellamy, and the list goes on…
Today, on my birthday atop the Rex Hotel in downtown Saigon, I remember and celebrate their service to our country. Somehow I would like to think we made a difference.