Aug
25
Filed Under Courage, Faith, Fishing Therapy, Healing, Healing Waters, Journey, Life, Love, Military, Peace, PTSD, Renewal, Rushing Wind, Tears of a Warrior, Wounded Warriors | Comments Off on VINCE THE PRINCE
By Janet J. Seahorn, Ph.D.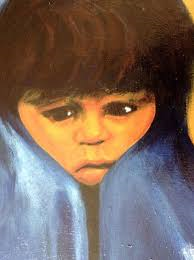 Once upon a time there was a very young boy who lived an incredibly difficult childhood. He was the oldest son of a family of five children – two younger sisters, one brother and a step brother. At eleven years old he became homeless, kicked out of his family by an abusive father. Drinking and beatings by his dad were endured on a regular basis.  For five years he lived on the streets until he was old enough to join the army (1956-1965).  Being of Navaho Indian decent, Vince the Prince was a fledgling warrior, and warriors always fight with perseverance and courage.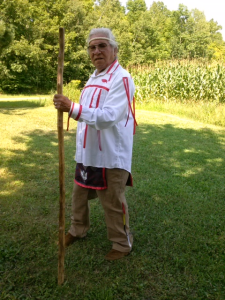 However, the trauma of his early childhood experiences followed him into the military. He was always in trouble, and believed he would get shot, knifed, or killed in prison. Life was pretty hopeless. Anger often consumed him, a normal coping mechanism many children of abuse use to mask their pain and unpredictable daily circumstances. But, Vince the Prince was a survivor, often called a "smart ass". Being tough kept him alive, and being enraged kept him "feeling".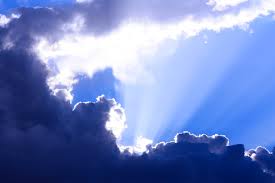 How does a person ever survive such a life? According to Vince the Prince in 1970 he found faith in the spirit of the Lord, and this discovery saved him. Talking with him was pretty amazing as he could quote scriptures from the Bible better than most clergy. His personal commitment to the Lord handed him the hope that he lacked in his younger years and offered him a purpose in how he would live the rest of his life. In 1973 Vince was ordained as a street Evangelist.  His parishioners were those confined to the jails and prisons in Chicago. He worked with the street people offering kindness, optimism, and faith. Having this new mission made him think of others before himself. He was no longer in the survivor mode, but in a vocation of serving those who, like him in his early years, were crushed by life experiences far beyond the control of a young boy. In 1983 he even completed his GED after having only a fifth grade education.  Yep, pretty darn remarkable.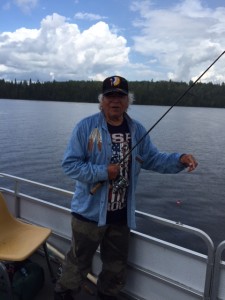 I asked him at the end of one of our conversations "What has been your greatest lesson?"  His response, "No matter who or what you are, in God's eyes you are precious." And, 'When all else fails turn to Jesus."
Vince the Prince continues to work with young teens, many who are homeless like he was in his early years. Who better to understand their struggles, their fears, and their despair? Who better to provide a sense that no matter how dire your circumstances may seem there is always hope and that hope can lead to a miraculous future. Living life with purpose and a wicked sense of humor make Vince the Prince a very special human, indeed.
(I recently spent a week with Vince at a remote fishing camp in Canada called Rushing Wind. Tony and I were invited to work with veterans who have experienced the effects of combat and are finding ways to heal from the wounds of war.)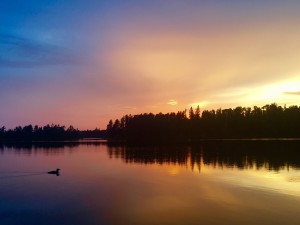 Listen peacefully to the wild call of the Loon.
Jul
12
Filed Under Aging, Dogs, Family, Fishing Therapy, Healing Waters, Journey, Life, Love, Peace, Pets, PTSD, Renewal, Service Dogs, Tears of a Warrior, Tears of Joy, Veterans | Comments Off on CHASE'S MEADOW
by Tony & Janet Seahorn
            The human heart and mind are amazing in their capacity to experience intense sadness and abundant gratitude at the same time. That lump in the throat is still there as are the tears that cloud my eyes. Yet, the weight of the death of our wonderful Chase seems to be a bit lighter.
            Earlier this week, we visited Chase's most beloved mountain meadow, high on the Snowy Range in southern Wyoming. It is a beautiful, alpine meadow filled with wild flowers and a running brook. This is the place we chose to spread his ashes and place a stone memorial on a wooded ridge overlooking the peaceful valley below. 
            We promised to make this journey after the early summer snow melt and before the wildflowers were in full bloom.
            His very essence now glides in the winds and rolls gently with the flowing water. White and yellow flowers line his final path. He is at peace, as are we. And younger brother Bailey still romps through the brightly colored grasses chasing after his cherished tennis ball – a reminder that joy is always present around and within our souls.
            As we paid our final respects it seemed as if Chase was giving us his final message:
I am now in my meadow; my ashes white as angels' wings float with the Wind and flow through the mountain streams to places I never ran in life. 
Peace and beauty will always surround me with a green and white and purple blanket of sweet columbines.        
This is where I was finally meant to be.
Therefore, honor me not with tears of sadness, but with hearts of joyfulness.
                              Remember me with stories and laughter.                               
And most of all know that as much as you loved me I loved you even more.
Black Forest Chase
April 23, 1999 – January 4, 2013
Jun
25
by Janet J. Seahorn, Ph.D
            One thousand, full sized, American flags flew on a grassy green, long rolling boulevard in Cody, Wyoming.
            It was their second annual Field of Honor Flag Day. Each flag was purchased on someone's behalf. Sometimes it was for a family member who had served in the military. Some flags were given in honor of a special friend. And some were purchased to show respect and gratitude to an organization or group who has made a difference in their community. At any rate, up until this event, I have never seen so many large flags jam-packed in one place. Quite an impressive sight for these timeworn eyes.
            This vista reminded me of  a saying by Sara Teasdale, "My soul is a broken field, plowed by pain". This field was created to honor those who sacrificed so much for their country, their communities, and their fellow Americans. Each flag was a tangible reminder of the broken souls, bodies, and hearts impacted by wars old and new.  We brought two flags, one to commemorate an uncle who I had never met who died in WWII as part of Patton's assault in Normandy; the other was to pay tribute to Tony and all those who served in Vietnam.
            What made this a wonderful event were the charming individuals who attended the four days of celebrations. Much like the Vietnam Wall experience, many visited the Field of Honor to pay their respect, to view the sight of these amazing flags sometimes pounded ruthlessly by the heavy winds of Wyoming. There were times when some of us wondered if they would sustain such severe gusts. Yet, they did, every day, every night, and every gale. Several of the individuals we met were like the flags, tough, reliable, and persistent.
            One veteran, John, was a ninety year old man who served in WWII  in Africa, then Korea, and finally Vietnam. After our presentation he stated he would once again be visited by nightmares and visions from his past war conflicts. "They never seem to go away", he declared, "and continually find their way into my thoughts and dreams." The second individual, I watched from our position as guest speakers. He was a young man bouncing around a very small baby who couldn't be more than a month old. After placing his tiny package into a near-by stroller, he just stood there, listening and watching. Shortly after our talk, I walked over to where he was standing and asked if he was a veteran. "Yes", he responded. He had served several tours in combat. Much like the stories I told of a few of my university students who tried to return to school after war, he also dropped out, unable to withstand the innocence of a campus youth who have never been exposed to war's trauma. Now he was in the process of reorganizing his life as a new father/husband, and finding a fulfilling purpose for his life. A life that he will have to fight for in order to live fully.  A life with struggles. Much like his combat encounters, he will have to accept and move forward. A life with some sorrows that must be endured. And a life created with his special song that must be sung with great passion.
            So here is wishing peace to all the John's that went through too many battles and still struggle with their demons after such a very long time. And for all the young Patrick's who are composing their own unique melodies.
          May their ballads be full of love, laughter, and happiness.
Dec
12
By Janet J. Seahorn, Ph.D
Dang!
There it is again, that massive lump in my throat – the one that makes it hard to swallow. It came during my morning meditation. I had just changed out the music on my CD player (yep, I said CD player not IPod or I-Pad), to my favorite Christmas venue.
Every day I include a special prayer for our military and their families, past and current, and this is when the song began, just as I was beginning that part of my meditation… the song, "Somewhere Over the Rainbow". It was the awareness of the words that made me ponder how many of our men and women have served our blessed country and wished each day that they could escape their current reality and go somewhere else.  And these words then produced that enormous throat bump:
                                                Somewhere over the rainbow
                                                Way up high.
                                                There's a land that I heard of
                                                Once in a lullaby.
            A land where the song sings on, Skies are blue, and the dreams that you dare to dream really do come true.  Then I envisioned what those dreams might be, dreams that are ever so humble, ordinary and serene — a land somewhere in the world and even in our beloved country where peace and goodwill abide; where dreams are not filled with violence and awfulness but acceptance and camaraderie; where possibilities and hope still exist.
            Then came the verse that caused the throat bump to grow like the naughty, green-eyed Grinch.
                                                Someday I'll wish upon a star
                                                And wake up where the clouds are far behind me.
                                                Where troubles melt like lemon drops…
            So what troubles, dear readers, would you like to melt like lemon drops? Which clouds need to vanish to allow brighter days shine forth? My guess is that there may be more than a few troubles, but the wish may simply be for a kinder, gentler future. Therefore, has always been my wish for each of you guardians of freedom— days of joy, hope, and love. Since there is no such thing as a charmed life, perhaps all that I can truly wish is what Sarah Ban Breathnach mentioned in Simple Abundance, a holiday special package, the Strength-Wisdom-Grace package. Strength to meet your challenges, Wisdom to embrace real life, and the Grace to be grateful not only for what you have, but what you've escaped".
            Perhaps you may never be able to fly beyond the clouds or over the rainbow. Perhaps just being able to view the rainbow in all its glorious hues, makes the clouds a bit lighter. And perhaps, if you can't fly over that rainbow, perhaps, just perhaps, you can still, like the bluebird, the small sparrow, or the great eagle, simply fly…
Sep
5
by Janet J. Seahorn, Ph.D
            The other day, while on my morning walk, I noticed a band of swimmers in the middle of the lake. Interestingly, I hadn't been aware of this group before now. Yet, as they swam I saw that each swimmer had attached to their body a florescent orange, buoy-like inflatable that followed their every movement. The more I reflected on this object, the more I came to see that the balloon was both a visual to alert boaters who might be in the area as well as a safety device that would give the person something to keep them afloat if they should incur some other problem while in the water.
            So what in the heck does this scenario have to do with Renewal? First, as we move forward in life it is much safer to do it with others to support our journey. Secondly, there most definitely will be times when we get some pretty severe "cramps" or "tremors" which are more like tsunamis of the body, soul, and spirit. There may be times in our life when the darkness seems so black that it is difficult to believe that any light really exists. The darkness becomes a too familiar pattern. Like an old pair of shoes or worn t-shirts, easy to slip into – often beyond practical wear.         
            When we become aware that such patterns are not serving our needs correctly, it is hard to release these old familiar practices. They may have served our past necessities, but now it is time to move forward. Start small by asking what Renews us each day. Maybe it is simply a brilliant sunrise, a child's smile, a puppy's clumsiness, or a strong cup of coffee. The point is this, as human beings we were never meant to stay stagnant. The old saying, if something isn't growing in some way, it is probably dead – or close to it, therefore being in the land of inaction is not the vacation spot we want to visit too often. As long as we are breathing, we can be in the process of renewal. It is a choice. Not always an easy choice, but nevertheless, a choice. It requires consciously choosing to release those old shoes and worn t-shirts; releasing former negative actions or thought patterns that are devastating our opportunities for peace of mind, heart, body, and spirit.
            The question is this — are we ready to do some shopping? Let's picture ourselves in new apparel. Let's trust that we are ready and worthy of our new garb. Renewal is a way to bless ourselves in order to be a blessing to others.
 Oh, and don't forget to bring along your florescent orange buoy.