Mar
26
Filed Under Black Lions, Combat PTSD, Courage, Healing, Military, Pain, Peace, Return To Vietnam, Tears of a Warrior, Trauma, Veterans, Vietnam Today, War | Comments Off on Healing From The Wounds Of War
Two Quotes from Rumi:
(Rumi was a 13th-century poet of immense talent. His work highlights the power of literature in its ability to transcend time, language and geographic locations)
1)  Healing doesn't mean the damage never existed. It means the damage no longer controls our lives.
2) The wound is the place where the light enters you.
Mar
26
Filed Under Black Lions, Combat PTSD, Courage, Events, Faith, Family, Healing, Hope, Journey, Love, Pain, Peace, PTSD, Return To Vietnam, Tears of a Warrior, Veterans, Vietnam Today, War | Comments Off on GETTING UNSTUCK
by Janet J. Seahorn, Ph.D
It isn't easy to move forward in life when you seem trapped by events that happened in the past. Often times the harder you try to get unstuck, the more bound you become to that very past. So how does one resolve such a dilemma? It probably won't be without effort, time, and even some painful moments.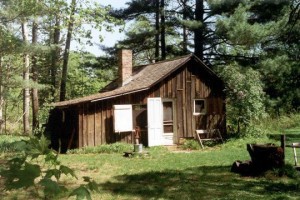 In the book/movie, The Shack, the lead character is tormented by an unimaginable personal tragedy. No matter how hard he tries to move forward beyond his pain and horrendous memories, he can't. Being caught in a terrible incident he is unable to see past his pain to the extent that very little joy or happiness can enter his life. In order to heal he is forced to go back to the place (the shack) where he got stuck; the place where the horror, the anguish, and the future was taken from him.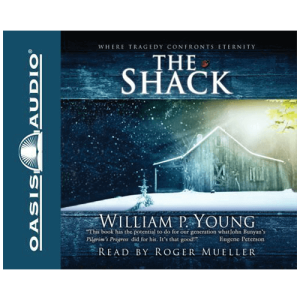 I think this is what Tony was doing when he decided to return to Vietnam.  In order to heal more completely he made a choice to go back to the place where he became stuck, a space that over the last many decades unconsciously became his "shack". Since his military service in Vietnam he has worked incredibly hard to move beyond the memories and the demons, but there were still times when the burden of combat obscured his vision and ability to live fully.  As part of the healing process he had to exhume the old earth in order to plant and allow for new growth to occur. He will be explaining more in his future blogs.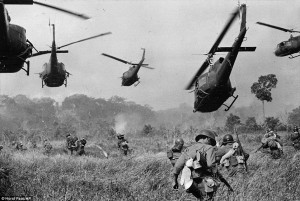 Toward the end of the movie there was a beautiful metaphor about life.  A truism that most of us already know…. life is not neat or precisely organized.  It is messy, bumpy, and often unbalanced. Yet, it is this very assortment of messiness and disorder that make us who we are and who we can become if we are brave enough to return to our "shack"  to become unstuck.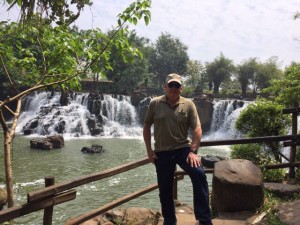 So what is your "shack"? What might you do to become "unstuck: (that doesn't mean you have to physically return to a specific location to heal). Just know that this "becoming unstuck" will most likely not be easy, orderly, or without some deep potholes. It is a journey, like Tony, you may need to take alone. However, the reality is that you will not be totally on your own. Like Tony you will have the thoughts, prayers, and support of family and friends that will accompany you in spirit and hope.
Oct
10
Filed Under Combat PTSD, Faith, Healing, Journey, Nature, Peace, PTSD treatment, Tears, Tears of a Warrior, Treating PTSD, Veterans | Comments Off on Healing with Awe
by Tony Seahorn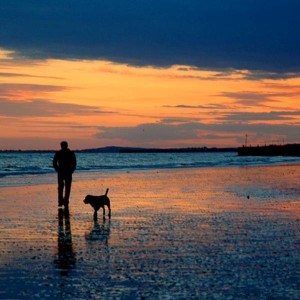 We often talk and write about spending time in nature as an important element of the healing process.
For those with Post Traumatic Stress (PTSD or more accurately PTS), finding solace in natural places helps us realize and appreciate the marvelous wonders of the world.
Following is a link to an article that appeared this weekend in Parade Magazine worth reading.
Living in awe…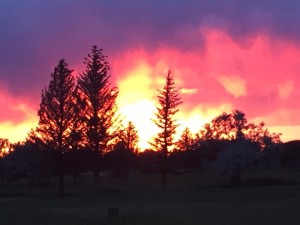 Aug
25
Filed Under Courage, Faith, Fishing Therapy, Healing, Healing Waters, Journey, Life, Love, Military, Peace, PTSD, Rushing Wind, Tears of a Warrior, Wounded Warriors | Comments Off on VINCE THE PRINCE
By Janet J. Seahorn, Ph.D.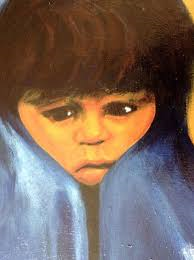 Once upon a time there was a very young boy who lived an incredibly difficult childhood. He was the oldest son of a family of five children – two younger sisters, one brother and a step brother. At eleven years old he became homeless, kicked out of his family by an abusive father. Drinking and beatings by his dad were endured on a regular basis.  For five years he lived on the streets until he was old enough to join the army (1956-1965).  Being of Navaho Indian decent, Vince the Prince was a fledgling warrior, and warriors always fight with perseverance and courage.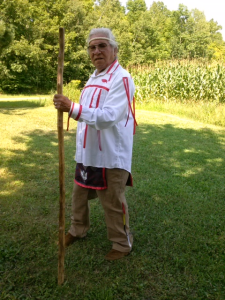 However, the trauma of his early childhood experiences followed him into the military. He was always in trouble, and believed he would get shot, knifed, or killed in prison. Life was pretty hopeless. Anger often consumed him, a normal coping mechanism many children of abuse use to mask their pain and unpredictable daily circumstances. But, Vince the Prince was a survivor, often called a "smart ass". Being tough kept him alive, and being enraged kept him "feeling".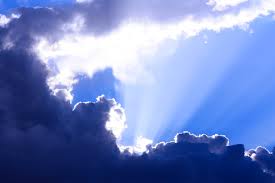 How does a person ever survive such a life? According to Vince the Prince in 1970 he found faith in the spirit of the Lord, and this discovery saved him. Talking with him was pretty amazing as he could quote scriptures from the Bible better than most clergy. His personal commitment to the Lord handed him the hope that he lacked in his younger years and offered him a purpose in how he would live the rest of his life. In 1973 Vince was ordained as a street Evangelist.  His parishioners were those confined to the jails and prisons in Chicago. He worked with the street people offering kindness, optimism, and faith. Having this new mission made him think of others before himself. He was no longer in the survivor mode, but in a vocation of serving those who, like him in his early years, were crushed by life experiences far beyond the control of a young boy. In 1983 he even completed his GED after having only a fifth grade education.  Yep, pretty darn remarkable.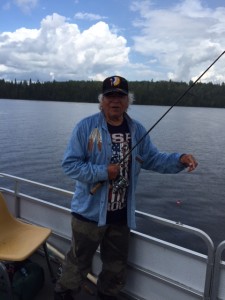 I asked him at the end of one of our conversations "What has been your greatest lesson?"  His response, "No matter who or what you are, in God's eyes you are precious." And, 'When all else fails turn to Jesus."
Vince the Prince continues to work with young teens, many who are homeless like he was in his early years. Who better to understand their struggles, their fears, and their despair? Who better to provide a sense that no matter how dire your circumstances may seem there is always hope and that hope can lead to a miraculous future. Living life with purpose and a wicked sense of humor make Vince the Prince a very special human, indeed.
(I recently spent a week with Vince at a remote fishing camp in Canada called Rushing Wind. Tony and I were invited to work with veterans who have experienced the effects of combat and are finding ways to heal from the wounds of war.)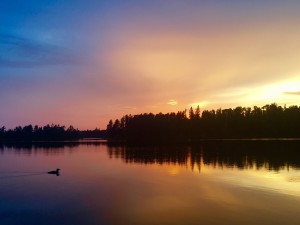 Listen peacefully to the wild call of the Loon.
Mar
18
Ann McFeatters: How you can honor our Vietnam vets
Guest Post from the Dallas Morning News:
Published: 05 March 2015 07:27 PM
The man who said his name was Danny arrived at my door with a huge floral box. Inside was one of the most beautiful bouquets I'd ever seen.
Danny was with the Maryland highway department, supervising a crew installing new curbs on my street. He was also a Vietnam veteran who had seen the small blue star in my window, indicating two family members were serving in Iraq and Afghanistan.
Danny came from a generation that provided 9.2 million people who served in the military during the Vietnam era, many of whom came home from war reviled, not thanked for what they gave their country. Like most of his fellow veterans, Danny vowed to show only gratitude to those in military service, no matter what the politics of any current war that service members are called on to fight. Flowers to a stranger were to thank my family.
This month marks the 50th anniversary of the arrival of 3,500 Marines in Da Nang, South Vietnam, beginning 10 years of a terrible conflict that would sear and scar this nation.
In the "lessons learned" department, perhaps the most important is to separate the warrior from the war. Today Americans of all political stripes express sincere appreciation for what the men and women of the armed forces are called on to do for their country, whether the mission is popular or not.
The Vietnam Veterans Memorial on the mall in the nation's capital, with its awesome wall designed by Maya Lin, engraved with the names of 58,300 people who gave their lives in the jungles of Southeast Asia, was meant as one way toward healing a divided, bitter country.
It has worked. The three-acre memorial with its gardens, wall, Vietnam Women's Memorial and The Three Servicemen statue, is visited by 4.5 million people a year. Its website, with photos and information on veterans and messages from their friends and families, draws 4 million virtual visitors annually.
The veteran behind the memorial, Jan Scruggs, a man of enormous personality and drive who raised the $8 million needed to begin implementation of it, is retiring this year.
One way the Vietnam Veterans Memorial Fund plans to honor him and all the war's veterans is to raise money for a $116 million underground education center to display some of the 400,000 personal items left at the wall by visitors, a unique occurrence which stunned the memorial's founders.
From teddy bears to tear-stained letters, the items, stored in boxes maintained by the National Park Service, which owns the memorial, tell powerful stories.
Approved by Congress with no funding, the education center needs donations from the public if it is to be ready for a ribbon-cutting ceremony in 2020. Most of all, the Vietnam Veterans Memorial Fund wants future generations to learn about the Vietnam era, how decisions were made and what they meant to the nation.
Tomorrow's fifth-graders must learn they owe a debt to those who came before them and that they, too, must leave a legacy of service, the best way they are able. Technology will give them access to such things as digital oral histories from veterans and TV footage of the first war played out in the nation's living rooms.
There are 7 million living Vietnam War veterans. Beyond those who died or went missing there, Vietnam veterans are still dying of injuries sustained in the war, such as exposure to Agent Orange and post-traumatic stress disorder. The fund's CEO, Jim Knotts, a Desert Storm veteran, stresses that these veterans must be honored, and that good health care for all veterans must be a national priority.
Because of space restrictions, the education center will be the last major memorial built on the National Mall. Fifty years after the start of the Vietnam War, it is time to take the next step in honoring those who fought it, whether they wanted to or not.
Here's to you, Danny, and all those like you.
Nov
13
by Janet J. Seahorn, Ph.D
            If you have never been to Lubbock, Texas it is a flat, dry, and very youngAmericanCity. It was founded in 1911 which was a bit surprising considering that today it is home to around 250 thousand people as well as the well-knownTexasTechUniversity. TTU has the largest campus of any university in the United States and an attendance of close to 35,000 students. There are few places one can go where they don't see some logo or item related to the Red Raiders. I must admit I really liked their black, red, and gray colors…. a very classy look for their entire plethora of apparel, knick-knacks, jewelry, poster, etc. Texas Tech is also home to the largest Vietnam archives in the world.  People from anywhere in the world can access their files through internet with little or no cost.
However, here is what impressed us the most about the university and its personnel, it is a very veteran friendly campus and tries to honor its veterans and their families every day. Last week, before Veteran's Day, it hosted a four day event celebrating veterans and families. On Wednesday they oversaw their first Veteran'sSummit. It was a day of learning about the challenges of returning from war and transitioning into a community where less than one percent of the population has been fighting the last ten years in Iraq and Afghanistan.  Various professionals, including Tony and I, spoke of the difficulties of living with Post Traumatic Stress and Traumatic Brain Injuries.  A doctor addressed the complexities of vision problems veterans face. Several veterans, including a panel of four young men who served in Iraq and Afghanistan, shared their experiences in combat and how that impacted their ability to reintegrate back into their families and neighborhoods. Their stories were both heartbreaking and informative. COL David Lewis shared what Lubbock is doing for veterans along with how essential it is for every community to have a Veteran's Court that deals with those who find themselves involved with actions that landed them in jail or mental health facilities.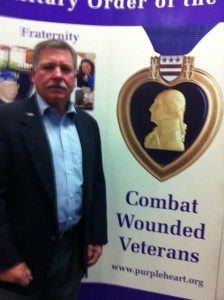 Friday evening, the community and university put on a banquet for Purple Heart Recipients and their families. Several Gold Star families (those who have lost loved ones) were part of the event and Medal of Honor Recipient, Doc Ballard fromKansas City, was the Keynote Speaker.
One of the most remarkable parts of the four day events was when almost 500 Purple Heart Recipients were treated to the Texas Tech football game. Before the game began, paratroopers floated into the stadium with Old Glory flying behind them. One of the jumpers was Dana Bowman, a veteran who had lost both legs in a fatal skydiving demonstration in 2001. His courage is a testament to how incredibly resilient our men and women in military are when they are in combat and even more so when they return. As he stated in his speech, "It is not the disability, it is the ability" that matters.
For most Americans who have never had to fight for our precious Freedom few realize – especially our young population – what it is to live without Freedom. We must all guard against complacency and never take for granted the gift that each American has been given because of the service of our military.  God Bless our armed forces and our many veterans and their families. Freedom is never free.  Let's support and heal all of our veterans every day of every year, not just honor them one day a year. It is the least we can do.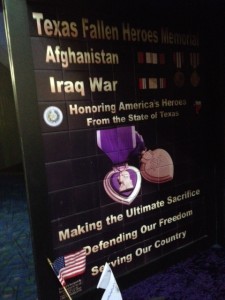 Jul
12
Filed Under Aging, Dogs, Family, Fishing Therapy, Healing Waters, Journey, Life, Love, Peace, Pets, PTSD, Service Dogs, Tears of a Warrior, Tears of Joy, Veterans | Comments Off on CHASE'S MEADOW
by Tony & Janet Seahorn
            The human heart and mind are amazing in their capacity to experience intense sadness and abundant gratitude at the same time. That lump in the throat is still there as are the tears that cloud my eyes. Yet, the weight of the death of our wonderful Chase seems to be a bit lighter.
            Earlier this week, we visited Chase's most beloved mountain meadow, high on the Snowy Range in southern Wyoming. It is a beautiful, alpine meadow filled with wild flowers and a running brook. This is the place we chose to spread his ashes and place a stone memorial on a wooded ridge overlooking the peaceful valley below. 
            We promised to make this journey after the early summer snow melt and before the wildflowers were in full bloom.
            His very essence now glides in the winds and rolls gently with the flowing water. White and yellow flowers line his final path. He is at peace, as are we. And younger brother Bailey still romps through the brightly colored grasses chasing after his cherished tennis ball – a reminder that joy is always present around and within our souls.
            As we paid our final respects it seemed as if Chase was giving us his final message:
I am now in my meadow; my ashes white as angels' wings float with the Wind and flow through the mountain streams to places I never ran in life. 
Peace and beauty will always surround me with a green and white and purple blanket of sweet columbines.        
This is where I was finally meant to be.
Therefore, honor me not with tears of sadness, but with hearts of joyfulness.
                              Remember me with stories and laughter.                               
And most of all know that as much as you loved me I loved you even more.
Black Forest Chase
April 23, 1999 – January 4, 2013
Sep
5
by Janet J. Seahorn, Ph.D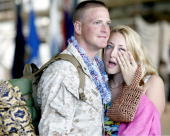 Plucking Tears is not an easy thing to do, especially when the water works fall faster than you can pluck. Another problem to consider is how do you pluck tears when they are inside your heart and soul? These water drops are harder to access. Many times some do not even recognize they are weeping. The suffering is so silent, so hard to define that outsiders rarely, if ever, observe the sobs.
            War is an extreme opportunity to frequently pluck tears. There are tears of grief, tears of sadness, tears of loss, tears of confusion, and the list could go on and on. As soon as you think you are done with the weeping, it returns for another round. It takes an emotionally powerful person to allow tears. Most of us are afraid if we start the crying we may not be able to stop. It is a frightening thought. Yet, whether we allow ourselves to cry openly on the outside, the sobbing will move through our spirits.
            I once heard that some wars are GOOD wars. For me, there is no such thing as a good war. There may be "just" wars, but even then this does not make war good. All wars cause a great deal of woundedness. Woundedness for those fighting the battles, and woundedness for anyone close to the combat zone. Communities are devastated by the carnage left behind, families are torn apart, and individuals carry the scars forever. War gives a great many people frequent occasions to Pluck Tears. Wouldn't it be great if we could get just a bit of peace from the plucking?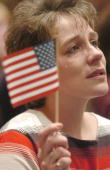 Aug
2
by Janet J. Seahorn, Ph.D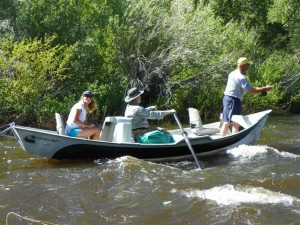 There are few things in life that can take your mind off trouble more than a special day on a beautiful river. Last week the Platte Valley Trout Unlimited Chapter located in Saratoga, Wyoming had the opportunity to take a group of wounded veterans from the Cheyenne VA Medical Center on just such a trip. The excursion began with an amazing barbecue put on by members of the chapter and local volunteers. It seemed like almost everyone in the community wanted to contribute something from ice cream to napkins. Children from 4-H served food, helped clean up, and simply added their youthful energy to the evening.
            The next morning began early with breakfast which proved there is nothing wrong with a warrior's appetite. Then off to the river, which is a logistical bussle of shuttling boats, equipment and people to one of the river's launch site. Vice-President and project coordinator of the Trout Unlimited Chapter, Steve Hays, was a bundle of nerves as he wanted to make sure every detail of this event went perfectly. Again, all the shuttle drivers, helpers, boats, and guides donated their time and efforts to making the fishing trip an amazing experience.
            The guardian angels of fishing trips could not have arranged a more beautiful day for a float. The water was dazzling with light, birds seemed to have arranged their chorus of unique songs for entertainment, and even the fish were cooperative. Private angling lessons were given throughout the day which proved to be quite successful for most of the veterans. Two warriors demonstrated their angling abilities by catching ten or more fish. Since the North Platte River has been running at flood stage since mid-May, having the water and its inhabitants somewhat normal was a real gift.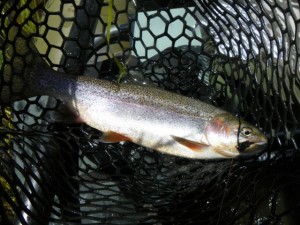 Yet, the most significant result of the float trip was its therapeutic benefits to the wounded warriors. Most of the group had not known each other before the overnight trip. What they found from these precious, short twenty-four hours is recorded in their comments below:
I can't believe people care that much about us.
I had no idea other veterans continue to struggle with PTSD; I thought I was just weak.
I really needed this… it's been a long time since I felt I could relax and feel safe.
The whole experience has been a true blessing.
This is what makes healing happen.
That was one of the best days of my life.
              Formal therapy can and is very helpful to many military individuals healing from the trauma of combat. But it is only one ingredient of the recipe. Being with others who have suffered similar wounds, knowing that others care and appreciate their sacrifices and experiencing the beauty and serenity of nature offers one a sense of peace, safety, and the faith that perhaps some divine presence may truly be keeping watch over them.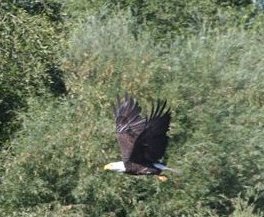 Yep, Fishing Therapy… the new, ground-breaking, effective line of defense against the scars of war.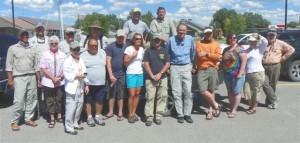 Jun
6
by Janet J. Seahorn, Ph.D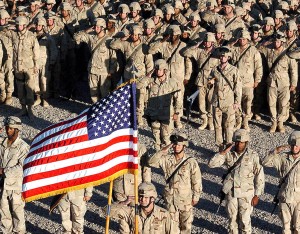 For many of our military men and women who return from combat there is a burning question; a question that asks, "Who am I?"  Who am I now that I have seen so much, done so much, and heard the despair of so many? For some there may be a feeling of unworthiness, a gnawing numbness of pain. They seek answers that seem to elude them; answers hidden somewhere between the battle fields and the present.
            Every person wants to be validated in the world: to be seen, to be heard, to be felt.  Returning from war often leaves a person with a sense of invisibility. A feeling that adds to the question, Who am I … this other person who wanders a world that once was so familiar now feels like a drifter in a land that may not seem recognizable.
            Know this one simple truth, You are worthy of love. You are worthy of goodness. You are worthy of a life of joy and personal fulfillment. The trick is not that others view you as worthy. You must believe this for yourself. "You are responsible for your life". And only You can create and live such a life. You alone must believe that you are worthy to live a good life and a life of meaning.
            Combat can take one's sense of self, but it does not take away one's need to be a part of something, some mission, some worthy cause. The heartbreaking reality for many veterans is returning from battle with a frame of mind of being untrained to live in civilian society. You will need to work hard to find your path in this world after combat. No one can do this for you. It is a journey each individual will need to travel and seek out.
Some doubt they are up to the challenge. This is purely self deception. If you could be trained to perform all of the incredible feats of a skilled warrior, you certainly have the strength, intelligence and willpower to succeed in becoming your very best "I AM".  The gift has always been yours. It was bestowed on you at birth. The outside world may work hard to convince you otherwise. Some days it may be tempting to give up the search. But carry on. In your hands lies the power to choose.
Choose to accept your very best I AM.