Jan
5
Filed Under Bless Our Troops, Christmas, Combat PTSD, Dogs, Holiday Season, New Year, PTSD, Tears of a Warrior, Trauma, Veterans, War, Welcome Home, Wounded Warriors | Comments Off on Thank You!
WELCOME BACK!
by John DiCiacco – Guest Blog  (John is a veteran & brother who helps make a difference)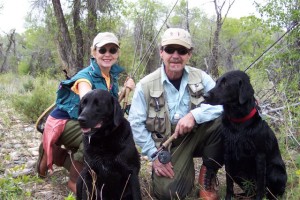 I can't speak for every person who reads your blogs, but I can and will say this, I have missed not reading them.  The only thing that ever depressed me was the first paragraph in your latest blog.  You always come up with something that touches someone, whether it be thought provoking or light hearted.
Your words always mean something to someone. Blogs can and should present different topics and when folks consider one to be difficult to read, then they can choose not to read it. But don't just complain to the author, because life isn't always a bowl of cherries.
As we all know, you can't be everything to everyone so don't try. But please don't stop writing your blogs. Take it from this Veteran, I have never read a single one of your blogs that made me feel depressed. You write about reality, especially meaningful to veterans and families who suffer from the wounds of war.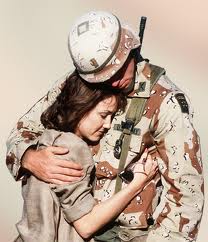 I know that some times during any given month you have your own personal traumatic experiences that make life a little difficult and so you do your best to just survive. Just like the Veterans whom read your blogs.  When moments arrive that you can't seem to come up with something to talk about, I can assure you that I do. Or have a Request Button on Note asking the readers if they have something that they would like to talk about through you.
Oh, by the way, your ticket into Heaven has already been secured. Your Ancestors and Guardian Spirits have made sure of that.
As you know, I spent two tours in the Nam and Holiday's are still very hard for me. Too many Ghosts and way too much guilt for one man to carry.  The haunting reality for many Combat Veterans is the same unhealthy thought pattern we carry and wear on our chests like a sort of Medal.  That thought is this and I quote:  "Why in the hell am I here and not so and so", or "I don't have the right to celebrate or be happy when so many of my Brothers will never be here."  Most Veteran's never come right out and say these things but the thoughts are real and they and their fallen Comrades are there as well.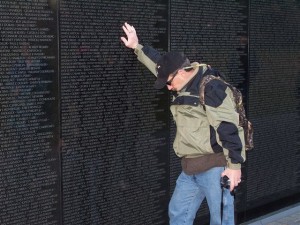 Of course, in my efforts to be jolly I would have to self medicate and numb the pain just to get through the ordeal. Afterword the Guilt followed by the shame for drinking was much worse.
I don't know how I got on all of this but I better stop.
You can blog me anytime you want.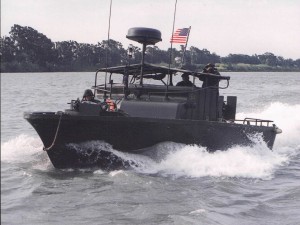 Dec
22
by Tony & Janet Seahorn
Merry Christmas 

&
Happy New Year!
Following is a special Christmas message hosted by Tom Brokaw.
The video is certainly worth the pittance of time it takes to view.
Christmas from Heaven is the story of the humble beginnings of what became a beacon of hope to a war-torn land.
The story of Gail Halvorsen, a young pilot in the US Army Air Corps who was assigned as a cargo pilot to the Berlin Airlift, in which US forces flew much-needed supplies into a Soviet-blockaded Berlin.
On his missions, he dropped candy to children and became known as the Candy Bomber.
(Click on Full Screen  right bottom of video)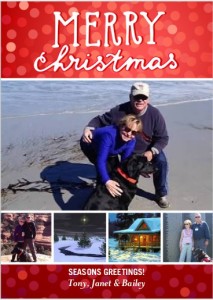 Jan
21
by Janet J. Seahorn, Ph.D
            As an English major I had to read endless novels, poetry, and short stories from a huge number of authors across all countries and eras. One that was always fascinating for me and others has been the story of the Odyssey by the Greek poet C. P. Cavafy.  Ithaka was the island home of Odysseus. Since this is the beginning of a New Year, thinking about your personal Odyssey may be quite interesting.  What journeys stand out in your life? During your journeys what challenges did you face and meet? And most important, it is not the outcome of the experience that is important but the lesson(s) you learned from them and how those lessons impacted your life, hopefully for the better.
            Like Odysseus, what are you searching for in your journey? Sometimes it is not what we seek out that enriches our life, but what unexpectedly appears during our travels.
Ithaka
C.P. Cavafy
As you set out for Ithaka
hope the voyage is a long one,
full of adventure, full of discovery.
Laistrygonians and Cyclops,
angry Poseidon-don't be afraid of them:
you'll never find things like that on your way
as long as you keep your thoughts raised high,
as long as a rare excitement
stirs your spirit and your body.
Laistrygonians and Cyclops,
wild Poseidon-you won't encounter them
unless you bring them along inside your soul,
unless your soul sets them up in front of you.
Keep Ithaka always in your mind.
Arriving there is what you are destined for.
But do not hurry the journey at all.
Better if it lasts for years,
so you are old by the time you reach the island,
wealthy with all you have gained on the way,
not expecting Ithaka to make you rich.
Ithaka gave you the marvelous journey.
Without her you would not have set out.
She has nothing left to give you now.
And if you find her poor, Ithaka won't have fooled you.
Wise as you will have become, so full of experience,
you will have understood by then what these Ithakas mean…
Dec
31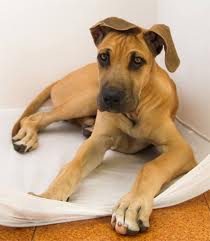 by Janet J. Seahorn, Ph.D
            Hard to believe it is the end of 2010.  What an interesting year this has been. Most of our days have been filled with many blessings of meeting new friends, spending time with old ones and beloved family members, taking part in all of nature's wonderful opportunities, and just having some time for personal rest and relaxation. To close out this year, I thought I would mention just a few of our many blessings.
While Tony was going through some medical tests at the Cheyenne Vet Hospital last week, I met a very large great Dane named Scooby Doo. He was a rescue dog who became a therapy companion for one of the wheelchair bound vets. While others believed this dog was vicious and untrainable (due to abuse from several prior families), the vet saw goodness and potential. Turns out that love does make a difference and Scooby Doo is living proof.
            As stated, spending time with family and friends is always at the top of our list. There are never enough minutes in the year to let others know how much they mean to us. How their phone calls, get-togethers and small interactions are the best rewards of every day.
            Being able to attend several veteran's reunions and conventions humbled us greatly. Meeting with the Black Lions in Las Vegas, Nevada, showed us again the enormous sacrifice vets give. This particular group endured some of the worst combat missions in the Vietnam War, yet they continue to move forward every day with hope and courage. In August we were guest speakers at the annual Nebraska Vets Convention in Norfolk, NE. The veterans and their spouses were so gracious, we enjoyed the entire event.
            In June Tony was the keynote speaker for Project Healing Waters' annual organizational meeting. The conference was held in Steamboat Springs, CO, a truly stunning and perfect setting for an organization dedicated to introducing wounded vets to the beauty and peace of fly fishing. Often times, nature and our four-legged, long tongued companions are the best medicine for a tattered spirit and injured body.
          For Memorial Day, we traveled to Evanston, WY to speak to a patriotic community and address the sacrifices made by all veterans from all generations.
The return home from Iraq of the Wyoming National Guard in March was a moment of jubilation that words can't quite describe. Families who diligently carried on everyday duties without their loved ones were significantly relieved to finally have the tour of duty complete. Then in February, a group of citizens from Ft. Collins purchased and presented a beautiful Quilt of Valor to the Fort Collins Veterans Center. The quilt was made by Donna Roche in Rogers, Arkansas. Her group of quilters sends quilts overseas to various vet hospitals in the US as gifts of comfort and hope to wounded warriors.
We hope your list of items holds similar stories of warm get-togethers, memorable adventures, and quiet gratefulness. Thank you again for your many comments, your support, and most of all your immeasurable service to our country.
Jan and Tony
Jan
6

by Janet J. Seahorn 
It's already time for a brand New Year
Filled with new hope, dreams and some cheer.
For many their prospects are filled with great joy
While others the forecast may seem a bit grim.
Perhaps we can change the Year 20 and 10
And make it a season for our world to mend.
A year of forgiving,
A year of great love,
One of abundance sent from above.
A year without conflict,
A year where wars end,
 A time where the goodness of angels commend.
A year of good fortune,
A year without hate,
When lies and untruths and battles abate.
A year where one's word
Can be totally trusted,
Where nothing is left but goodwill and justice.
A year without fear,
A year where we've learned
Those rainbows are just around the next turn.
A year where we find
That we are not lost,
That life must be lived no matter the cost.
A year that we take
One step at a time
Trusting to see and feel the sublime.
A very deep breath
And we're on our way
To making each moment a true New Year's Day.
May your coming year be filled with love,
safe-keeping and prosperity.