Aug
25
Filed Under Courage, Faith, Fishing Therapy, Healing, Healing Waters, Journey, Life, Love, Military, Peace, PTSD, Rushing Wind, Tears of a Warrior, Wounded Warriors | Comments Off on VINCE THE PRINCE
By Janet J. Seahorn, Ph.D.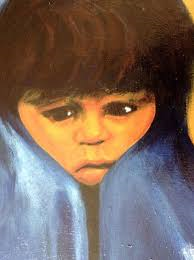 Once upon a time there was a very young boy who lived an incredibly difficult childhood. He was the oldest son of a family of five children – two younger sisters, one brother and a step brother. At eleven years old he became homeless, kicked out of his family by an abusive father. Drinking and beatings by his dad were endured on a regular basis.  For five years he lived on the streets until he was old enough to join the army (1956-1965).  Being of Navaho Indian decent, Vince the Prince was a fledgling warrior, and warriors always fight with perseverance and courage.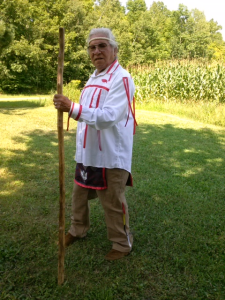 However, the trauma of his early childhood experiences followed him into the military. He was always in trouble, and believed he would get shot, knifed, or killed in prison. Life was pretty hopeless. Anger often consumed him, a normal coping mechanism many children of abuse use to mask their pain and unpredictable daily circumstances. But, Vince the Prince was a survivor, often called a "smart ass". Being tough kept him alive, and being enraged kept him "feeling".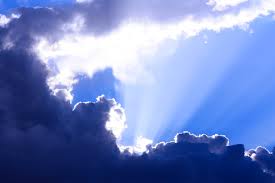 How does a person ever survive such a life? According to Vince the Prince in 1970 he found faith in the spirit of the Lord, and this discovery saved him. Talking with him was pretty amazing as he could quote scriptures from the Bible better than most clergy. His personal commitment to the Lord handed him the hope that he lacked in his younger years and offered him a purpose in how he would live the rest of his life. In 1973 Vince was ordained as a street Evangelist.  His parishioners were those confined to the jails and prisons in Chicago. He worked with the street people offering kindness, optimism, and faith. Having this new mission made him think of others before himself. He was no longer in the survivor mode, but in a vocation of serving those who, like him in his early years, were crushed by life experiences far beyond the control of a young boy. In 1983 he even completed his GED after having only a fifth grade education.  Yep, pretty darn remarkable.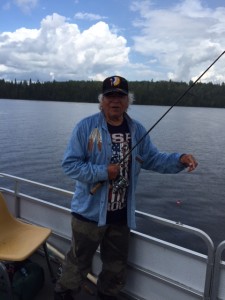 I asked him at the end of one of our conversations "What has been your greatest lesson?"  His response, "No matter who or what you are, in God's eyes you are precious." And, 'When all else fails turn to Jesus."
Vince the Prince continues to work with young teens, many who are homeless like he was in his early years. Who better to understand their struggles, their fears, and their despair? Who better to provide a sense that no matter how dire your circumstances may seem there is always hope and that hope can lead to a miraculous future. Living life with purpose and a wicked sense of humor make Vince the Prince a very special human, indeed.
(I recently spent a week with Vince at a remote fishing camp in Canada called Rushing Wind. Tony and I were invited to work with veterans who have experienced the effects of combat and are finding ways to heal from the wounds of war.)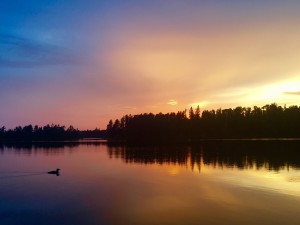 Listen peacefully to the wild call of the Loon.
Dec
22
by Tony & Janet Seahorn
Merry Christmas 

&
Happy New Year!
Following is a special Christmas message hosted by Tom Brokaw.
The video is certainly worth the pittance of time it takes to view.
Christmas from Heaven is the story of the humble beginnings of what became a beacon of hope to a war-torn land.
The story of Gail Halvorsen, a young pilot in the US Army Air Corps who was assigned as a cargo pilot to the Berlin Airlift, in which US forces flew much-needed supplies into a Soviet-blockaded Berlin.
On his missions, he dropped candy to children and became known as the Candy Bomber.
(Click on Full Screen  right bottom of video)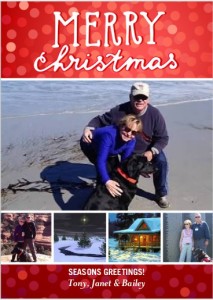 Dec
9
by Tony Seahorn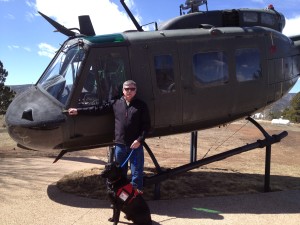 Reading and reflecting on Jan's recent blog made me realize – one more time — that life is truly fragile.
The Vietnam War was a life changing event for the countless veterans and families who were directly impacted, including me.
For those of us who were fortunate to return from the field of battle, the everyday living of life will continue to be defined by what we experienced then.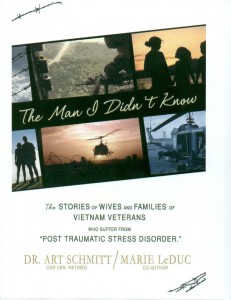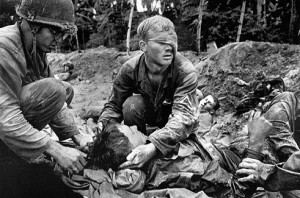 Fast forward to the present day – 2014.
In May, following recovery from knee surgery at the Cheyenne, WY VA Hospital, I had my annual physical – including EGK and Treadmill Test. Other than the fact that the cardiologist reminded me I'm no longer 21, the physical and other tests all looked good.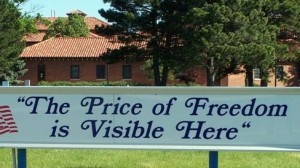 Periodically I have chest pain as a result of remaining shrapnel and scar tissue from combat wounds; cardiovascular tests have always been negative for heart problems.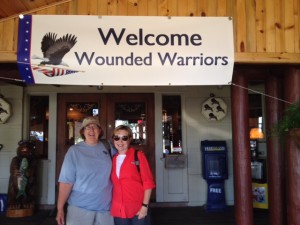 During our annual Wounded Warrior Event in late June, I was guiding a wounded veteran during high-water run-off on the Upper North Platte River. Unfortunately a raft from a separate river party encountered a dangerous log strainer in the main river current and capsized their raft. Three of the rafters made it to shore while a fourth person was submerged and pinned beneath the raft under the huge log jam.
I was able to secure my drift boat and veteran in a small backwater and spent the next hour in vain trying to rescue the rafting victim. The water was freezing and after an exhausting attempt, I was unable to save the trapped person. The time spent in the water subjected me to hyperthermia, but I eventually recovered sufficiently to continue the river float as the day warmed.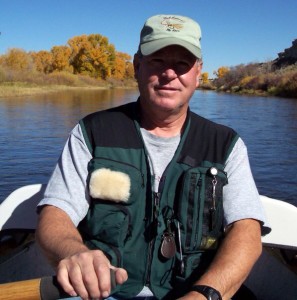 In late July, I spent a week with our two sons in Montana on a fly fishing adventure. Toward the end of the week, we were climbing out of the Yellowstone River Canyon when I began to experience mild chest pain. By walking slowly and resting I was able to resume our hike and had no problem for the remainder of the trip.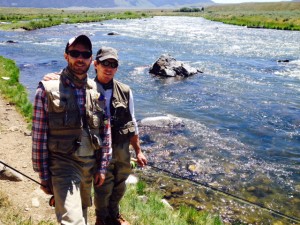 In September, my VA doctor wanted to perform a follow-up exam on intermittent pain I was having in my right shoulder and chest from what we thought was caused by shrapnel. During the tests, an abnormality was found on the EKG and Treadmill that did not exist during my physical in May.
An electrocardiogram located a blockage in my main exterior frontal lobe artery. A heart procedure was performed via my femoral artery and a stint placed in mid-October. The team of Cardiologists concluded that I must have experienced a minor heart attack during the river rescue recovery in June. The cold water and lower body temperature prevented any pain or other potential damage.
As fate would have it, a week following the heart procedure, I was rushed to the local ER for severe stomach bleeding. Prescribed Plavix blood thinner combined with high doses of pain medication is not a good combination. Three emergency surgeries later and 8 units of whole blood finally stopped the bleeding. My hospital stay: 4 days ICU and 3 days recovery and monitoring.
Now 15 pounds lighter, I'm still weak and lack energy, but hopefully on the high road to recovery.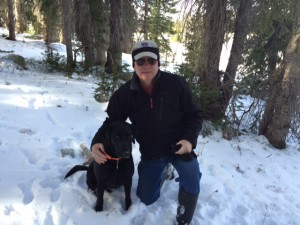 Life is full of challenges as well as an abundance of blessings! Today my black lab, Hunter Bailey and I are going pheasant hunting.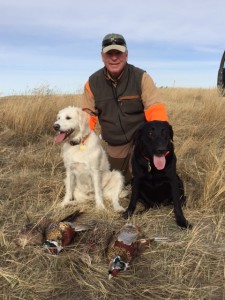 Life is good.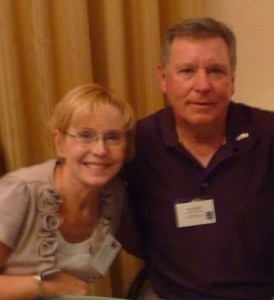 Jul
22
Guest Post by Carrie Hagen
SGT-TN Army National Guard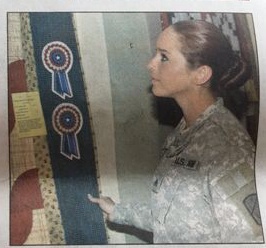 This is my Quilt of Valor.
There are many like it, but this one is mine. My Quilt is my gift. It represents my service life. I will appreciate it, as it was made in appreciation of me. My Quilt, without being made with love and support, would be meaningless. Without love and support, my service is meaningless. I must keep my Quilt always. I must respect those who show respect to me. I must remember my time of service along with those who remembered me. I will… My Quilt and I know that what counts in serving our country is not the places we've gone, the things we've done, or the battles we've fought.
We know standing for those in need makes it count. For them, we will stand… My Quilt of Valor is proud, as am I, because it reflects kindness found in American life. Thus, I will love it as a brother. I will love its wearing, its tearing, its patterns, its threads, its comfort, its true meaning, and its creators.
I will keep my Quilt dear and close, even as I am held dear and close. We will become part of each other. We will… Before God, I thank my supporters. My Quilt and the military are symbols of the services dedicated to our country. We are the pride of the people who made us. We will hold the memories of our military service life.
So be it, until we lay to rest and there is no enemy, but peace!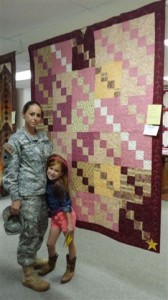 Oct
6
Filed Under American Patriotism, Combat PTSD, Dogs, Fishing Therapy, Healing Waters, Life, Project Healing Waters, Tears of a Warrior, Veterans, War, Wounded Warriors | Comments Off on HEALING WATER – HEALING LIVES
by Janet J. Seahorn, Ph.D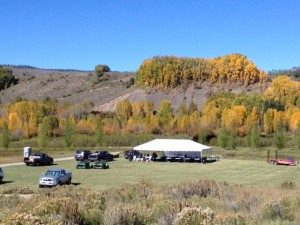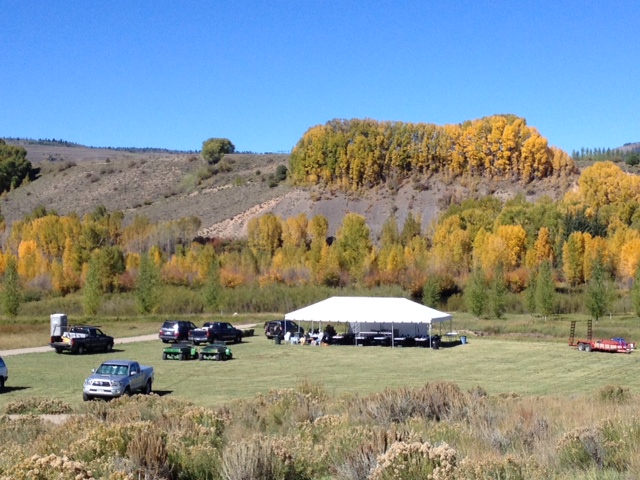 So many questions… most unanswered … fill my mind. Questions such as – What is suffering?  Why does it exist in our world? How do we lessen the feelings of hurt, pain, anger, and hopelessness? Very few responses are suitable for any one person, any one situation. Yet, it seems like nature is one of the few healers in our world of chaos and woundedness.
Last week we were privileged to be a part of a Healing Waters activity at the Blue Valley Ranch inKremmling,Colorado. Twenty four vets from FortCarson who are part of the FortCarson's reintegration program and several who had been former members of the military took part in the program. For four days and nights Project Healing Waters Staff, along with community members and fishing guides volunteered their time and boats to wade fish theBlueRiverand float theColorado. Everyone strived to make the veteran's activity a nurturing and healing experience.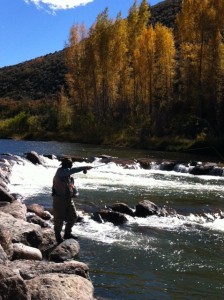 Long before the adventure began, participants began learning about the art and craft of fly fishing.  They learned the various life cycles of flies and many even took up fly tying which has proved to be a very important part of their life-long healing. Once the group arrived at the ranch they were fully equipped with expensive fly rods, fishing vests, hats, and other fly fishing necessities. Each veteran was accompanied by a personal guide to assist, coach, and make sure every need was addressed during the four days on the water. BlueValleyRanch is a good steward of the land and the staff works hard to ensure a high level of commitment to their warrior guests.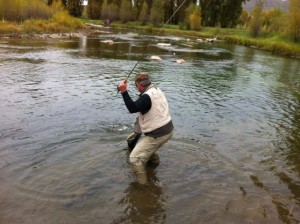 But here is the fundamental mission of Project Healing Waters Fly Fishing… it is not to merely provide a few lovely days in beautiful surroundings. The primary mission of Healing Waters is to give each wounded warrior an introduction to an activity and potential life experience that can help heal their mind, body and spirit… It is simply not enough to go away for a few days and fish. Staying in touch with the guides, roommates, or others who have touched their hearts is essential. The guides and Healing Waters partners are around to take the participants on future trips. They are available to talk, to go for coffee or a meal, and to merely be an extended part of their new family.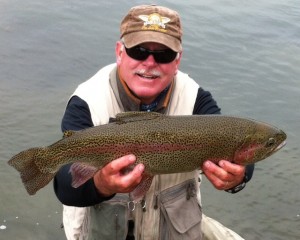 Yes, Healing Waters most definitely provides comfort and hope to any traumatized individual. However, it is people who heal people. It is communities that offer support and nurturing, and it is being with animals and beautiful surroundings in nature that help a wounded soul believe that even in a harsh world, there is still immense beauty waiting to be experienced.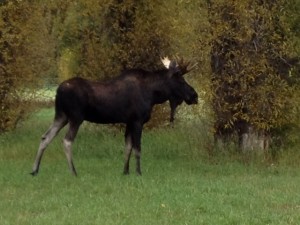 Quite simply it is the unpretentious comfort of nature and humankind that brings one back to believing in the humanity that is still present even if one can't immediately see or feel its presence.
So, go to the river to heal, and be sure to include your faithful dog companion to complete the experience.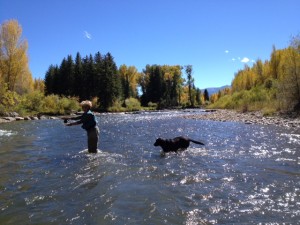 Jul
12
Filed Under Aging, Dogs, Family, Fishing Therapy, Healing Waters, Journey, Life, Love, Peace, Pets, PTSD, Service Dogs, Tears of a Warrior, Tears of Joy, Veterans | Comments Off on CHASE'S MEADOW
by Tony & Janet Seahorn
            The human heart and mind are amazing in their capacity to experience intense sadness and abundant gratitude at the same time. That lump in the throat is still there as are the tears that cloud my eyes. Yet, the weight of the death of our wonderful Chase seems to be a bit lighter.
            Earlier this week, we visited Chase's most beloved mountain meadow, high on the Snowy Range in southern Wyoming. It is a beautiful, alpine meadow filled with wild flowers and a running brook. This is the place we chose to spread his ashes and place a stone memorial on a wooded ridge overlooking the peaceful valley below. 
            We promised to make this journey after the early summer snow melt and before the wildflowers were in full bloom.
            His very essence now glides in the winds and rolls gently with the flowing water. White and yellow flowers line his final path. He is at peace, as are we. And younger brother Bailey still romps through the brightly colored grasses chasing after his cherished tennis ball – a reminder that joy is always present around and within our souls.
            As we paid our final respects it seemed as if Chase was giving us his final message:
I am now in my meadow; my ashes white as angels' wings float with the Wind and flow through the mountain streams to places I never ran in life. 
Peace and beauty will always surround me with a green and white and purple blanket of sweet columbines.        
This is where I was finally meant to be.
Therefore, honor me not with tears of sadness, but with hearts of joyfulness.
                              Remember me with stories and laughter.                               
And most of all know that as much as you loved me I loved you even more.
Black Forest Chase
April 23, 1999 – January 4, 2013
Feb
18
by Janet J. Seahorn, Ph.D
PREFACE
            For too many individuals, there may often be days when one feels he/she cannot continue to withstand the struggle and obstacles of the many agonies of the past. The feelings can be overwhelming and consume our minds and bodies with darkness. It is at this time when a favorite, inspirational quote or a poem of encouragement may help us get through a really bad day.  It is for this reason, I wrote the poem, Against All Odds. If we believe we can, hopefully, we can. And surely as there is day and night, sunshine and rain, joy and sadness, if we believe we can't, then we won't.
AGAINST ALL ODDS
Janet J. Seahorn
Against All Odds I will survive.
Courage and grit will be my guides.
Against All Odds the demons within
May sometimes grow but never win.
Against All Odds I will find joy
Hate and chaos I will avoid.
Against All Odds I'll fight my fears
And not be afraid of cleansing tears.
Against All Odds I'll endure my pain
Knowing that rainbows come after a rain.
Against All Odds I shall be kind
Even if anger sways my mind.
Against All Odds I'll choose to believe
That peace and happiness I can receive.
For this I know without a doubt
Against All Odds I will win out.
You not only can, but will do what needs to be done to be healed, to be whole, to be healthy in mind, body, and spirit…Against All Odds.
Jan
13
by Janet J. Seahorn, Ph.D
          It has been a very difficult past few months for many individuals and communities inAmerica. Between Hurricane Sandy destroying property and lives in the northeastern part of our country, to the incomprehensible tragedy in Connecticut. Too often we try to put words to these events, hoping to impart some small bit of insight, but they seem too shallow and futile.
At times, when the heart has felt so much suffering and inhumanity, the soul becomes a vacuum of despair. The challenge remains one of deep spiritual courage. The courage to believe in goodness instead of evil. The courage to awake each morning and keep going, knowing the struggle ahead still exits.  And the courage to forgive, to hope, and to still love. Sometimes the best way to convey these staggering emotions is through music. For this reason I thought a song by the young singer, Jackie Evancho, may convey a message of hope for a New Year – far better than simply words.
In my imagination I see a right world
where everybody lives in peace and honesty
I dream of souls always free
like clouds which fly
full of humanity deep inside
In my imagination I see a clear world
the night is less dark over there
I dream of souls always free
like clouds which fly full of humanity
In the imagination there is a hot wind
which blows on cities, as a friend
I dream of souls always free
like clouds which fly
full of humanity deep inside
www.youtube.com/watch?v=HQF-l9NBtX8
In this coming New Year, may the words from Nella Fantasia come true.
So, Dream With Me.
Dec
12
By Janet J. Seahorn, Ph.D
Dang!
There it is again, that massive lump in my throat – the one that makes it hard to swallow. It came during my morning meditation. I had just changed out the music on my CD player (yep, I said CD player not IPod or I-Pad), to my favorite Christmas venue.
Every day I include a special prayer for our military and their families, past and current, and this is when the song began, just as I was beginning that part of my meditation… the song, "Somewhere Over the Rainbow". It was the awareness of the words that made me ponder how many of our men and women have served our blessed country and wished each day that they could escape their current reality and go somewhere else.  And these words then produced that enormous throat bump:
                                                Somewhere over the rainbow
                                                Way up high.
                                                There's a land that I heard of
                                                Once in a lullaby.
            A land where the song sings on, Skies are blue, and the dreams that you dare to dream really do come true.  Then I envisioned what those dreams might be, dreams that are ever so humble, ordinary and serene — a land somewhere in the world and even in our beloved country where peace and goodwill abide; where dreams are not filled with violence and awfulness but acceptance and camaraderie; where possibilities and hope still exist.
            Then came the verse that caused the throat bump to grow like the naughty, green-eyed Grinch.
                                                Someday I'll wish upon a star
                                                And wake up where the clouds are far behind me.
                                                Where troubles melt like lemon drops…
            So what troubles, dear readers, would you like to melt like lemon drops? Which clouds need to vanish to allow brighter days shine forth? My guess is that there may be more than a few troubles, but the wish may simply be for a kinder, gentler future. Therefore, has always been my wish for each of you guardians of freedom— days of joy, hope, and love. Since there is no such thing as a charmed life, perhaps all that I can truly wish is what Sarah Ban Breathnach mentioned in Simple Abundance, a holiday special package, the Strength-Wisdom-Grace package. Strength to meet your challenges, Wisdom to embrace real life, and the Grace to be grateful not only for what you have, but what you've escaped".
            Perhaps you may never be able to fly beyond the clouds or over the rainbow. Perhaps just being able to view the rainbow in all its glorious hues, makes the clouds a bit lighter. And perhaps, if you can't fly over that rainbow, perhaps, just perhaps, you can still, like the bluebird, the small sparrow, or the great eagle, simply fly…
Nov
7
by Janet J. Seahorn, Ph.D
            It's Fall and the woods are filled with brilliant colors of changing leaves, from yellows the color of pure gold, reds that stir the imagination, and oranges that remind me of a Harvest moon. The flushes of hues aren't the only splendor of Fall; the pungent odors alert our senses that summer is over and winter is ready too soon to cover the ground. It is almost as if the forests entire existence waits for this one time of year to celebrate all that has come before. With all of these physical signs, I got to thinking of the traces we leave behind as we journey through our days. What are the colors of our fallen leaves?
            If we are able to overcome all of life's hardships; if we are able to embrace both the joys and sorrows, perhaps we will leave a special trace of humanity in the world. If we are able to feel a deep sense of gratitude for our being; if we are able to feel a sense of grace even while enduring horrible tragedies; and if, through all the anguishes, our hearts are not given to bitterness but can still remain open to humankind, perhaps we will leave traces of hope and courage.
            Hiking the high mountain trails, the paths are covered with fallen leaves. It is as if we are truly on the "yellow brick road", only this road doesn't lead to a wondrous wizard.  This road really leads back to us, for we are the real wizards of our life. There are no magic spells we possess to bring us more happiness and fewer challenges. No magic wand changes our predicaments or instantly showers us with extra money. You see the true magic is always how we choose to view each moment we live and what we give to others. The magic is not how much material STUFF we have, but how much of ourselves we share with others.
            As warriors and families caring for wounded bodies and spirits our lives continually leave marvelous traces for others to view and possibly follow. We bequeath a conviction that determination to move forward and faith to move beyond the hopelessness is achievable. Every time one of our vivid leaves tumbles to the ground, we shower those around us with traces of optimism. Therefore, as we move through our time on earth, we should think about the traces we are leaving behind for others to glimpse and ask, "Are these the traces we want to leave"? Hopefully, our answer is, "Yes". And maybe we are able to do so because we have been fortunate to follow the traces those before us have left for us to further pursue.