Jul
26
by Janet J. Seahorn

As if serving in combat isn't bad enough, military men and women have also had to worry about the 'other' hazards of war. Potentially as deadly as any bullet, only quieter and slower in their fatality.
Chemicals of war have been used for a long time, not just as weapons, but also as tools to clear landscapes of foliage. We have Agent Orange, poisons in foreign soils, and then there is Asbestos.
By dictionary definition, asbestos is a "noncombustible, fibrous, mineral form of magnesium silicate that is used especially in fireproofing" (Webster Dictionary, p. 3). It was used in brake and clutch pads, clothing, pipe installation, and mixed into concrete and housing insulation among other items. Some sources (www.asbestos.net/veteran) have estimated that as many as "26% of patients that have a mesothelioma diagnosis are former sailors and shipyard workers".
Several weeks ago, we received an e-mail from one of our blog readers, Carl Jewett, who is the Veteran Liaison for the Mesothelioma Center (Asbestos.com); an organization devoted to assisting veterans through their application processes for VA benefits.
Carl is a retired Lieutenant Commander in the US Navy and has worked with veterans who, during their military service, have been exposed to asbestos and are now suffering from life-threatening illnesses. What made Carl's message even more alarming is that before his e-mail I had read several articles on asbestos and how it was on several ships in commission during World War II and the Vietnam War.
My brother, a Vietnam vet, served on three of the ships mentioned in the article, the U.S.  Washtenaw County (LST), the U.S. Tom Green County (LST), and the U.S. St. Francis County (LSMR) rocket launcher. Several years ago he was diagnosed with prostrate cancer, a disease linked to Agent Orange.
There are numerous editorials regarding asbestos in the military. The Mesothelioma Center (Asbestos.com) has devoted a great deal of their website to this issue.
Several characteristics of asbestos exposure mirror other illnesses, so it is important that a person who has served in the military get an accurate diagnosis. According to Mr. Jewett, obtaining resources from the military may be more challenging. 
Therefore, if any of our readers have lung, chest, or heart problems, they may want to contact Carl Jewett's organization at www.Asbestos.com.  The military asbestos organization may be able to support them in applying for and obtaining service-related disability benefits.
Again, we continually go back to our motto, "If we send them, then we must mend them."
Awareness and information is the first step in the mending process.
May
8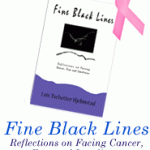 A few weeks ago, during a book publication meeting, I met a lovely lady, Lois Hjelmstad, who had written a book, Fine Black Lines, of reflections of how she survived cancer told in journal entries, reflections, poetry, and photographs. One of her poems reflected what many veterans and their families have experienced when living with PTSD.  Since many of life's challenges have "emotional" similarities, I thought our blog readers might find this particular selection meaningful. 
It's best to act normal…
To say, "I'm just fine."
What everyone wants is
A positive sign.
Just smile and say thank you
When people will ask.
One mustn't let on that
Each day is a task.
Friends keep on calling…
You know they mean well.
But really they'd rather
For you not to tell
Each symptom, each detail,
Each wearisome day.
Or mention that small fear
You can't drive away.
An illness gets tiring…
For them and for you.
The difference is simple…
They get to quit.
( © 2003  Lois Hjelmstad)
303.781.8974
Wouldn't it be great if, when the demons appear, one could simply say, "I Quit", and everything would be normal?  The reality of the situation is that warriors Never Quit, they keep on going no matter what battles they are waging.  For that, my friends, is the very essence of a true warrior.
Feb
12
If you missed Janet and Tony's interview today on Castle Rock Radio's "Walking the Walk," and "Getting Your Life Back," click here to go to Castle Rock Radio's website: http://castlerockradio.com/pages/page.asp?page_id=47571
Hosts: Lorin & Dixie Ricker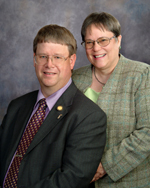 The download links are under the Media category on the left.