Sep
26
by Janet J. Seahorn, Ph.D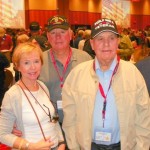 It is early morning Sunday, September 11, 2011 and still dark outside as veterans Earl and Tony Seahorn depart for their long awaited father & son trip to Washington D.C. Veterans from two different wars are about to embark on a patriotic journey of a lifetime. Earl, a WWII Navy veteran, participated in the historic "D-Day" operation at Normandy. Tony, a Vietnam veteran with a Purple Heart was going to be his "guardian" for the trip. Guardians pay their own way to support the WWII and Korean War Honor Flight participants. But when the selection committee discovered that Tony volunteered to support the Wyoming/Northern Colorado Flight, they chose to honor his military service as well. This was the first time Vietnam veterans who have a purple heart have been invited to join the Honor Flight attendees. The pair is one of the first father/son duos to participate together in the Honor Flight program.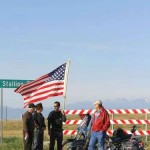 Having so many veterans assembled together, so many experiences good and bad; so much sacrifice all in the name of liberty was humbling. Family members, friends, community groups gathered for the celebration and send off. Because this was the tenth anniversary of 9/11, a moment of silence occurred to mark the time the various planes hit the World Trade Towers, the Pentagon, and Flight 93 that crashed in what is now a sacred field in Shanksville, Pennsylvania.
            In the silent room, one could not help but be aware of the high cost of what comes to pass when the United States becomes part of war. To make it even more profound, Sal Gunita, the recent Medal of Honor recipient, spoke to these past warriors and thanked them for their courage, service and sacrifice for our country.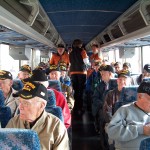 Then the veterans were loaded on four buses for the trip to Denver International Airport where their charter plane was waiting. People lined the outside hotel's corridor, waving flags and smiling. Horns honked, over one hundred Patriot Guard motorcycle members along with many police, fire department, and sheriff deputy personnel provided an escort. A red and white helicopter hovered over the scene just above a huge American flag fluttering its special salute. As the convoy traveled down the highway, groups gathered on bridges and along roadsides to acknowledge the day and the veteran's service.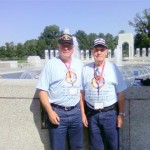 On this tenth anniversary of 9/11 four busloads of warriors began what may be for many one final expedition to visit memorials in our nation's capital. Memorials dedicated to their service that will forever serve as a visual and silent reminder that Freedom is never Free. For many of these weathered warriors, tears remain in their hearts and souls. For others, they are finally liberated to weep quietly. This time, however, at least some of these tears are not from sorrow, but from gratitude and joy. It is for this reason, we are incredibly appreciative of the many volunteers, donations, and efforts of all those who have made such a huge difference to the many veterans participating in these special Flight of Honor.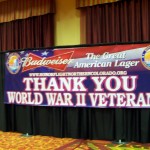 http://www.honorflight.org/about/index.cfm