Mar
26
Filed Under Black Lions, Combat PTSD, Courage, Events, Faith, Family, Healing, Hope, Journey, Love, Pain, Peace, PTSD, Return To Vietnam, Tears of a Warrior, Veterans, Vietnam Today, War | Comments Off on GETTING UNSTUCK
by Janet J. Seahorn, Ph.D
It isn't easy to move forward in life when you seem trapped by events that happened in the past. Often times the harder you try to get unstuck, the more bound you become to that very past. So how does one resolve such a dilemma? It probably won't be without effort, time, and even some painful moments.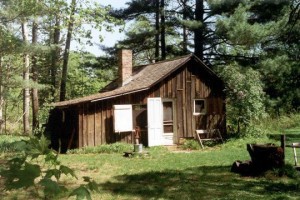 In the book/movie, The Shack, the lead character is tormented by an unimaginable personal tragedy. No matter how hard he tries to move forward beyond his pain and horrendous memories, he can't. Being caught in a terrible incident he is unable to see past his pain to the extent that very little joy or happiness can enter his life. In order to heal he is forced to go back to the place (the shack) where he got stuck; the place where the horror, the anguish, and the future was taken from him.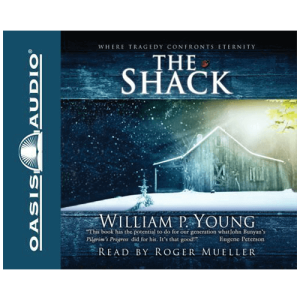 I think this is what Tony was doing when he decided to return to Vietnam.  In order to heal more completely he made a choice to go back to the place where he became stuck, a space that over the last many decades unconsciously became his "shack". Since his military service in Vietnam he has worked incredibly hard to move beyond the memories and the demons, but there were still times when the burden of combat obscured his vision and ability to live fully.  As part of the healing process he had to exhume the old earth in order to plant and allow for new growth to occur. He will be explaining more in his future blogs.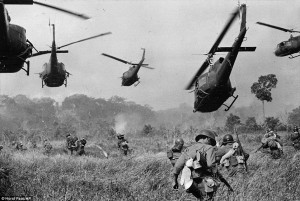 Toward the end of the movie there was a beautiful metaphor about life.  A truism that most of us already know…. life is not neat or precisely organized.  It is messy, bumpy, and often unbalanced. Yet, it is this very assortment of messiness and disorder that make us who we are and who we can become if we are brave enough to return to our "shack"  to become unstuck.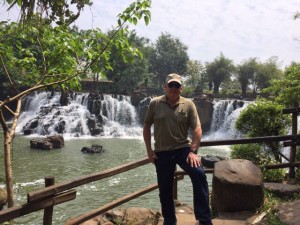 So what is your "shack"? What might you do to become "unstuck: (that doesn't mean you have to physically return to a specific location to heal). Just know that this "becoming unstuck" will most likely not be easy, orderly, or without some deep potholes. It is a journey, like Tony, you may need to take alone. However, the reality is that you will not be totally on your own. Like Tony you will have the thoughts, prayers, and support of family and friends that will accompany you in spirit and hope.
Dec
24
Filed Under American Patriotism, Bless Our Troops, Christmas, Family, Healing, Holiday Season, Journey, PTSD, Tears of a Warrior, Veterans, War | Comments Off on Having a Happy Holiday
by Janet J. Seahorn, Ph.D
It has been several months since I wrote the last blog. Honestly, I chalk it up to lack of motivation and simply feeling I had little else to say that would be worth anyone taking the time to read. Some individuals even commented on how many of the past blogs were a bit depressing. No kidding! Many of these  individuals may have never had the combat experience or served in the military. It is difficult to understand something that has not been experienced. Humor at times can be difficult, especially during the holidays when you live with a person suffering with Post Trauma Stress. The experience is so not funny.
Yelling at those who don't seem to appreciate or understand this type of suffering would definitely be something I'd have to mention in my next visit to church and confession.  Just hope it might be a different priest who won't say something like…. "Well, seems like you haven't made much progress in this area".
At this point my entry into heaven would be further compromised. At the very least I would be on Santa's naughty list.
So, why am I writing a new blog now?  Because it is Christmas.  My favorite holiday (along with Easter, Thanksgiving, Valentine's Day…).  Really, I love the smell of the season, the food, the lights in and outside of homes, carols, and the various displays around town. Unfortunately, as much as I love Christmas, I am reminded of how many of our veterans find this particular time of year a huge challenge. Christmas may be an unpleasant reminder of all that was lost – those who never returned home and those still serving in harm's way far from home. Depression, anger, feeling alone and removed could be emotions that have to be dealt with once again. It is hard to be jolly or even be around those who are jolly when you are fighting to just keep your head above the waters of Merriment.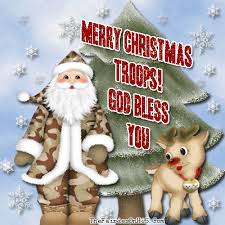 Tonight Tony was talking on the phone with a friend and veteran who was facing another season of cheer and trying to simply get through it and keeping his emotions/temper in check. During the conversation Tony mentioned that it was this time of year when he was in Vietnam and severely wounded. He lost many of his men during a horrendous battle and later spent months in various military hospitals trying to heal from his injuries. All these decades later it is not the physical wounds that test him the most. It is the emotional aches that make the holiday season taxing. Instead of all the Ho, Ho, Ho,….. I know that certain days he wants to scream, No, No, No More!!!
For years I had no idea of what he faced or continued to face. My delight during this time of year only exacerbated his loss thus causing more than one argument. Now that we both know better, we finally do better. I try to be a bit calmer in front of him, and he tries to take better care of his emotional needs by having more quiet time, going on long walks or taking Bailey pheasant hunting. And both of us focus on counting our blessings.
We'll be darned if we let the PTS Grinch steal Christmas ever again.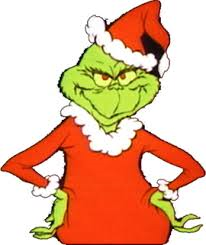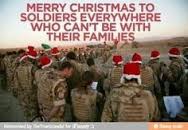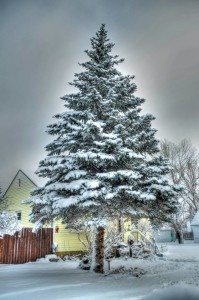 Aug
12
"Mom Told Me You Are a Hero"
    -Constance Gibbons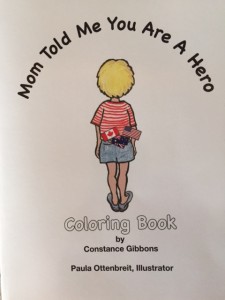 Who didn't like to use crayons and a coloring book as a child?  I remember spending hours trying to use my box of many colored crayons to make the pages of my special book alive with various shades of whatever I thought the picture called for at the time. It never seemed to matter what the theme of the coloring book was about. The important thing was the simple act of making something of my own creation entertaining and exciting. When I was sad it took my mind off my childhood troubles… which sometimes were pretty significant for a young mind to understand. When I was tired, it gave me a way to stay occupied and calm.

It has been a long time since I've thought about the benefits of my early years of coloring. Then a friend told me about a children's book she was writing to help young individuals process the reality of a parent serving in the military. What made this particular project so interesting was that it included a coloring book with crayons that went along with the original book.  Gosh, I only wish I had thought of such a brilliant way to reach young minds dealing with the unique situation of having their moms or dads away for long periods of time and sometimes on numerous deployments.
The title of the book is Mom Told Me You Are a Hero by author, Constance Gibbons. There is a hard copy edition along with a coloring book with the same text. In my work, constantly studying brain development and the importance of early literacy, having both options is brilliant.  The child can have the hard copy read to him/her, and then have the opportunity to color the pictures exactly as he/she desires. By doing the coloring, the child will be looking at some of the words in the text. The words explain the complex topic of war, yet, not in a scary manner. It describes how veterans come in all ages, sizes, shapes, colors, and genders. There are even examples of injuries a veteran may endure.  It is very well written at an appropriate developmental level for children two years and above.
If you would like more information about these delightful and helpful books you may contact the author at cogconnexion@gmail.com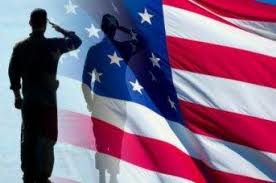 Jul
12
Filed Under Aging, Dogs, Family, Fishing Therapy, Healing Waters, Journey, Life, Love, Peace, Pets, PTSD, Service Dogs, Tears of a Warrior, Tears of Joy, Veterans | Comments Off on CHASE'S MEADOW
by Tony & Janet Seahorn
            The human heart and mind are amazing in their capacity to experience intense sadness and abundant gratitude at the same time. That lump in the throat is still there as are the tears that cloud my eyes. Yet, the weight of the death of our wonderful Chase seems to be a bit lighter.
            Earlier this week, we visited Chase's most beloved mountain meadow, high on the Snowy Range in southern Wyoming. It is a beautiful, alpine meadow filled with wild flowers and a running brook. This is the place we chose to spread his ashes and place a stone memorial on a wooded ridge overlooking the peaceful valley below. 
            We promised to make this journey after the early summer snow melt and before the wildflowers were in full bloom.
            His very essence now glides in the winds and rolls gently with the flowing water. White and yellow flowers line his final path. He is at peace, as are we. And younger brother Bailey still romps through the brightly colored grasses chasing after his cherished tennis ball – a reminder that joy is always present around and within our souls.
            As we paid our final respects it seemed as if Chase was giving us his final message:
I am now in my meadow; my ashes white as angels' wings float with the Wind and flow through the mountain streams to places I never ran in life. 
Peace and beauty will always surround me with a green and white and purple blanket of sweet columbines.        
This is where I was finally meant to be.
Therefore, honor me not with tears of sadness, but with hearts of joyfulness.
                              Remember me with stories and laughter.                               
And most of all know that as much as you loved me I loved you even more.
Black Forest Chase
April 23, 1999 – January 4, 2013
Jan
5
 -by Tony & Janet Seahorn
Black Forest Chase:    April 23, 1999 – January 4, 2013
Dear Readers, today is an incredible hard day for us. It is a day of celebration, gratitude, patience, letting go, and joy. Today our black lab Chase made his final retrieve. We will miss him dearly. He was our special Wonder Dog and his spirit will remain with us. He loved to fish and bird hunt and guide the raft on its journey downstream. His companionship and love was unconditional and he will never be forgotten. Chase has been our guardian angel calming Tony as he battled with the demons of PTSD. We'll miss his wonderful presence as we explore new waters and return to familiar haunts. Chase, we know you'll be happy flushing birds & brookies in the great beyond.
Peace old buddy.
           Many will walk in and out of your life, but only a true friend will leave paw prints on your heart.   ~Anonymous
My brother, John, sent us this poem earlier this week.  I know it will offer us comfort, but for now we must travel the Road of Tears.
In Memory Of A Beloved Friend
Skidboot:
Born in 1992 and passed on in 2007
Touch me with your voice as a puppy young and new,
And let me know my presence is what is pleasing you.
Touch me with your Spirit, for God sent me here to you,
To teach you of that precious bond known only by the choicest few.
Touch me with your hands as I grow tall and strong,
I need you as my mentor throughout my whole life long.
Touch me with your lips, and brush them softly on my brow,
Please kiss away the fears that I am feeling now.
Touch me with your eyes as I become full grown,
To validate unspoken love that we have always known.
Touch me with your heart as our bond keeps growing stronger,
And words need not be used in our language any longer.
Touch me with your breath, so soft and warm upon my face,
As I try to bring you comfort in life's never ending race.
Touch me with your love when my muzzle turns gray,
I live my life to please you, each and every single day.
Touch me with your scent when age has dimmed my sight,
To reassure me always that you will be my light.
Touch me with your face when your tears are meant for me.
So I may bear your pain and let your heart be free.
Touch me with remembrance when I have traveled on,
And, I will hold your heart in mine forever when I'm gone. 
-Credit  Skidboot-
Jan
10
by Janet J. Seahorn, Ph.D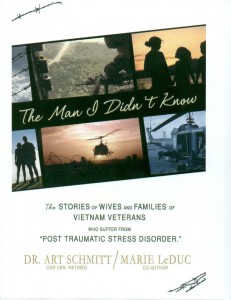 This is the title of a book sent to us by Marie Leduc, the wife of a Vietnam Veteran who co-wrote it with retired naval aviator, Art Schmitt, Ph.D.  Later Art got his degree in psychology. The Man I Didn't Know: The Stories of Wives and Families of Vietnam Veterans who suffer from "Post Traumatic Stress Disorder", is a collection of stories and poems written from the perspective of those most directly impacted by combat.
The articles are heartrending and the poetry will literally place you in the hearts and souls of the writers. While reading through the many tales I found several statements pretty sobering and thought provoking. Some statements gave me an unusual viewpoint of war, especially the last few wars we have fought and left without a clear victory. I have included several small snippets of some of these in this blog.
"The United States did not lose the war in Vietnam, the South Vietnamese did. The last American troops left Vietnam on March 29, 1973, (however, the last flight out wasn't until 1975). We did not lose the war… we stopped fighting" (p. 16). Recently, December 15, 2011 we raised the last American flag as we leftIraq.  I wondered if years down the road we will describe this last conflict in a similar manner.
"There are two kinds of PTSD… acute, which is treatable, and Chronic, which is manageable".  More Vietnam veterans, per capita, suffer from chronic PTSD than from any other war. The reasons for this is unknown, but it may be that it was an unpopular war and the veterans were not welcomed home" (p. 16).
In another article, To Answer Your Question, by Ed Ruminski, the veteran is trying to explain to his son what combat was like, how time stopped and actions were both quick and in slow motion. How he had to be "constantly watching, listening to my senses".  In the end he merely states, "They call it war, and to answer your question son, yes, I have killed somebody. What I was unaware of was how by that process I just described, I was also killing myself" (p.19). Sadly, many of our Iraq and Afghanistan troops are returning with parallel sentiments.These are just a few statements from the book. The various writings describe the wounds of the minds, how scary it can be for a family to negotiate the many behaviors and emotional ups and downs of their beloved warrior, how a mother must learn to cope with the death of her son while visiting the Vietnam Wall to stay connected, and how PTSD affects children when their under developed minds and bodies leave them vulnerable to actions which they may never fully understand. In the end, this last quote by Jacqueline McVicar      (p. 85) really says it all.
"His fight was in Vietnam,
Ours is the Vietnam in him."
Ordering information:  ISBN: 1-4196-2452-0  www.booksurge.com  1-866-308-6235

Nov
23
by Janet J. Seahorn, Ph.D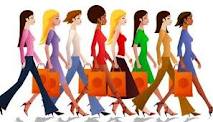 It is time to begin a new Holiday Season. Dang, some stores started playing their carols, displaying Christmas ornaments, and advertising the grandness of spending oneself into shopping debt even before Halloween! I truly expected someone dressed as a reindeer or elf to ring my doorbell for trick or treat. 
            Now, don't get me wrong I love Christmas. Really! It is my favorite holiday. Almost everything about it is a special time filled with amazing sights, fragrant smells of evergreen trees, bells, carols, and my list goes on and on. I even enjoy buying a few gifts for family and friends, and I make sure that Tony NEVER accompanies me on these shopping excursions. The Grinch is one of his Christmas heroes which, as you can imagine, puts a huge damper on my jolly shopping expeditions.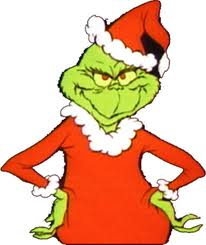 Therefore, as we begin this new 2011 Holiday Season, I thought I would put down a few ideas of how to survive the coming days.
Begin your new Weight Watchers diet. Watch others eat less and lose while you wait and enjoy every morsel of goodies you can grab.  As military veterans, you had far too many C-Rations or MREs to endure food rations now.
Don't start off on the wrong foot at Thanksgiving, give away leftover turkey and celery to guests, but keep the pumpkin pie at all cost.
If you have to ask for seconds, you are already sitting at the wrong table.
If you are the wife of an anti-shopping Grinch, pray for them daily. We're still a month until Christmas. You can even offer to share your Prozac if they become overly anxious during this joyous (hectic) time of year.
If you are the Grinch, breath deep, meditate, and appreciate that the Holiday season only comes once a year, even if it seems to be coming earlier each year.
And, last, if you are worried about excessive shopping and overspending, the banks don't seem to care if anyone follows a budget anymore, so I'm sure they will extend your credit for say, the next thirty years.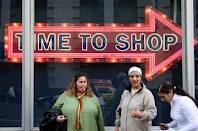 Seriously, I definitely understand the challenges of trying to negotiate the many pitfalls and stimulations of the Holidays and not just for veterans. For many, it is never an easy time of year, which is the reason why I decided to begin this season's blog with a bit of humor. Some of us are going to need to store up as much hilarity as possible if we are to survive the absurdity ahead.
You see, I am really, really, really trying to stay on Santa's "Nice" list.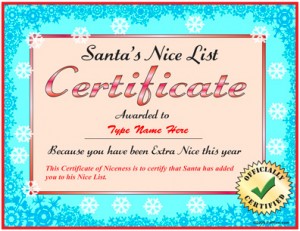 Sep
5
by Janet J. Seahorn, Ph.D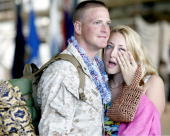 Plucking Tears is not an easy thing to do, especially when the water works fall faster than you can pluck. Another problem to consider is how do you pluck tears when they are inside your heart and soul? These water drops are harder to access. Many times some do not even recognize they are weeping. The suffering is so silent, so hard to define that outsiders rarely, if ever, observe the sobs.
            War is an extreme opportunity to frequently pluck tears. There are tears of grief, tears of sadness, tears of loss, tears of confusion, and the list could go on and on. As soon as you think you are done with the weeping, it returns for another round. It takes an emotionally powerful person to allow tears. Most of us are afraid if we start the crying we may not be able to stop. It is a frightening thought. Yet, whether we allow ourselves to cry openly on the outside, the sobbing will move through our spirits.
            I once heard that some wars are GOOD wars. For me, there is no such thing as a good war. There may be "just" wars, but even then this does not make war good. All wars cause a great deal of woundedness. Woundedness for those fighting the battles, and woundedness for anyone close to the combat zone. Communities are devastated by the carnage left behind, families are torn apart, and individuals carry the scars forever. War gives a great many people frequent occasions to Pluck Tears. Wouldn't it be great if we could get just a bit of peace from the plucking?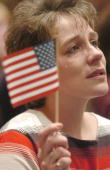 Aug
29
by Janet J. Seahorn, Ph.D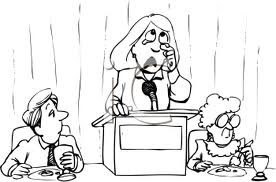 Last week I was honored by being the keynote speaker for the Women's Luncheon at the annual Nebraska Vietnam Veteran Reunion. It is an interesting phenomenon, keynotes after eating. Most sane societies have a meal then nap for a bit. Yet, in the western world we seem to think people really want and are capable of listening to anything after ingesting a yummy luncheon. Therefore, the challenge of any meal speaker is to entertain while keeping his/her audience awake; a rather formidable task. Added to this test was the seriousness of my topic… talking about the effects of living with a spouse who is suffering with Post Traumatic Stress.  Yikes!
            Truthfully, this was a wonderful and unique opportunity to be with a large group of women who have endured decades of family and personal events colored by their loved one's emotional combat trauma. The last thing I wanted was to have people leave the luncheon with more stress and upset stomachs. All of us have had way too much of these frailties. Consequently, I thought the best speech needed to be short, informative, and delivered with humor and solemnity. So here are just a few of the items I believe may be useful to strengthen the next years of these amazing women's lives.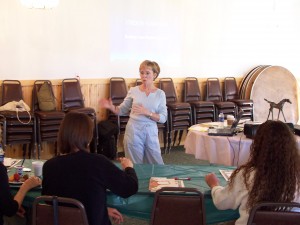 When I talk about the "X" Factor, it refers to what makes women, women. It is not a coincidence that women have two legs on their chromosomes to stand on versus a man's one – "Y". God knew we would need both legs on the "X" to stabilize us on our unforeseeable, earthly journey. Being wives, mothers, sisters… makes us caregivers and caretakers. Trauma from combat both physical and emotional makes this even more evident. "Whether it is our own mothers who stood by us in long-distance torment as we fought on foreign soil, or the mothers of the dead and wounded here as well as in Iraq and Afghanistan, we recognize that most often, it is the women—- mothers/wives… who are left to care for the broken bodies, souls, and societies left in the wake of war."
            Understanding and identifying our own actions may help protect our sanity and bodily health. Here were a few of the behaviors I asked the women to recognize and acknowledge as they interact with their loved one. Think about which of these four DOINGs you use the most:
       Doing To:     Blaming and Fault Finding
      Doing For:   Rescuing, Pampering, Becoming like the Bad Behavior
      Doing NIL (nothing):  Ignoring, Avoiding, Excluding, Rejecting — fuels emotions of shame in the brain
      Doing With:  Connecting, Clarifying, Restoring
            So which category do you fall in most often? Believe me, the first three are quite easy to live in…  The Doing With is much trickier to accomplish especially when you are tired, angry, and dealing with your own pain. For this reason I have adopted a powerful quote from St. Francis de Sales. I carry it in my purse. I have it on my kitchen counter, and I pasted it on my bedroom mirror.
            "I made a pact with my tongue to never speak when my heart is in distress."
          Some days I am almost mute trying to practice this suggestion.
Jul
26
by Janet J. Seahorn, Ph.D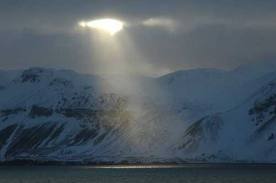 There is a saying in the bible stating, "Forgive and ye shall be forgiven". Yet, here's the dicey part for many of us, some times it is harder to forgive ourselves for things we have and have not done (some of which are more perception than truth) than it is to forgive others.
Military men and women who serve in intense combat zones must learn to identify and face up to their experiences from their emotional position if they are to begin to heal. Putting "these feelings into words or some other symbolic expression", as Bessel van der Kolk asserts, helps complete the story in a restorative manner. Everyone has things they have done that they wish could be forgotten. The problem occurs when we can't just forget, or the personal blame continues to grow. The burden gets heavier unless some of the weight is released.  We cannot be set free until we understand that we're not fully responsible for much of the trauma that took place in our lives.
As humans, many of us tend to take too much ownership for circumstances that are far beyond our full control. We simply do the best we can, and sometimes that "best" does not feel good enough. Forgiving ourselves is an important step in the healing process. Without personal forgiveness, we hold too much anger, sadness, and anguish in our minds and bodies. It is little wonder we become emotional and physically drained.
Realistically, I do not condone the open spilling of our feelings. Sometimes when I have been overly urged to do so, I left the exchange even more vulnerable and irritated. And I definitely did not want to be in the presence of that person anytime soon. It is only when we can begin to share with someone who is open to listening and able to keep our words in confidentiality can we feel safe enough to share our story. Trust is crucial. Patience is necessary. Hope for living a better life is essential.
Daniel Siegel writes about the importance of "feeling felt" when sharing emotions. We cannot "feel felt" if, when sharing our stories, we are constantly being interrupted, interrogated for more details, or given advice on how we should or should not have acted or felt. Such disruptions only validate our instincts to suffer in silence. Unfortunately, unspoken suffering only compounds the problem and adds to the burden.
The challenge is finding the right person (or people) at the right time to begin your dialogue. For many of us it may or may not be a close family member or friend. Sometimes talking to a reliable "stranger" can bring clarity to our experience.
Begin to explore who may be your safe sounding board. In doing so, the weight of your story may begin to diminish. You may just realize that carrying this burden is no longer helpful or necessary. Free yourself of the guilt. Free yourself of the pain. Free yourself of a past that can now be accepted, learned from, and honored.
You deserve no less as you live towards that healing place in your mind, heart, and body.