Mar
26
Filed Under Black Lions, Combat PTSD, Courage, Events, Faith, Family, Healing, Hope, Journey, Love, Pain, Peace, PTSD, Return To Vietnam, Tears of a Warrior, Veterans, Vietnam Today, War | Comments Off on GETTING UNSTUCK
by Janet J. Seahorn, Ph.D
It isn't easy to move forward in life when you seem trapped by events that happened in the past. Often times the harder you try to get unstuck, the more bound you become to that very past. So how does one resolve such a dilemma? It probably won't be without effort, time, and even some painful moments.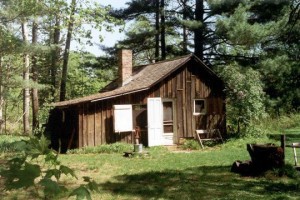 In the book/movie, The Shack, the lead character is tormented by an unimaginable personal tragedy. No matter how hard he tries to move forward beyond his pain and horrendous memories, he can't. Being caught in a terrible incident he is unable to see past his pain to the extent that very little joy or happiness can enter his life. In order to heal he is forced to go back to the place (the shack) where he got stuck; the place where the horror, the anguish, and the future was taken from him.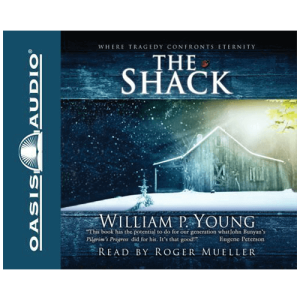 I think this is what Tony was doing when he decided to return to Vietnam.  In order to heal more completely he made a choice to go back to the place where he became stuck, a space that over the last many decades unconsciously became his "shack". Since his military service in Vietnam he has worked incredibly hard to move beyond the memories and the demons, but there were still times when the burden of combat obscured his vision and ability to live fully.  As part of the healing process he had to exhume the old earth in order to plant and allow for new growth to occur. He will be explaining more in his future blogs.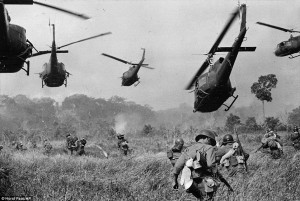 Toward the end of the movie there was a beautiful metaphor about life.  A truism that most of us already know…. life is not neat or precisely organized.  It is messy, bumpy, and often unbalanced. Yet, it is this very assortment of messiness and disorder that make us who we are and who we can become if we are brave enough to return to our "shack"  to become unstuck.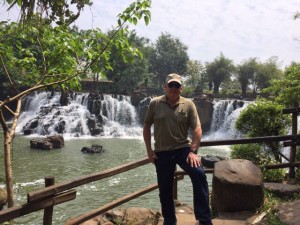 So what is your "shack"? What might you do to become "unstuck: (that doesn't mean you have to physically return to a specific location to heal). Just know that this "becoming unstuck" will most likely not be easy, orderly, or without some deep potholes. It is a journey, like Tony, you may need to take alone. However, the reality is that you will not be totally on your own. Like Tony you will have the thoughts, prayers, and support of family and friends that will accompany you in spirit and hope.
Jul
12
by Janet J. Seahorn, Ph.D

​It was a bright, warm, late June morning. Platte Valley Trout Unlimited and Project Healing Waters were collectivelyhosting their annual Wounded Warrior Event float trip. The two groups embarked on different sections of the river that Thursday. One group of veterans and their guides launched at Bennett Peak while a second group consisting of veterans from the Cheyenne VA Hospital departed from Treasure Island.
The beauty of the river, the challenge and fun trying to land a big trout, and observing the many creatures such as mink, deer, antelope and eagles made the morning special. Roughly an hour and a half into the float from Treasure Islandtragedy struck. A raft with two couples, who were floating on their own, hit a log jam broadside on a hazardous island point in the middle of the river.  As their big raft flipped in the treacherous water, all four individuals went into the swift, cold water…only three were thrown clear of the massive log jam.The fourth rafter did not survive the river's current even though great effort was made to rescue him from the tremendous force of the water.

Yet, throughout this tragedy there were many angels on the river. Angels that surrounded the rescuers, angels that surrounded the survivors to let them know they were not alone, angels that shuttled the traumatized rafters across the river to waiting medical personnel, angels that kept every veteran and their guides safe. Angels in the form of Army National Guard that found the body downstream and encompassed him in their arms letting the person's spirit know that he was surrounded with love, respect, and comfort.
Yes, there were numerous angels on the river that morning. Angels, that in spite of the tragedy and sadness, provided many blessings. For you see, in the darkness there was still light, in moments of massive despair, hope arose, and in feelings of being alone there were wings surrounding all who needed strength and comfort.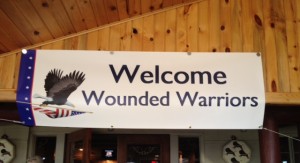 May
2
by Janet J. Seahorn, Ph.D
Religion does not heal. People heal people. They do it through love, generosity and acceptance.  Look. Listen. Heal.  Oh so simple yet so difficult to achieve.
For four days we were with a group out of Canton, Ohio who were conducting a conference called the Warrior's Journey Home. It started with the interesting collaboration of a church pastored by Dr. John Schlup and a Seneca wise woman, Shianne Eagleheart.  Through Shianne's sharing, she taught several members of the congregation the spiritual and physical healing of the Healing Circle. My brother, John, has been a living example of the power of Native American spiritual customs and blessings in Hot Springs, South Dakota.
 The purpose of the Healing Circle is to give an individual a safe, nonjudgmental place to be – to listen – to learn and to share his/her trauma experience(s).  Sharing is not an expectation like in many traditional therapy groups.  It is merely an invitation if one is inclined to disclose his/her words. The sharing is only for those in the circle to hear. Stories must never be disclosed beyond the circle unless given permission by the person speaking.
So here is the really cool part of the sharing, there is a hand carved stick that looks like a walking stick.  However, this stick is truly special because the only person who can speak is the person holding the talking stick. There are no time limits a person has to hold the stick and no one can get up and take the stick from that person. When the speaker is through disclosing  his story he will place the stick back in its place or hand it to another person.
Oh, and another powerful trait of a Healing Circle is questions are never asked of the speaker.  Wow, unlike modern therapy, there is no interrogation, advice, or "extra" comments. One may be given a hug or a small a glass of water by a listening member, but that's it.  By moving through the circle an environment of listening and caring is generated.  Perhaps this is why the Healing Circle is such a special experience for veterans.
To make the experience even more powerful a drum and drummers may be present.  Shianne's partner, Bob honored the group with his handmade drum.  Healing Circles often begin with native songs and drumming.  The beat of the drum mirrors the rhythm of the heart. This mimics the ancient ceremonies meant to simulate a mother's heartbeat when the warrior was in her womb. It calms the thoughts and anxieties of the attendees, and gives each person a way to begin and end the Circle experience. Like the mystical poet, Rumi, advises, the circle empowers many thoughts:
"What you seek is seeking you." 
"Most people guard against going into the fire, and so end up in it."
 One of my favorite old Chinese proverbs says it all,
"You cannot prevent the birds of sorrow from flying over your head, but you can prevent them from building nests in your hair." 
Jan
13
by Janet J. Seahorn, Ph.D
          It has been a very difficult past few months for many individuals and communities inAmerica. Between Hurricane Sandy destroying property and lives in the northeastern part of our country, to the incomprehensible tragedy in Connecticut. Too often we try to put words to these events, hoping to impart some small bit of insight, but they seem too shallow and futile.
At times, when the heart has felt so much suffering and inhumanity, the soul becomes a vacuum of despair. The challenge remains one of deep spiritual courage. The courage to believe in goodness instead of evil. The courage to awake each morning and keep going, knowing the struggle ahead still exits.  And the courage to forgive, to hope, and to still love. Sometimes the best way to convey these staggering emotions is through music. For this reason I thought a song by the young singer, Jackie Evancho, may convey a message of hope for a New Year – far better than simply words.
In my imagination I see a right world
where everybody lives in peace and honesty
I dream of souls always free
like clouds which fly
full of humanity deep inside
In my imagination I see a clear world
the night is less dark over there
I dream of souls always free
like clouds which fly full of humanity
In the imagination there is a hot wind
which blows on cities, as a friend
I dream of souls always free
like clouds which fly
full of humanity deep inside
www.youtube.com/watch?v=HQF-l9NBtX8
In this coming New Year, may the words from Nella Fantasia come true.
So, Dream With Me.
Apr
17
by Tony Seahorn
   Every once in a while we get presented with a special opportunity that may change or at least have an impression on our lives. This happened to me a few weeks back. I was asked to be a member of a panel of veterans who had hearing loss and tinnitus due to combat exposure. The panel was part of the National Joint Defense Veterans Audiology Conference (JDVAC) which is held around the country each year. This year's event was held at the Omni Hotel in Dallas,Texas.
            Of the six veterans participating on the panel, all of us also had PTSD and a couple with TBI. We all agreed that most veterans with severe hearing loss have other scars from war that often add to the severity of individual disabilities.
            From the time we arrived we were treated like royalty: beautiful rooms, a basket of goodies delivery shortly after we arrived, and even free coffee and lattes. Unfortunately, Jan was unable to go with me due to her teaching commitments at CSU.  I'm not sure whether she was most jealous of the basket of goodies or all the free lattes she could have during my three days at the conference.
            Maybe I should backtrack a bit. Ever sinceVietnamI have struggled with tinnitus, ringing in my ears. For the most part I have been able to endure the buzzing in my ears, that is until last November. One night I went to bed with the "normal" ringing. However, in the morning I awoke with the sound being far worse than ever and I had lost most of my hearing in my right ear. My hearing loss was also accompanied by dizziness.
            After several doctor visits and antibiotics, I was told that the ringing would probably never get much better and my hearing would not fully return. Fast forward a few months and this special opportunity to be a part of a conference with some of the best hearing specialists in the country.
            My panel was made up of eight individuals: two audiologists and six veterans. Each panel member contributed, not just telling their combat story, but how being hearing challenged impacted their lives. The entire session was taped and will be presented in a video and streamed on the sponsor Hamilton CapTel® Web site which will reach hundreds if not thousands of viewers throughout their network.
Following the conference, one veteran wrote in an e-mail …Our feeling is that we have to start somewhere with this important message. Hopefully, as we look back at our endeavors a year from now, we'll see encouraging progress that not only includes larger veteran audiences for this panel at industry events – but more importantly, increasingly open "solutions" dialog between hearing health care professionals and the veterans they serve.
            For all of you vets who are living with a hearing problem, I truly believe help and hope is on the way. I found that support and optimism in Dallas. The experience has been such a blessing. To think I almost didn't attend this event.
Following is a message from Judi Victor in her capacity of Panel Director:
Hi, JDVAC Holistic Panel Team!
Tina and I are having trouble finding the right words to thank you for your participation in the Holistic Hearing Healthcare Panel at JDVC on Tuesday. Each of you contributed so much to the discussion; we can't imagine a more articulate, informed, bright or inspiring group. It was, indeed, impressive – and to think that the entire panel had never rehearsed together until a few hours before the actual event is truly amazing!
Even though our "live" audience was not gigantic, please keep in mind that we are editing the video presentation to stream on the Hamilton CapTel® Web site, which will reach hundreds if not thousands of viewers. In addition, the video will be shown in part or in its entirety at other industry events throughout the coming year.
Our feeling is that we have to start somewhere with this important message. Hopefully, as we look back at our endeavors a year from now, we'll see encouraging progress that not only includes larger veteran audiences for this panel at industry events – but more importantly, increasingly open "solutions" dialog between hearing health care professionals and the veterans they serve.
We know that this event required a huge effort on your parts, not to mention the fact that it took you away from your work, families and many other activities. Please know that your participation is appreciated more than we can ever express.
With warmest regards and deepest gratitude.
Mar
15
by Tony & Janet Seahorn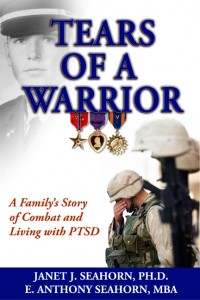 "Tears of a Warrior" is now available as an eBook:Both KINDLE & NOOK can be ordered directly from our website.
http://www.tearsofawarrior.com/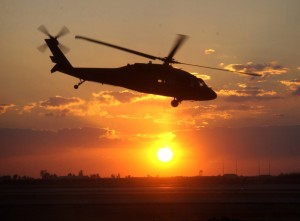 Nov
14
by Tony & Janet Seahorn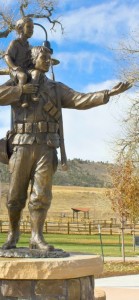 It is Sunday afternoon, and the end of a long and humbling Veteran's Day week. The weather changes quickly from wind, to clouds, to warm sunshine and finally a few drizzles. It seems to be mirroring the lives of many of the individuals attending the opening dedication of the Northern Colorado Veteran's Plaza. Most of the attendees are veterans spanning several generations of war. They, like the day's weather, have lived with the clouds of battle, the warmth of joy, and at times a torrent of tears.
            Those tears were the beginning of the dedication. The bridge which transports people from the main roadway into the park, now home to the new Veteran's Plaza, was consecrated as Sergeant Nick Walsh Way.  Sergeant Walsh died in Iraq in 2007. His parents, family, and fellow Marines watched as the new signage was unveiled; it was evident that the Price of Freedom has to be incredibly steep for those who serve along with their families who sacrifice along with them. Perhaps the bridge will serve as a reminder of hope – a transition from sorrow to comfort and from death to strength.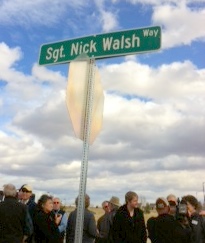 The Veteran's Plaza is not a memorial to those who died. No, this sacred ground extends far beyond a loss. The Plaza will serve as a reminder of unselfish sacrifice and courage. It is a place where present and future generations can go to reflect on the courage of others and learn from their past. The garden is filled with soils from battlegrounds throughout our history: Iwo Jima, Normandy, Vietnam, Iraq, and Afghanistan…  This special earth, once stained from the carnage of different wars, now supports the plants that flourish showing us again that biblical saying, "from death into life".
            Now, for the best part of this story — the Veteran's Plaza was the dream of one man, Major Diggs Brown, a Special Forces Veteran living in Fort Collins, CO. He was inspired to make a difference after attending the funeral of Sergeant Walsh.
            Soon thereafter, he gathered community members, veterans and numerous organizations and created a "Plaza" committee. The group worked tirelessly for two years, soliciting donations, holding fundraisers, brainstorming and promoting the vision.

            Today was a testimony to what an idea can become with planning, hard work, creativity, and most of all, a Dream.
Sep
26
by Janet J. Seahorn, Ph.D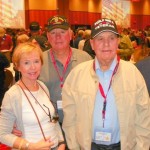 It is early morning Sunday, September 11, 2011 and still dark outside as veterans Earl and Tony Seahorn depart for their long awaited father & son trip to Washington D.C. Veterans from two different wars are about to embark on a patriotic journey of a lifetime. Earl, a WWII Navy veteran, participated in the historic "D-Day" operation at Normandy. Tony, a Vietnam veteran with a Purple Heart was going to be his "guardian" for the trip. Guardians pay their own way to support the WWII and Korean War Honor Flight participants. But when the selection committee discovered that Tony volunteered to support the Wyoming/Northern Colorado Flight, they chose to honor his military service as well. This was the first time Vietnam veterans who have a purple heart have been invited to join the Honor Flight attendees. The pair is one of the first father/son duos to participate together in the Honor Flight program.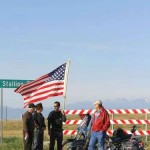 Having so many veterans assembled together, so many experiences good and bad; so much sacrifice all in the name of liberty was humbling. Family members, friends, community groups gathered for the celebration and send off. Because this was the tenth anniversary of 9/11, a moment of silence occurred to mark the time the various planes hit the World Trade Towers, the Pentagon, and Flight 93 that crashed in what is now a sacred field in Shanksville, Pennsylvania.
            In the silent room, one could not help but be aware of the high cost of what comes to pass when the United States becomes part of war. To make it even more profound, Sal Gunita, the recent Medal of Honor recipient, spoke to these past warriors and thanked them for their courage, service and sacrifice for our country.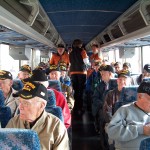 Then the veterans were loaded on four buses for the trip to Denver International Airport where their charter plane was waiting. People lined the outside hotel's corridor, waving flags and smiling. Horns honked, over one hundred Patriot Guard motorcycle members along with many police, fire department, and sheriff deputy personnel provided an escort. A red and white helicopter hovered over the scene just above a huge American flag fluttering its special salute. As the convoy traveled down the highway, groups gathered on bridges and along roadsides to acknowledge the day and the veteran's service.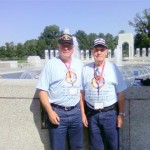 On this tenth anniversary of 9/11 four busloads of warriors began what may be for many one final expedition to visit memorials in our nation's capital. Memorials dedicated to their service that will forever serve as a visual and silent reminder that Freedom is never Free. For many of these weathered warriors, tears remain in their hearts and souls. For others, they are finally liberated to weep quietly. This time, however, at least some of these tears are not from sorrow, but from gratitude and joy. It is for this reason, we are incredibly appreciative of the many volunteers, donations, and efforts of all those who have made such a huge difference to the many veterans participating in these special Flight of Honor.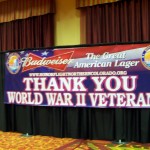 http://www.honorflight.org/about/index.cfm
Aug
22
by Tony & Janet Seahorn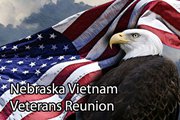 The corn is high, tasseled and almost ready to cut. Traveling through Nebraska we pass miles and miles of these tall stalks waving in the wind and looking like a legion of green sentries welcoming visitors. For the second year in a row we are returning to the Nebraska Vietnam Veteran Annual Reunion as guest speakers. It is the twenty-seventh year the gathering has been held and the attendees grow each time. Every person is welcomed… veterans, spouses, family members, and friends. Besides Nebraska, they travel from South Dakota, Kansas, Wyoming, and Colorado.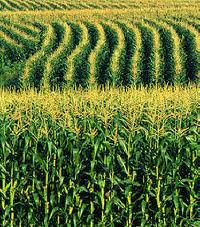 These reunions are not just reminiscing about the vet's combat experience. They are more on being with others who have traveled a familiar road, have endured a similar past, and have formed new friendships, gained new understandings of their war events, and lived a life of service to their families and communities. The days are filled with celebrations of being – being with old buddies and new friends, being with other spouses to laugh and cry, and being in their beloved state to appreciate that this land is exactly what they fought, died, and suffered for decades earlier. Since they had no parades or welcoming ceremonies when they returned from Vietnam, they created their own event commemorating their service.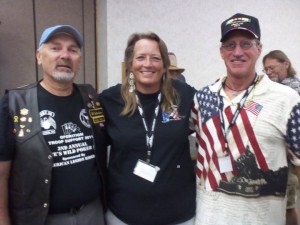 Hanging around over four hundred veterans and their families, one observes and learns   many lessons and here are just a few:
1. There really is healing in numbers.
2. One does not have to do the journey after combat alone. He/she has a huge posse to support the trip.
If one person falls, there are many who care enough to pick him up, brush him off, and kick him in the butt to keep going.
The pain and memories of combat may never go away but these memories/pain do not have to consume the entire life of the individual. Each person must make the choice to move forward in spite of their wounds.
There is still joy in living each day.
Laughter (and food) really is the best medicine.
A good sense of humor gets you through a lot of grief.
            And last, this special quote that we used during our workshop to support each vet and their family's continued healing.
"The key thing to get inside the head of a PTSD suffering vet is this: If one of your buddies was lying wounded on the battlefield, you'd carry him to safety at all costs, right? Well this time, the vet wounded in his soul is the guy in the mirror, AND IT'S YOUR DUTY to carry this one more vet to help. He's hurting because he's a human that's gone through an inhuman experience.  Your buddies who didn't make it back want one thing only – for one of you to make it, namely YOU.  Your victory is saving that vet in the mirror, helping him forgive himself for being only human ( Roland Van Deusen)."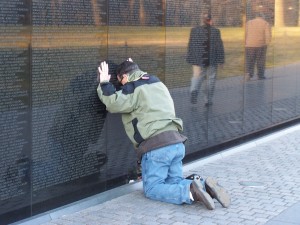 Aug
2
by Janet J. Seahorn, Ph.D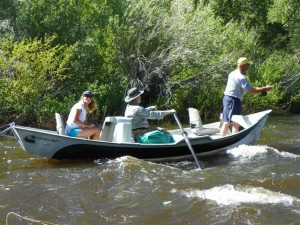 There are few things in life that can take your mind off trouble more than a special day on a beautiful river. Last week the Platte Valley Trout Unlimited Chapter located in Saratoga, Wyoming had the opportunity to take a group of wounded veterans from the Cheyenne VA Medical Center on just such a trip. The excursion began with an amazing barbecue put on by members of the chapter and local volunteers. It seemed like almost everyone in the community wanted to contribute something from ice cream to napkins. Children from 4-H served food, helped clean up, and simply added their youthful energy to the evening.
            The next morning began early with breakfast which proved there is nothing wrong with a warrior's appetite. Then off to the river, which is a logistical bussle of shuttling boats, equipment and people to one of the river's launch site. Vice-President and project coordinator of the Trout Unlimited Chapter, Steve Hays, was a bundle of nerves as he wanted to make sure every detail of this event went perfectly. Again, all the shuttle drivers, helpers, boats, and guides donated their time and efforts to making the fishing trip an amazing experience.
            The guardian angels of fishing trips could not have arranged a more beautiful day for a float. The water was dazzling with light, birds seemed to have arranged their chorus of unique songs for entertainment, and even the fish were cooperative. Private angling lessons were given throughout the day which proved to be quite successful for most of the veterans. Two warriors demonstrated their angling abilities by catching ten or more fish. Since the North Platte River has been running at flood stage since mid-May, having the water and its inhabitants somewhat normal was a real gift.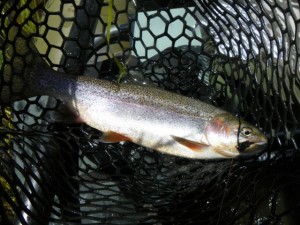 Yet, the most significant result of the float trip was its therapeutic benefits to the wounded warriors. Most of the group had not known each other before the overnight trip. What they found from these precious, short twenty-four hours is recorded in their comments below:
I can't believe people care that much about us.
I had no idea other veterans continue to struggle with PTSD; I thought I was just weak.
I really needed this… it's been a long time since I felt I could relax and feel safe.
The whole experience has been a true blessing.
This is what makes healing happen.
That was one of the best days of my life.
              Formal therapy can and is very helpful to many military individuals healing from the trauma of combat. But it is only one ingredient of the recipe. Being with others who have suffered similar wounds, knowing that others care and appreciate their sacrifices and experiencing the beauty and serenity of nature offers one a sense of peace, safety, and the faith that perhaps some divine presence may truly be keeping watch over them.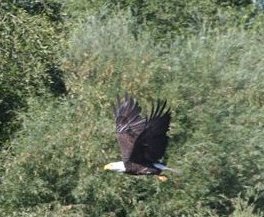 Yep, Fishing Therapy… the new, ground-breaking, effective line of defense against the scars of war.