Aug
12
"Mom Told Me You Are a Hero"
    -Constance Gibbons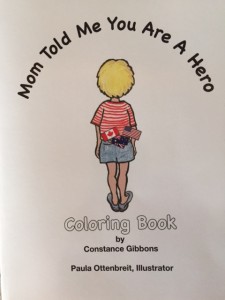 Who didn't like to use crayons and a coloring book as a child?  I remember spending hours trying to use my box of many colored crayons to make the pages of my special book alive with various shades of whatever I thought the picture called for at the time. It never seemed to matter what the theme of the coloring book was about. The important thing was the simple act of making something of my own creation entertaining and exciting. When I was sad it took my mind off my childhood troubles… which sometimes were pretty significant for a young mind to understand. When I was tired, it gave me a way to stay occupied and calm.

It has been a long time since I've thought about the benefits of my early years of coloring. Then a friend told me about a children's book she was writing to help young individuals process the reality of a parent serving in the military. What made this particular project so interesting was that it included a coloring book with crayons that went along with the original book.  Gosh, I only wish I had thought of such a brilliant way to reach young minds dealing with the unique situation of having their moms or dads away for long periods of time and sometimes on numerous deployments.
The title of the book is Mom Told Me You Are a Hero by author, Constance Gibbons. There is a hard copy edition along with a coloring book with the same text. In my work, constantly studying brain development and the importance of early literacy, having both options is brilliant.  The child can have the hard copy read to him/her, and then have the opportunity to color the pictures exactly as he/she desires. By doing the coloring, the child will be looking at some of the words in the text. The words explain the complex topic of war, yet, not in a scary manner. It describes how veterans come in all ages, sizes, shapes, colors, and genders. There are even examples of injuries a veteran may endure.  It is very well written at an appropriate developmental level for children two years and above.
If you would like more information about these delightful and helpful books you may contact the author at cogconnexion@gmail.com